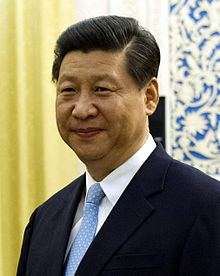 Xi Jinping
China has a new leader and he made some statements today:
15 November 2012

China has officially unveiled its leadership team for the next decade, naming Xi Jinping as the Communist Party's new leader.

The 59-year-old will gradually increase his power over the next few months, formally taking over as president early next year…

XI JINPING (voiceover translation): The problems among our party members and cadres of corruption, taking bribes, being out of touch with the people, must be addressed with great effort.  http://www.abc.net.au/lateline/content/2012/s3634014.htm
Now while most people probably think that China has potential (and it basically should), it also has problems. It will be Europe, and not China, that will become the world's leading economic power.  And one of the carnal reasons that China faces is that a lot of its leadership is out of touch with the people.  While I commend Xi Jinping for wanting to deal with that as well as corruption, he may have more difficulties accomplishing that than he probably believes.
Notice the following from LCG's Dr. Meredith, who has visited China:
In the coming years, you will perhaps even see a revolt of the peasants in the outlying Chinese cities, who have lagged far behind the standard of living afforded those who have moved to Beijing and Shanghai. Plus, the tremendous pollution of the water, air and foodstuffs may bring about massive disease epidemics and other problems for the Chinese. (Meredith R.C. An Inspiring and Successful Trip. Living Church News. May-June 2007, p. 21).
While China has grow tremendously economically, one of the things that most Westerners do not realize is that China officially has a system that prevents its citizens from agrarian areas from having the same rights as those in urban areas. It is called the hukou. Here is more information about that:
The hukou
Through a rigorous and rigid household registration system designed to control the movement of China's 1.3 billion people, the central government classifies all its citizens as either city dwellers or rural peasants. The registration, also known in Chinese as hukou, determines not only a citizen's residence but also what kind of social services individuals are eligible for…In Beijing, which has an estimated 5 million migrant workers, none of these people are allowed to obtain state-sponsored health care or schooling if their hukou is registered in their hometowns—which most likely it is. As a result, their children—many of whom are born in the Chinese capital—can only attend privately-run and unapproved schools. (Mong A, Gu B. In Beijing, 40,000 students stranded. MSNBC, August 19, 2011. http://behindthewall.msnbc.msn.com/_news/2011/08/19/7413538-in-beijing-40000-students-stranded?lite)
Even people who move from agrarian regions to the cities, still are registered as agrarian/rural and do not get the same rights or even education for their children. This disparity, combined with severe pollution, corruption, and a host of other problems, will affect China more than most realize.  Some of this would be consistent with what Xi Jinping has suggested he will address, but it may end up being too little, too late.
Notice some observations from secular sources:
China will do anything to grow its economy, as the alternatives will lead to political unrest. A lot of peasants moved to the cities in search of higher-paying jobs during the go-go times. Because China lacks the social safety net of the developed world, unemployed people aren't just inconvenienced by the loss of their jobs, they starve (this explains the high savings rate in China) and hungry people don't complain, they riot. Once you look at what's taking place in the Chinese economy through that lens, the decisions of its leaders start making sense, or at least become understandable. (Vitaliy N. Katsenelson. China: No Shortcut to Greatness. The Daily Reckoning, March 1, 2010)
So, China has to be careful. It is likely to have unrest, even though it is getting wealthier.  Its new leader seems to at least sense this, perhaps he can succeed to a degree, which would be helpful for China.  But if not, China will have civil unrest, and likely massive civil unrest.
Some articles of possibly related interest may include:
China, Its Biblical Past and Future, Part 1: Genesis and Chinese Characters Where did the Chinese people come from? This article provides information showing that the Chinese peoples must have known about various accounts in the Book of Genesis up until their dispersion after the Tower of Babel.
China, Its Biblical Past and Future, Part 2: The Sabbath and Some of God's Witness in China When did Christianity first come to China? And is there early evidence that they observed the seventh day sabbath?
Asia in Prophecy What is Ahead for Asia? Who are the "Kings of the East"? What will happen to nearly all the Chinese, Russians, Indians, and others of Asia? China in prophecy, where? Who has the 200,000,000 man army related to Armageddon?