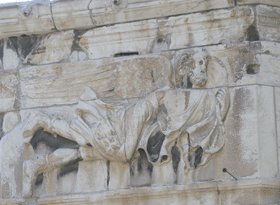 The photo above is of an ancient carving of Euro who is supposed to be the southeast wind.  I (COGwriter) took this picture in Athens (Greece).  (A picture of the tower is available at https://www.cogwriter.com/299.htm) 
Forex – Dollar flounders after spell of weak US data
08.03.07, 1:19 PM ET
LONDON (Thomson Financial) – The dollar floundered after a spell of weak US data underlined the bleak outlook for the world's biggest economy.
Coming on the back of a rise in the number of Americans out of work, the crucial US services sector was pronounced to be cooling, fuelling fears that the economy may be slowing more rapidly than expected.
The Institute for Supply Management said its service sector business index fell to 55.8 in July from 60.7 in June. It was also well below predictions of a more modest drop to 59.0.
'The weaker than expected ISM report fed into dollar selling following the non-farm payrolls disappointment earlier,' said Michael Woolfolk at Bank of New York...
'Dollar strength earlier this week was largely attributable to safe-haven flight to safety and repatriation of foreign holdings by US investors. The market's growing sensitivity to economic information suggests safe haven flows into the US may be subsiding,' said Woolfolk.
He believes the euro will test highs around 1.3850 usd next week.
Elsewhere, the euro stayed well bid after the final services sector purchasing managers' index for the region remained unchanged from June at 58.3 in July, an upward revision from the provisional estimate of 58.1 and above market expectations for no change from that estimate.
This is likely to boost already-firm expectations that euro zone interest rates will rise to 4.25 pct in September.
The euro had rallied overnight, rising above 1.37 usd following hawkish talk from the European Central Bank (ECB) yesterday and as risk appetite returned to financial markets, but it fell back on profit-taking.  http://www.forbes.com/afxnewslimited/feeds/afx/2007/08/03/afx3985807.html
While the Euro and Dollar will go up and down, in a recent LCG sermon, RC Meredith correctly stated that the overall trend for the US dollar is down.
There are several prophecies that this general assessment are based up.  Here are some from Deuteronomy Chapter 28 which we believe applies to the USA and its English-speaking allies:
13 And the LORD will make you the head and not the tail; you shall be above only, and not be beneath, if you heed the commandments of the LORD your God, which I command you today, and are careful to observe them…

43…The alien who is among you shall rise higher and higher above you, and you shall come down lower and lower. 44 He shall lend to you, but you shall not lend to him; he shall be the head, and you shall be the tail (NKJV).
And we believe that Bible prophecy reveals that Europe will arise.  An article of possibly related interest may be Europa, the Beast, and the Book of Revelation.