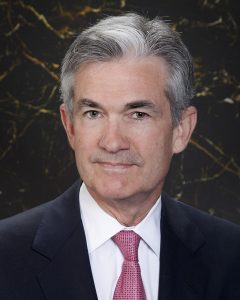 c
 Jerome Powell (Wikipedia)

There is a change of leadership at the US Federal Reserve as the economy faces inflationary and other risks:
November 14, 2019

The head of the United States Federal Reserve has admitted current economic policy is "not sustainable" — but that it is not its job to fix it.

Speaking during testimony before Congress' Joint Economic Committee on Nov. 13, Jerome Powell noted that currently, U.S. national debt is growing faster than nominal GDP.

Powell: Solving debt spiral "not up to the Fed"

"Ultimately in the long run that's not a sustainable place to be," he said. Powell continued:

"How to fix that — it's easy to say that — how do you do that and when do you do that is an issue that is up to you and not to us."

As Cointelegraph reported, U.S. debt has now topped $23 trillion — around $70,000 per head of the population, or more than $1 million for each Bitcoin that will ever exist.

On the night of Nov. 14 alone, the Fed distributed funds to banks worth 12.7 million BTC, while its balance sheet is expanding towards $4 trillion.

For Powell, however, resolving the debt crisis simply means making growth beat debt, and even failure to do so would not equal chaos.

"I would be remiss in not pointing out that the consequences of not addressing it is just that… our kids and grandkids will be spending their tax dollars servicing debt rather than on the things they really need," he continued. https://cointelegraph.com/news/got-bitcoin-us-fed-warns-national-debt-growth-is-not-sustainable

Fed to Congress: It may soon be your turn to save the economy, so get your finances in better shape.

Federal Reserve Chairman Jerome Powell warned lawmakers Wednesday that the ballooning federal debt could hamper Congress' ability to support the economy in a downturn …

"The federal budget is on an unsustainable path, with high and rising debt," Powell told the Joint Economic Committee. "Over time, this outlook could restrain fiscal policymakers' willingness or ability to support economic activity during a downturn." https://www.usatoday.com/story/money/2019/11/13/interest-rates-powell-tells-congress-federal-debt-unsustainable/2582302001/
So, while admitting that the US debt spiral is "unsustainable," the head of the Federal Reserve essentially says that is not his problem to solve and says that Congress needs to.
Well, the US Congress has historically failed to that. And, for a some time, seems to have a focus on investigating matters related to US President Donald Trump (as the impeachment inquiry is doing).
But the problem is not JUST Congress. Former US President Obama and current President Trump have also encouraged (or at least gone along with) massively increasing US government debt.
But the problem is not JUST the US government. State and local governments have debt problems too.
But the problem is not JUST government entities. Notice the following:
US households are now sitting on a record $14 trillion in mortgages, credit cards, student loans and other forms of debt.

Household debt ticked up 0.7% during the third quarter, the New York Federal Reserve said on Wednesday, continuing a five-year climb encouraged by low unemployment, strong consumer confidence and cheap borrowing costs.

Consumer debt is now about $1.3 trillion higher than the previous peak set in 2008, although these figures are not adjusted for inflation nor the larger size of today's economy. Household debt has climbed about 25% from the post-recession low of $12.7 trillion. …

Student loans climbed by 1.4% to $1.5 trillion, while credit card balances rose $13 billion during the third quarter.

All of that borrowing, particularly credit cards and mortgages, support consumer spending — the biggest part of the US modern economy. But that debt will also become harder to repay during the next recession when unemployment rises.

Federal Reserve Chairman Jerome Powell warned Wednesday that business debt is "historically high," but signaled he's not particularly concerned about consumer borrowing. https://www.cnn.com/2019/11/13/business/household-debt-student-loans-fed/index.html
With low interest rates, debt is rising.
Yet, one day, increased interest rates will lead to increased debt as well for the USA. Ultimately, this will cause a destructive vicious circle that the US economy will not get out of.
Fed Chairman Powell is correct that US debt increases will prove to be unsustainable.
Yet, he seems unaware of what the extant of the cost will be.
Consider an end-time prophecy given to the prophet Habakkuk by God over 2600 years ago:
2 And the Lord answered me:

"Write the vision;
make it plain on tablets,
so he may run who reads it.
3 For still the vision awaits its appointed time;
it hastens to the end—it will not lie.
If it seems slow, wait for it;
it will surely come; it will not delay.

4 "Behold, his soul is puffed up; it is not upright within him,
but the righteous shall live by his faith.

5 "Moreover, wine is a traitor,
an arrogant man who is never at rest.
His greed is as wide as Sheol;
like death he has never enough.
He gathers for himself all nations
and collects as his own all peoples."

6 Shall not all these take up their taunt against him, with scoffing and riddles for him, and say,

"Woe to him who heaps up what is not his own—
for how long?—
and loads himself with pledges!"
7 Will not your debtors suddenly arise,
and those awake who will make you tremble?
Then you will be spoil for them.
8 Because you have plundered many nations,
all the remnant of the peoples shall plunder you,
for the blood of man and violence to the earth,
to cities and all who dwell in them. (Habakkuk 2:2-8; English Standard Version)
The USA is the most indebted nation in the history of humanity and those in it should try to understand this prophecy–rising interest rates mean that it will cost the US government more to service its debt–this will one day be truly unsustainable. Perhaps it should be noted that the United Kingdom seems to have the second highest amount of total debt (about 1/2 that of the USA).
The Anglo-American world order will come to an end. Accumulation of debt, and then having to pay historically 'normal' interest rates will strain the national economies of the USA and UK more than almost anyone will believe. It will be a financial crisis beyond what Jerome Powell would consider possible.
Those who think the current world order with the USA's dollar on top will last several decades are in error.
Those who will believe the Bible will take the words that God spoke to the prophet Habakkuk seriously.
Do not believe that there will not be anymore financial crises.
There will be.
And one is coming to the USA and its Anglo-Saxon descended allies that is far worse than what most politicians believe is possible.
Repentance is needed. The USA and its Anglo-Saxon allies will not last to the end of this century (watch also End of the Anglo-American Order).
Some items of possibly related interest include the following:
The End of US Dollar Dominance Is the USA losing its economic status? What about the petro-gold-yuan? A related video is also available: US Dollar being challenged by Gold-Petro-Yuan.
Is God Calling You? This booklet discusses topics including calling, election, and selection. If God is calling you, how will you respond? Here is a link to a related sermon: Could God be Calling You? A short animation is also available: Is God Calling You?
Christian Repentance Do you know what repentance is? Is it really necessary for salvation? A related sermon is also available titled: Real Christian Repentance.
Just What Do You Mean — Repentance? Do you know what repentance is? Have you truly repented? Repented of what? Herbert W. Armstrong wrote this as a booklet on this important subject.
USA in Prophecy: The Strongest Fortresses Can you point to scriptures, like Daniel 11:39, that point to the USA in the 21st century? This article does. A related sermon is titled: Do these 7 prophesies point to the end of the USA?
Who is the King of the West? Why is there no Final End-Time King of the West in Bible Prophecy? Is the United States the King of the West? Here is a version in the Spanish language: ¿Quién es el Rey del Occidente? ¿Por qué no hay un Rey del Occidente en la profecía del tiempo del fin? A related sermon is also available: The Bible, the USA, and the King of the West.
Collapse of the Euro and Dollar? War in 2020? Larry Edelson of Money and Markets described aspects of current economic difficulties and explained why he felt matters would get a lot worse. He said war, like World War III, could break out as early as 2020. What did he call the 'granddaddy of all cycles"? Will matters go as he said? What does the Bible teach? Dr. Thiel provides biblical insights that secular sources often miss. This is a video.
Physical Preparation Scriptures for Christians. We all know the Bible prophecies famines. Should we do something? Here is a version in the Spanish language Escrituras sobre Preparación física para los Cristianos. Here is a link to a related sermon: Physical preparedness for Christians.
The Plain Truth About Gold in Prophecy. How Should a Christian View Gold? What do economists and the Bible teach about gold? Gold and silver may drop in value. Inflation/deflation? What do Christians need to know about gold? A video of related interest may be: Germany, Gold, and the US Dollar.
Who is the King of the North? Is there one? Do biblical and Roman Catholic prophecies for the Great Monarch point to the same leader? Should he be followed? Who will be the King of the North discussed in Daniel 11? Is a nuclear attack prophesied to happen to the English-speaking peoples of the United States, Great Britain, Canada, Australia, and New Zealand? When do the 1335 days, 1290 days, and 1260 days (the time, times, and half a time) of Daniel 12 begin? When does the Bible show that economic collapse will affect the United States? Here is a link to a video titled: The Future King of the North.
The Gospel of the Kingdom of God This free online pdf booklet has answers many questions people have about the Gospel of the Kingdom of God and explains why it is the solution to the issues the world is facing. Here are links to three related sermons: The World's False Gospel, The Gospel of the Kingdom: From the New and Old Testaments, and The Kingdom of God is the Solution.
Anglo – America in Prophecy & the Lost Tribes of Israel Are the Americans, Canadians, English, Scottish, Welsh, Australians, Anglo-Saxon (non-Dutch) Southern Africans, and New Zealanders descendants of Joseph? Where are the lost ten-tribes of Israel? Who are the lost tribes of Israel? What will happen to Jerusalem and the Jews in Israel? Will God punish the U.S.A., Canada, United Kingdom, and other Anglo-Saxon nations? Why might God allow them to be punished first? Here is a link to the Spanish version of this article: Anglo-América & las Tribus Perdidas de Israel. Information is also in the YouTube sermons titled Where are the Ten Lost Tribes? Why does it matter? and British are the Covenant People. A short YouTube of prophetic interest may be: Are Chinese threats against Australia for real?
Will the Anglo-Saxon-Celtic Nations be Divided and Have People Taken as Slaves? Will the lands of the United States, United Kingdom, Canada, Australia, and New Zealand be divided? What about Jerusalem? What does Bible prophecy teach? Are there non-biblical prophecies that support this idea? Who will divide those lands? Who will end up with the lands and the people? Here is a link to a video titled Will the USA and other Anglo-nations be Divided and Their People Made Slaves? Here is a related item in the Spanish language ¿Serán divididas las naciones anglosajonas?
British are the Covenant People What do 'British' and 'Britain' mean in Hebrew? Are the descendants of the Anglo-Saxons people of the covenant? Does the British royal family connect to the throne of David? What does the Bible teach? What does history show us? Is there any DNA evidence related to British-Israelism? When did Christianity make it to the British Isles? Could Jeremiah have made it to the British Isles? What type of Christians made it to the British Isles? Did the last King of England believe in British Israelism?
Canada in Prophecy: What Does Bible Prophecy, Catholic Prophecy, and other Predictions Suggest About the Future of Canada? There are prophecies that suggest involvement with Canada. And many are not positive about its future. A sermon of related interest is also available: Canada in Prophecy.
Australia and New Zealand in Prophecy Do biblical prophecies help explain the wealth blessings for Australia and New Zealand? Might cursings from disobedience come in the 21st century? Here is a link to a related sermon: Australia and New Zealand: Origins and Prophecy.
Donald Trump in Prophecy Prophecy, Donald Trump? Are there prophecies that Donald Trump may fulfill? Are there any prophecies that he has already helped fulfill? Is a Donald Trump presidency proving to be apocalyptic? Two related videos are available: Donald: 'Trump of God' or Apocalyptic? and Donald Trump's Prophetic Presidency.
Trump Presidency Magic 8 Ball or Bible Prophecy? BBC reported that one might as well use a 'Magic Eight-Ball' to try to predict what will happen in the remaining time of Donald Trump's presidency. What is a 'Magic Eight-Ball'? Dr. Thiel not only explains that, but also briefly goes over 10 biblically-based warnings he wrote would happen if Donald Trump were elected that have already began to come to pass. He also goes over something he wrote back in 2008 that the Trump presidency is also helping lead to fulfillment. Should you trust Bible prophecy or not? Dr. Thiel says that Bible prophecy can be trusted, despite the view of skeptics and others that either overlook or despise the Bible. This is a video.
Donald Trump and America's Apocalypse This 188 page book is for people truly interested in prophecies related to Donald Trump and the United States, including learning about several that have already been fulfilled and those that will be fulfilled in the future. The physical book can be purchased at Amazon for $12.99 from the following link: Donald Trump and America's Apocalypse.
Donald Trump and America's Apocalypse-Kindle Edition This electronic version of the 188 page print edition is available for only US$3.99. And you do not need an actual Kindle device to read it. Why? Amazon will allow you to download it to almost any device: Please click HERE to download one of Amazon s Free Reader Apps. After you go to for your free Kindle reader and then go to Donald Trump and America's Apocalypse-Kindle Edition.
Who is the King of the West? Why is there no End-Time King of the West in Bible Prophecy? Is the United States the King of the West?