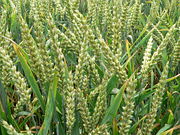 Wheat
As if there are not enough financial problems now, there are serious concerns about higher food prices:
Import Prices in U.S. Rise 1.1% in December, Led by Fuels, Food
By Shobhana Chandra – Jan 12, 2011 5:43 AM PT
The cost of goods imported into the U.S. rose in December, led by higher prices for commodities such as fuels and food…Rising demand from emerging markets like China, along with a weaker dollar, is driving up the cost of commodities…Prices of imported food increased 1.3 percent last month, and were up 13.1 percent from a year earlier.  http://www.bloomberg.com/news/2011-01-12/import-prices-in-u-s-rise-1-1-in-december-led-by-fuels-food.html

U.S. crop stockpile thins as weather and demand drive prices

Reuters – Jan 12, 2011

The United States, long the breadbasket to the world, is expected to confirm on Wednesday that its grain stockpiles are the lowest in years, darkening hopes for any quick relief from surging global food prices. The U.S. Department of Agriculture was expected to show in its monthly crop report a further deterioration in supplies at home, and to forecast how severe weather was hurting harvests from such powerhouses at Argentina and Australia.

World grain markets have been surging on bad weather and rising demand. With this backdrop, governments around the world are increasingly worried about food inflation after the UN Food and Agriculture Organization recently said international food prices have topped the previous record set in 2008. http://www.reuters.com/article/idUSTRE70B1BL20110112?feedType=RSS&feedName=domesticNews

Australia floods: Food prices 'to rise 30%'

BBC – Jan 11, 2011

Food prices in Australia could rise by as much as 30% in the coming months as a result of the Queensland floods, it has been warned.

The investment bank JP Morgan says it expects food prices to spike, which will also push up headline inflation.

The bank's chief economist in Australia said 50% of crops had been affected by the floods, with 20% wiped out…

But he warned of the impact that could be felt outside Australia.http://www.bbc.co.uk/news/business-12162952

France says concerned by surging global food prices
Of course, food shortages are prophesied. Jesus warned that "famines" would be part of the "beginning of sorrows" (Matthew 24:7-8). In the Book of Revelation, food price inflation is predicted with the ride of the third horseman (Revelation 6:6).
Related to the third horseman of Revelation, Evangelist Richard Ames wrote:
The third seal presents a rider on a black horse, representing the scarcity of food and the resulting famine…Cynics say there have always been wars, famines and pestilences. But, as time goes on, we will see the four horsemen of the apocalypse intensify their ride, with increasing global consequences. (Ames R. The Middle East in Prophecy. Living Church of God, 2006, p. 24)
While we are not yet to the final intensified ride of that horseman, part of the "beginning of sorrows" that Jesus referred to could have started. Food shortages will affect Americans more than most here believe.
As Jesus said:
37 And what I say to you, I say to all: Watch! (Mark 13:36-37)
Food prices are something to watch.
Tougher times are coming. And for some parts of the world these tougher time may be here now. People who can prepare, should. Both spiritually and physically.
Some articles of possibly related interest may include:
Can the Great Tribulation Begin in 2011, or 2012? Can the Great Tribulation begin today? What is the "beginning of sorrows"? When is the earliest that the Great Tribulation can begin? What is the Day of the Lord?
Will the Anglo-Nations be Divided? Will the lands of the United States, United Kingdom, Canada, Australia, and New Zealand be divided? What does Bible prophecy teach? Are there non-biblical prophecies that support this idea? Who will divide those lands? Who will end up with the lands and the people?
Physical Preparation Scriptures for Christians. We all know the Bible prophecies famines. Should we do something?
Anglo – America in Prophecy & the Lost Tribes of Israel Are the Americans, Canadians, British, Scottish, Welsh, Australians, Anglo-Southern Africans, and New Zealanders descendants of Joseph? Where are the lost ten-tribes of Israel? Who are the lost tribes of Israel? Will God punish the U.S.A., Canada, United Kingdom, and other Anglo nations? Why might God allow them to be punished first?