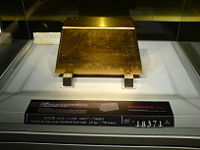 The 220 kg Gold brick displayed in Taiwan
The US dollar has been dropping again, gold is up, and Russia is selling it:
New York Times – Andrew E. Kramer…
Two years ago…Russia's president, Dmitri A. Medvedev — taking a swipe at the American dollar — proposed that central banks hold reserves in what would be a new, gold-backed international currency…

In short, Russia is selling gold because this has been a seller's market — and the nation needs the money…

Gold…is off the recent highs it reached in April. But the price is still up 62 percent in the last two years.
The sales of oil and gold are at the heart of Russia's economy.  Increases in the price of gold certainly help fund Russia's plans for modernizing and expanding its military might.
The idea of gold could be accumulated to support a new currency, while the US dollar tanks,  is discussed on page 333 of my book 2012 and the Rise of the Secret Sect. And this appears to be what will happen, as well is what is starting to happen now.
The financial world is somewhat starting to understand some of this–but few really know how bad it will get. The biblical reality is that US dollar will ultimately be worthless and the USA ultimately taken over because of its sins and debt. Increased interest gold (and silver) suggest decreased interest in the US dollar.  Russia is currently profiting from this, and since it has a lot of gold, may do so later, presuming that it does not get stuck holding too much in US dollars (and based on various public statements its top leaders have made, Russia, while having the potential for some significant loss, probably will not have highly massive losses on US dollars as it does not seem to be accumulating and holding massive amounts of them).
Now, if the US gets a budget/deficit-reduction deal and the international community thinks it is at least somewhat for real, and if it appears that the Europeans are getting their economic house in order, it may be that we will see a dip in the price of gold within the next several weeks.  But ultimately, my read of scripture indicates that the US dollar must become worthless, and that until some time into the Day of the Lord, gold will have some value.  That is something that gold exporting nations like Russia will tend to benefit from.  Of course, gold will not save humanity, only Jesus can do that, but it may be prudent for people to consider the signs of the times.
For additional information, check out the following articles:
The Plain Truth About Gold in Prophecy. How Should a Christian View Gold? What do economists and the Bible teach about gold? Gold and silver may drop in value. Inflation/deflation? What do Christians need to know about gold?
Are You Saved? Do You Love Jesus? What is a True Christian? What is the Gospel? Evangelist Richard Ames answers those important questions.
Russia: Its Origins and Prophesied Future Russia in prophecy. Where do the Russians come from? What about those in the Ukraine? What is prophesied for Russia and its allies? What will they do to the Europeans that supported the Beast in the end?
Is Russia the King of the North? Some claim it is. But what does the Bible teach?
Can the Great Tribulation Begin in 2011, 2012, or 2013? Can the Great Tribulation begin today? What happens before the Great Tribulation in the "beginning of sorrows"? What happens in the Great Tribulation and the Day of the Lord? When is the earliest that the Great Tribulation can begin? What is the Day of the Lord?
Prophecies of Barack Obama? This article has eight reasons why Barack Obama is apocalyptic and eight reasons why Barack Obama is not the Antichrist. It includes many biblical and non-biblical prophecies, from around the world, that seem to discuss Barack Obama. Did Nostradamus predict Barack Obama dealing with the Antichrist? Might Barack Obama set the stage for the kings of the North and South as at least one Shiite prophecy suggests? This is the longest and most complete article at the COGwriter website on Barack Obama prophecies. Read it and decide for yourself if President Obama seems to be fulfilling various prophecies.
Anglo – America in Prophecy & the Lost Tribes of Israel Are the Americans, Canadians, British, Scottish, Welsh, Australians, Anglo-Southern Africans, and New Zealanders descendants of Joseph? Where are the lost ten-tribes of Israel? Who are the lost tribes of Israel? What will happen to the Jews in Israel? Will God punish the U.S.A., Canada, United Kingdom, and other Anglo nations? Why might God allow them to be punished first?
Will the Anglo-Nations be Divided? Will the lands of the United States, United Kingdom, Canada, Australia, and New Zealand be divided? What does Bible prophecy teach? Are there non-biblical prophecies that support this idea? Who will divide those lands? Who will end up with the lands and the people?
2012 and the Rise of the Secret Sect This is a link related to a book by Bob Thiel (COGwriter). This also has YouTube videos. This book documents and explains hundreds of prophecies. And since it was published, many have already started to come to pass.
2012 y el surgimiento de la secta secreta 2012 libro del Dr. Thiel en Español.
2012 und das Auftreten der geheimen Sekte (German Edition) 2012 Buch von Dr. Thiel in deutscher Sprache.
2012 e o Surgimento da Seita Secreta (Portuguese Edition) 2012 livro do Dr. Thiel em português. Este livro documenta e explica centenas de profecias. E desde que foi publicado pela primeira vez, pelo menos 14 já começaram a acontecer.
2012 e o Surgimento da Seita Secreta (Brazilian Portuguese Edition) 2012 livro do Dr. Thiel.  Edição em português do Brasil. Este livro documenta e explica centenas de profecias. E desde que foi publicado pela primeira vez, pelo menos 16 já começaram a acontecer.