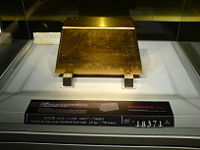 220 kg Gold brick displayed in Taiwan
Gold went up a lot today apparently because of concerns that the US Federal Reserve will further dilute the money supply with its third round of "quantitative easing" (QE3):
Gold Bugs Rejoice: QE3 Is Here!

Wall Street Journal – Sept 13, 2012

Gold futures, the purest QE play out there, are surging this afternoon after Fed Chairman Ben Bernanke unveiled another big asset-purchase program. Gold recently traded up $35.10, or 2%, at $1768.90, the highest level since February.

A scenario where surging gold prices coincide with more Fed stimulus has become commonplace. Gold tends to benefit from easy-money policies as investors utilize the precious metal as a hedge against potential inflation that could ultimately result from the Fed's policies.  http://blogs.wsj.com/marketbeat/2012/09/13/gold-bugs-rejoice-qe3-is-here/

Fed Undertakes QE3 With $40 Billion MBS Purchases Per Month
QE3 is an abbreviation for the third round of something called "quantitative easing."  Basically, the Federal Reserve pretends to by real assets for producing US dollars.  Really, what is purchased is US debt (plus some mortgages) that is really backed by nothing (although there is some backing for the mortgages).  This inflates the money supply and tends to make commodities and goods of many types, including gold, more valuable (silver, for example, went up a lot today as well).
The price of stocks and gold will fluctuate (for more current gold quotes, check out the Financial Information link, which also has links to stocks, currencies, and other financial valuations). Many are going for gold as a type of reserve currency.
The idea of gold could be accumulated to support a new currency, while the US dollar tanks, is discussed on page 333 of my book 2012 and the Rise of the Secret Sect. as well as page 133 my book Barack Obama, Islam, and the Destruction of the United States.  And this appears to be what will happen, as well is what is we see sometimes happening now.
The financial world is somewhat starting to understand some of this–but few really know how bad it will get. While Europe will have problems and ultimately must restructure (Revelation 17:11-13), the biblical reality is that US dollar will ultimately be worthless and the USA ultimately taken over because of its sins and debt. Increased interest gold (and silver) suggest decreased interest in the US dollar. Of course, with the rapid rise in the price of gold in the past few weeks, it may go down–though I believe that after the US dollar is worthless, gold still will have value (Daniel 11; Revelation 18).
Of course, gold and an improved economy will not save humanity, only Jesus can do that, but it may be prudent for people to consider the signs of the times.
For additional information, check out the following articles:
The Plain Truth About Gold in Prophecy. How Should a Christian View Gold? What do economists and the Bible teach about gold?  Gold and silver may drop in value, but they also have carnal value.  Inflation/deflation?  What do Christians need to know about gold (and silver)?
Are You Saved? Do You Love Jesus? What is a True Christian? What is the Gospel? Evangelist Richard Ames answers those important questions.
Can the Great Tribulation Begin in 2012, 2013, or 2014? Can the Great Tribulation begin today? What happens before the Great Tribulation in the "beginning of sorrows"? What happens in the Great Tribulation and the Day of the Lord? When is the earliest that the Great Tribulation can begin? What is the Day of the Lord?
2012 and the Rise of the Secret Sect This is a link related to a book by Bob Thiel (COGwriter). This link also has YouTube videos. This book documents and explains hundreds of prophecies. And since it was published, world events have aligned with at least 23 predictions in the book and many more will to come to pass.  Those who purchase the book at the www.thesecretsect.com website receive a lengthy bonus report documenting world events that aligned with the book.
2012 and the Rise of the Secret Sect (English Kindle edition).  This is the 2nd edition of the book, released in January 2012, and includes a summary of many of the predictions that world events have aligned with since the book originally came out in September 2009.
2012 y el surgimiento de la secta secreta 2012 libro del Dr. Thiel en Español.
2012 und das Auftreten der geheimen Sekte (German Edition) 2012 Buch von Dr. Thiel in deutscher Sprache. 2012 und das Auftreten der geheimen Sekte (German Kindle Edition)
2012 e o Surgimento da Seita Secreta (Portuguese Edition) 2012 livro do Dr. Thiel em português. Este livro documenta e explica centenas de profecias. E desde que foi publicado pela primeira vez, pelo menos 23 já começaram a acontecer.
2012 e o Surgimento da Seita Secreta (Brazilian Portuguese Edition) 2012 livro do Dr. Thiel.  Edição em português do Brasil. Este livro documenta e explica centenas de profecias. E desde que foi publicado pela primeira vez, pelo menos 23 já começaram a acontecer.
Barack Obama, Prophecy, and the Destruction of the United States This is a 160 page book for people truly interested in prophecies related to Barack Obama and the United States, including learning about many that have already been fulfilled (which the book documents in detail) and those that will be fulfilled in the future. It also has a chapter about Mitt Romney. This book is available to order at www.barackobamaprophecy.com. The physical book can also be purchased at Amazon from the following link:  Barack Obama, Prophecy, and the Destruction of the United States: Is Barack Obama Fulfilling Biblical, Islamic, Catholic, Kenyan, and other America-Related Prophecies? What About Mitt Romney?
Barack Obama, Prophecy, and the Destruction of the United States–Amazon Kindle edition. This electronic version is available for only US$2.99. And you do not need an actual Kindle device to read it. Why? Amazon will allow you to download it to almost any device: Please click HERE to download one of Amazon's Free Reader Apps.  After you go to for your free Kindle reader and then go to Barack Obama, Prophecy, and the Destruction of the United States–Amazon Kindle edition.)