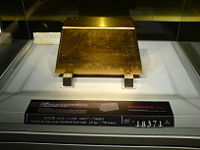 The 220 kg Gold brick displayed in Taiwan
The US dollar has been dropping and some in Mexico are trying to do something about it:
Bank Of Mexico Buys 100 Tons Of Gold In February, March

Wall Street Journal – May 4, 2011

Mexico's central bank purchased almost 100 metric tons of gold in February and March, another signal that emerging markets are likely to steadily raise their gold reserve holdings, industry participants say…

The Bank of Mexico traditionally holds most of its reserves in U.S. dollar-denominated investments.

http://online.wsj.com/article/BT-CO-20110504-722917.html

Mexico ramps up gold reserves at dollar's expense

Mexico massively ramped up its gold reserves in the first quarter of this year, buying over $4 billion of bullion as emerging economies move away from the ailing U.S. dollar, which has dipped to 2-1/2-year lows…

Sergio Martin, chief economist for HSBC in Mexico, said the government probably saw gold as a highly liquid asset that would reduce exposure to the falling greenback.

"They're probably thinking that getting out of dollars and into gold makes sense because we know that the dollar has some trend to depreciate in the near future at least," said Martin. "I don't think they're going to lose money with this."   http://www.reuters.com/article/2011/05/04/mexico-gold-idUSLDE7431OZ20110504
Notice that the belief is that since the trend for the US dollar is to depreciate, the Mexicans are realizing that it is to risky to own.  Eventually, foreigners are going to dump the US dollar completely (cf. Habakkuk 2:3,5,6-8).  But before they do that, certain steps need to be taken–and Mexico has taken some steps itself.  BTW, although gold has dropped in value in the past week, it still is worth more in US dollars than the Mexicans would have paid for it in February and March.
The idea of gold could be accumulated, while the US dollar tanks is discussed on page 333 of my book 2012 and the Rise of the Secret Sect. And this appears to be what will happen, as well is what is starting to happen now.
The financial world is somewhat starting to understand some of this–but few really know how bad it will get. The biblical reality is that US dollar will ultimately be worthless and the USA ultimately taken over because of its sins and debt. Increase interest gold (and silver) suggest decreased interest in the US dollar.
For additional information, check out the following articles:
The Plain Truth About Gold in Prophecy. How Should a Christian View Gold? What do economists and the Bible teach about gold? Gold and silver may drop in value. Inflation/deflation? What do Christians need to know about gold?
Are You Saved? Do You Love Jesus? What is a True Christian? What is the Gospel? Evangelist Richard Ames answers those important questions.
Mexico, Central America, South America, and Brazil in Prophecy [Español: México, America Central, Suramérica, y el Brasil en profecíal] [Português: México, América Central, Ámérica do Sul, e Brasil na profecia] What will happen to those of Latin America? Will they have prosperity? Will they cooperate with Europe? Will they suffer in the future? What rule might the various Caribbean nations/territories play?
Can the Great Tribulation Begin in 2011, 2012, or 2013? Can the Great Tribulation begin today? What happens before the Great Tribulation in the "beginning of sorrows"? What happens in the Great Tribulation and the Day of the Lord? When is the earliest that the Great Tribulation can begin? What is the Day of the Lord?
Prophecies of Barack Obama? This article has eight reasons why Barack Obama is apocalyptic and eight reasons why Barack Obama is not the Antichrist. It includes many biblical and non-biblical prophecies, from around the world, that seem to discuss Barack Obama. Did Nostradamus predict Barack Obama dealing with the Antichrist? Might Barack Obama set the stage for the kings of the North and South as at least one Shiite prophecy suggests? This is the longest and most complete article at the COGwriter website on Barack Obama prophecies. Read it and decide for yourself if President Obama seems to be fulfilling various prophecies.
Anglo – America in Prophecy & the Lost Tribes of Israel Are the Americans, Canadians, British, Scottish, Welsh, Australians, Anglo-Southern Africans, and New Zealanders descendants of Joseph? Where are the lost ten-tribes of Israel? Who are the lost tribes of Israel? What will happen to the Jews in Israel? Will God punish the U.S.A., Canada, United Kingdom, and other Anglo nations? Why might God allow them to be punished first?
Will the Anglo-Nations be Divided? Will the lands of the United States, United Kingdom, Canada, Australia, and New Zealand be divided? What does Bible prophecy teach? Are there non-biblical prophecies that support this idea? Who will divide those lands? Who will end up with the lands and the people?
2012 and the Rise of the Secret Sect This is a link related to a book by Bob Thiel (COGwriter). This also has YouTube videos. This book documents and explains hundreds of prophecies. And since it was published, many have already started to come to pass.
2012 y el surgimiento de la secta secreta 2012 libro del Dr. Thiel en Español.
2012 und das Auftreten der geheimen Sekte (German Edition) 2012 Buch von Dr. Thiel in deutscher Sprache.
2012 e o Surgimento da Seita Secreta (Portuguese Edition) 2012 livro do Dr. Thiel em Português. Este livro documenta e explica centenas de profecias. E desde que foi publicado pela primeira vez, pelo menos 14 já começaram a acontecer.