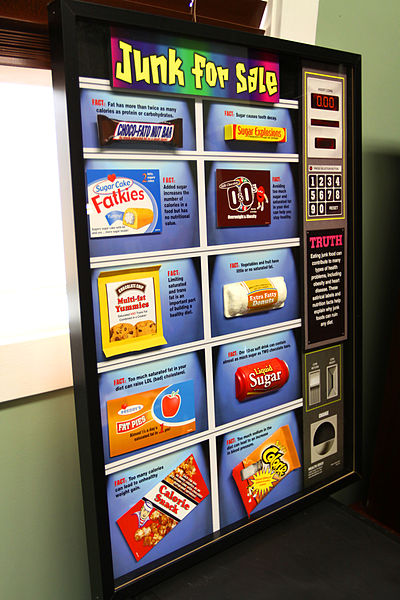 There is now a new category of childhood obesity and it appears to be growing:
'Severely obese:' 5 percent of US kids, teens fit risky new category

Overall obesity rates for American kids may have leveled off, but a new report finds that children and teens at the far end of the spectrum are getting heavier, faster — with about 5 percent now classified as "severely obese." That means nearly 4 million U.S. youth fall into a new category of obesity risk…

It appears that severe obesity is the fastest-growing subcategory of obesity in youth," write the authors in the report published in the journal Circulation.

Worse, when children get that big, it's difficult to help them lose weight with traditional tools of diet and exercise, or even with drugs and surgery.

"Once this problem gets so severe, there's no turning back, or there's no turning back easily," said Dr. Thomas Inge, a co-author of the paper and director of the Center for Bariatric Research and Innovation at Cincinnati Children's Hospital Medical Center. "People don't like to hear that and they don't like to know that."

Severely obese kids have higher rates of weight-related disease, including type 2 diabetes and cardiovascular disease, with complications such as high blood pressure and hardening of the arteries. Previous research has shown that obese kids as young as age 10 can have the arteries of middle-aged adults…

The new statement calls for increased research into behavior modification, drugs and surgeries targeted to the heaviest kids.

Even better, health officials agree, would be to start early, limiting fast-food, sugary soft drinks and too little exercise, all habits that contribute to the 2.2 percent of preschoolers who already fall into the new category of severe obesity. Many parents are in denial about their children's weight, studies have shown, but they need to act early, well before kids reach adolescence.  http://www.nbcnews.com/health/severely-obese-5-percent-us-kids-teens-fit-risky-new-8C11109058
Notice that eating junk food and sodas are implicated in childhood obesity and that even a lot of preschoolers are severely obese.
The Bible warns about obesity, getting fat, excessive eating, as well eating things that are not really food:
2 Why do you spend money for what is not bread,
And your wages for what does not satisfy?
Listen carefully to Me, and eat what is good (Isaiah 55:2).
15 You grew fat, you grew thick,
You are obese!
Then he forsook God who made him,
And scornfully esteemed the Rock of his salvation.
16 They provoked Him to jealousy with foreign gods;
With abominations they provoked Him to anger. (Deuteronomy 32:15-16)

11 "Because you were glad, because you rejoiced,
You destroyers of My heritage,
Because you have grown fat like a heifer threshing grain,
And you bellow like bulls,
12 Your mother shall be deeply ashamed;
She who bore you shall be ashamed.
Behold, the least of the nations shall be a wilderness,
A dry land and a desert. (Jeremiah 50:11-12)
Many people, including children, do not often eat what is good. Many eat too many chemically-laced highly processed foods.
But most in Westernized areas consume the synthetics, chemicals, and refined grains.
People should try to eat real, not artificial, foods. And soda consumption should be almost non-existent, essentially a very rare treat.  Dietary changes are needed as the ramifications of increasing obesity are not good.
Some prophetic articles of possibly related interest may include:
Obesity and Prophecy Does the Bible warn about the consequences of being obese? Is overeating dangerous? Is gluttony condemned?
Eating Right, Eating Too Much, and Prophecy Are there disadvantages to being overweight? Is junk food really bad for you? Does the Bible discuss overeating and/or obesity? Is overeating having an effect on the US military? What are the ramifications of personal and national health for overeating? What should you eat?  This is a video.
GMOs and Bible Prophecy What are GMOs? Since they were not in the food supply until 1994, how could they possibly relate to Bible prophecy? Do GMOs put the USA and others at risk? Here is a related YouTube video GMO Risks and the Bible.
Ten Simple Rules that Lead to Health Herbert Armstrong gives his opinions on this.
Does God Heal Today? What does the Bible teach? Herbert Armstrong tries to explain this.
UK Study Supports Daniel Diet Daniel and his companions looked better eating more vegetables and avoiding strange meats. Has modern science confirmed this?
Anglo – America in Prophecy & the Lost Tribes of Israel Are the Americans, Canadians, British, Scottish, Welsh, Australians, Anglo-Southern Africans, and New Zealanders descendants of Joseph? Where are the lost ten-tribes of Israel? Who are the lost tribes of Israel? Will God punish the U.S.A., Canada, United Kingdom, and other Anglo nations? Why might God allow them to be punished first?