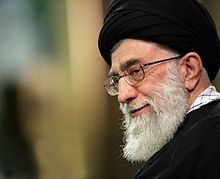 Ayatollah ali Khamenei
The heads of the USA and Iran have been communicating:
February 14, 2015
Iran's supreme leader and the U.S. president have exchanged correspondence as the two sides try to reach a nuclear accord, according to a report in the The Wall Street Journal.

In a story posted online…, the Journal says Ayatollah Ali Khamenei "has responded to overtures" from U.S. President Barack Obama.

Khamenei wrote to the U.S. leader "in recent weeks" in response to a letter from Obama in October "that raised the possibility of U.S.-Iranian cooperation in fighting Islamic State" if an agreement on a nuclear deal is reached, the report says.

An unidentified Iranian diplomat told The Wall Street Journal that the supreme leader's response to Obama was "respectful," but non-committal.  http://www.voanews.com/content/report-obama-khamenei-exchange-letters/2644047.html
In its latest newsletter last night, ICG's Mark Armstrong wrote the following:
ISIS must be the greatest gift Iran could have hoped for.  Now that kidnapping, torture, rape, beheadings and the burning alive of a Jordanian pilot have captured the world's attention, Iran's nuclear program is no longer center-stage.  Negotiations initiated by the current administration have languished for about nine months without resolution.  But it is the American negotiators offering concessions while the Iranians continue their quest for nuclear weapons.  This is a much more urgent menace than ISIS to Israel and the United States.
What I would state here is that I have been warning for some time that Iran was delaying cooperating on the nuclear matter and that the West has allowed it.  Here is some of what I posted on November 24, 2013:
A deal that will apparently help the economy of Iran and impact its nuclear program has been made and agreed to…

What this deal really does is give Iran some economic relief and time to upgrade its technology, while it agrees to get rid of some of its underdeveloped nuclear waste and centrifuges.  This, in theory at least, will give Iran more money and more time to work on its nuclear technology, and at some point it time, it will likely not allow (officially or surreptitiously) inspectors to see some of what will be its newer, more advanced nuclear capacity. …

In Isaiah 22:1-14, which seems to have a reference to at least part of the area of Iran, the Bible mentions that, presuming it has a future application, a time is coming when God will take away the protection of Judah and the City of David (Jerusalem, cf. 2 Kings 9:28).  Israel is concerned that it is in danger.  And it may soon be. …

Since Iran, however, is NOT really south of Jerusalem (though it may support such a king per certain interpretations of the peoples listed in Ezekiel 30:1-9), it will not be the final King of the South of Bible prophecy (cf. Daniel 11:40-43). Because of that, I have tended to believe that Iran may somehow get "neutralized" before this final king rises up. A serious attack by the USA and/or Israel may neutralize Iran and much of its influence–but Iran might hit hard first.

"Neutralizing" Iran would allow most of the other Islamic states (like Saudi Arabia and Egypt) to continue to exist (Syria might not do well per Isaiah 17:1) and allow for the rising of the prophesied King of the South to rise up (revolution in Iran, is also another possibility, for its "neutralization").  Israel has stated in the past that it will stop Iranian nuclear ambitions whether or not the USA will support it doing so.

Yet, Iran may have a role in Isaiah 22 and this will not bode well for Israel (and probably ultimately not Iran).  The USA, itself, may also be damaged.

We will see how this current 'interim' deal will play out.  (Iran makes nuclear deal that Obama praises: Israel and Saudi Arabia are not pleased).
Iran has been appeased, but has not changed its overall goals.  Iran wants to dominate the entire Islamic world.  It has the strongest military within that block, but will not succeed as it hopes.
We may still see a regional war involving Iran, Syria, Israel, and possibly others, like the USA.
Iran has made many threats in the past towards both Israel and the USA. It is now getting closer to being able to carry its threats out as it repeatedly has gotten delays from the USA and some of its partners.
Iran already has a lot of nuclear materials and could at least now produce what is called a 'dirty bomb." A "dirty bomb" is one where radioactive materials are placed inside a conventional bomb. The resultant explosion would contaminate an area and make it radioactively dangerous. Many also believe that Iran is close to producing not just the possibility of dirty bombs, but actual nuclear bombs. Iran having drone stealth technology puts the USA, Israel, and others at risk of being attacked with nuclear explosions. This could very well happen.
Furthermore, another way that Iran could inflict major damage to the USA would be an effective use of electromagnetic pulse (EMP) weapons. Iran is believed to have that capability, as well as have tested delivery systems to employ this.
An EMP attack by Iran, in the proper locations, could greatly affect Israel, the USA, or even Europe. Having a stealth drone could make this a reality.  Iran deployed one in a test of a suicide drone a couple of months ago–Iran has indicated that its drone project is "America's worst nightmare' (Iran deploys 'suicide drone': a threat to USA and Israel?).  Iran has made many public statements indicating it wishes to destroy the USA and Israel.
Power transformers in the USA (and elsewhere) are at risk from emp bombs and this could cause major economic and other damage to the USA. Such emp weapons, however, have never been used large scale, so precisely what would happen is subject to debate. But the reality is that emp weapons, as well as solar flares which have similar potential, are threats to the USA, its defenses, and its economy.
The USA, despite its military strength, is vulnerable to being hurt by EMP weapons as well as nuclear weapons, chemical weapons, dirty bombs, terrorism, and biological weapons that Iran and/or its ally Syria possess. It has been shown in a test that EMPs can basically work as advertised, and this may give the Iranians more reason to look further into using them if they feel pressed.
The top leadership of Iran has a Shi'ite Muslim agenda, which they have concluded includes causing chaos and war. I, for one, do not believe that Iran's leaders have given up on their goals of Islamic domination–and they do want weapons of mass destruction. But if they significantly act militarily with them (cf. Isaiah 22:1-14), it ultimately will not turn our well for Iran (e.g. Jeremiah 49:34-38).  Appeasement with Iran has not seemed to change its intentions.  Delays only seem to give Iran more time.
Some items of possibly related interest may include:
Iran in Prophecy Is Iran in Bible prophecy? If so, what does the Bible teach? What names, other than Persia, may be used to describe Iran? There is also a YouTube video titled Iran in Prophecy. Here is a related video Iran In Prophecy.
Is the Future King of the South Rising Up? Some no longer believe there needs to be a future King of the South. Might Egypt, Islam, Iran, Arabs, or Ethiopia be involved? Might this King be called the Mahdi or Caliph? What does the Bible say? A YouTube video of related interest may be: The Future King of the South is Rising.
Damascus and Syria in Prophecy Will Bashar Assad hold power as he has it? Does the Bible show that Damascus, the capital of Syria, will be destroyed? What will happen to Syria? Will the Syrians support the final King of the South that the Bible tells will rise up? Which scriptures discuss the rise and fall of an Arabic confederation? Does Islamic prophecy predict the destruction of Syria. This is a YouTube video.
The Arab and Islamic World In the Bible, History, and Prophecy The Bible discusses the origins of the Arab world and discusses the Middle East in prophecy. What is ahead for the Middle East and those who follow Islam? What about the Imam Mahdi? What lies ahead for Turkey, Iran, and the other non-Arabic Muslims? An item of possibly related interest in the Spanish language would be: Líderes iraníes condenan la hipocresía de Occidente y declaran que ahora es tiempo para prepararse para el Armagedón, la guerra, y el Imán Mahdi. Another article related to Iran translated into the Spanish language is: Irán y líderes israelíes discuten las intenciones nucleares de Irán.
United Nations: Humankind's Last Hope or New World Order? Is the UN the last hope for humanity? Or might its goals end up with sinister results?
Jerusalem: Past, Present, and Future What does the Bible say about Jerusalem and its future? Is Jerusalem going to be divided and eliminated? Is Jesus returning to the area of Jerusalem?
Anglo – America in Prophecy & the Lost Tribes of Israel Are the Americans, Canadians, English, Scottish, Welsh, Australians, Anglo-Saxon (non-Dutch) Southern Africans, and New Zealanders descendants of Joseph? Where are the lost ten-tribes of Israel? Who are the lost tribes of Israel? What will happen to Jerusalem and the Jews in Israel? Will God punish the U.S.A., Canada, United Kingdom, and other Anglo-Saxon nations? Why might God allow them to be punished first? Here is a link to the Spanish version of this article: Anglo-América & las Tribus Perdidas de Israel. Information is also in the YouTube sermons titled Where are the Ten Lost Tribes? Why does it matter? and British are the Covenant People. A short YouTube of prophetic interest may be Barack Obama and the State of the Apocalypse.
Will the Anglo-Saxon Nations be Divided and Have People Taken as Slaves? Will the lands of the United States, United Kingdom, Canada, Australia, and New Zealand be divided? What about Jerusalem? What does Bible prophecy teach? Are there non-biblical prophecies that support this idea? Who will divide those lands? Who will end up with the lands and the people? Here is a link to a video titled Will the USA and other Anglo-nations be Divided and Their People Made Slaves? Here is a related item in the Spanish language ¿Serán divididas las naciones anglosajonas?
When Will the Great Tribulation Begin? 2015, 2016, or 2017? Can the Great Tribulation begin today? What happens before the Great Tribulation in the "beginning of sorrows"? What happens in the Great Tribulation and the Day of the Lord? Is this the time of the Gentiles? When is the earliest that the Great Tribulation can begin? What is the Day of the Lord? Who are the 144,000? Here is a version of the article in the Spanish language: ¿Puede comenzar la Gran Tribulación en 2014 o 2015? ¿Es el Tiempo de los Gentiles? You can also see the English language sermon video: The Great Tribulation from the Mount of Olives.
Prophecies of Barack Obama? Reasons why Barack Obama is apocalyptic and reasons why Barack Obama is not the Antichrist. This article includes many biblical and non-biblical prophecies, from around the world, that seem to discuss Barack Obama. Did Nostradamus predict Barack Obama dealing with the Antichrist?  Might Barack Obama set the stage for the kings of the North and South as at least one Shiite prophecy suggests?  Read it and decide for yourself if President Obama seems to be fulfilling various prophecies. Watch also the YouTube Barack Obama and the State of the Apocalypse.