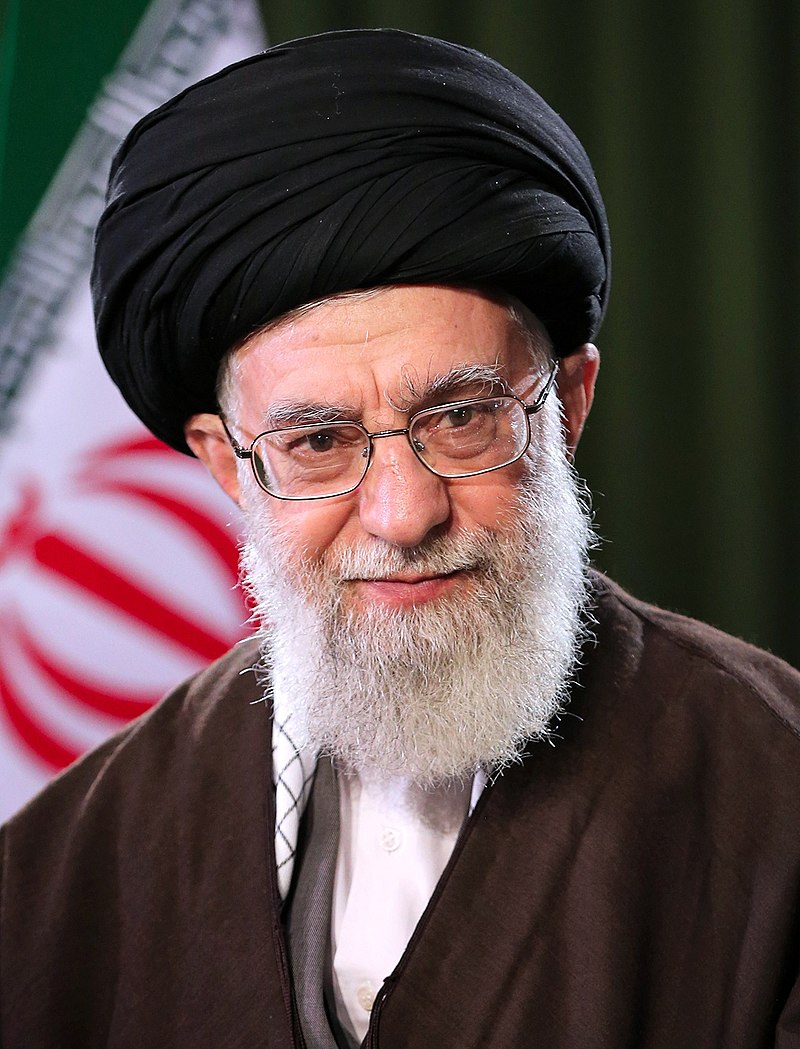 Ayatollah Ali Khamenei (khamenei.ir)

The leader of Iran says his nation will not speak with the US:
September 17, 2019

DUBAI — Iran will never hold talks with America, the country's Supreme Leader Ayatollah Ali Khamenei said on state television Tuesday morning, effectively killing chances for a rapprochement some had anticipated between leaders of both countries during the United Nations General Assembly (UNGA) meetings taking place this week and next.

"Iranian officials will never talk to America …. this is part of their (U.S.) policy to put pressure on Iran … their policy of maximum pressure will fail," Khamenei said.

Khamenei's words come ahead of the high level meetings at the UNGA scheduled for next week, and amid fresh acrimony between Washington and Tehran following major attacks on Saudi oil infrastructure that U.S. officials have blamed on Iran. The attacks on Saudi Aramco's massive Abqaiq and Khurais plants, which was claimed by Yemen's Houthi rebels, forced the state oil giant to shut down half of its production, sending oil prices up by double digits. https://www.cnbc.com/2019/09/17/iran-will-never-talk-to-america-supreme-leader-says-as-unga-begins.html

September 17, 2019
TEHRAN, Iran (AP) — Iran's supreme leader announced on Tuesday that "there will be no talks with the U.S. at any level" — remarks apparently meant to end all speculation about a possible U.S.-Iran meeting between the two countries' presidents at the U.N. later this month.

Iranian state TV quoted Ayatollah Ali Khamenei as saying this is the position of the entire leadership of the country and that "all officials in the Islamic Republic unanimously believe" this.

"There will be no talks with the U.S. at any level," he said.

Khamenei said the U.S. wants to prove its "maximum pressure policy" against Iran is successful.

"In return, we have to prove that the policy is not worth a penny for the Iranian nation," Khamenei said. "That's why all Iranian officials, from the president and the foreign minister to all others have announced that we do not negotiate (with the U.S.) either bilaterally or multilaterally." https://apnews.com/a9338ae2a531414a897e0f810ee7d9f1?utm_source=Twitter&utm_medium=AP&utm_campaign=SocialFlow
US policy may not be worth one penny to Ayatollah Ali Khamenei , but US sanctions have cost Iran a lot of money.
Although initially reported as a drone incident (see 'Yemen Rebels Claim Drone Attacks on Saudi Oil Facility' 'Drone strikes knock out half of Saudi oil capacity'), BBC News' Amercian Bureau chief, Paul Danahar, tweeted the following:
Senior US officials have told CBS they've identified the locations in Iran from which a combination of more than 20 drones and cruise missiles were launched against the Saudi oil facilities. They say the locations are in southern Iran at the northern end of the Persian Gulf.

— Paul Danahar (@pdanahar) September 17, 2019
As far as US response to some of this, notice the following from Donald Trump:
WHITE HOUSE – U.S. President Donald Trump says any American military attack on Iran would be proportionate to the attacks carried out on oil facilities in Saudi Arabia.

Speaking to reporters on the South Lawn on Monday afternoon, Trump, asked about Secretary of State Mike Pompeo directly blaming Iran for the attack on the Saudi installations, replied: "I think we're the same. I think we just want to find out the final numbers and see."

The president added that it would be known who is responsible "for certain over the next pretty short period."

Earlier in the afternoon, Trump told reporters in the Oval Office during a meeting with the crown prince of Bahrain, Salman bin Hamad bin Isa Al Khalifa, that while he does not want war with Iran, "The United States is more prepared" for a conflict than any country in history.

"With all that being said, we'd certainly like to avoid it," added Trump.

Diplomacy is never exhausted, said Trump who was also asked by reporters if he had promised the Saudis that the United States will protect them.

"No, I haven't promised the Saudis that," responded Trump. "We have to sit down with the Saudis and work something out."

The president announced that Pompeo and other U.S. officials will travel to Saudi Arabia.

The attack on the Saudi facilities and worries about a widening conflict in the region caused oil prices to rise about 15% on Monday. 09/16/19 https://www.voanews.com/usa/trump-wed-certainly-avoid-war-iran
If the US does provide a "proportionate response," Iran will not be pleased.
It is more and more being impacted by the US and one day will act in ways that the US does not seem to expect (cf. Isaiah 22:6-9).
In other Iranian related news, three Australians are being held as suspected spies:
September 17, 2019

Iranian authorities have now confirmed the nation is detaining three Australians, with one of them accused of spying for a third country.

The details are contained in a brief report from the semi-official Fars news agency, which contains the first information from within Iran about the detention of three Australians.

It quotes an Iranian judiciary official saying two Australian travel bloggers were arrested after taking pictures in military areas, and says the third Australian — presumably Kylie Moore-Gilbert — was detained for allegedly spying for a third country.

"The news is true and there are two dossiers and bills of indictments have been issued for both cases," judiciary spokesman Gholamhossein Esmaili said.

The ABC understands Dr Moore-Gilbert was arrested in the second half of last year after travelling to Iran to attend a course in the city of Qom, about two hours' drive from Tehran.

She had official permission and the correct visas to attend that course.

"The act of espionage was not for the native country of the person but for another country," Mr Esmaili said. https://www.abc.net.au/news/2019-09-17/iranian-authorities-confirm-detention-of-three-australians/11522082
Australia is a close US ally. That could have been a factor in what Iran has done.
Now, Michael Synder has been writing various articles suggesting that the situation with Iran could trigger or lead to World War III. Here is something he recently posted:
U.S. Prepares To Strike Iran As The Middle East Braces For World War 3 To Erupt

President Trump is using the phrase "locked and loaded" to describe our current stance toward Iran, and the big news networks appear to believe that some sort of U.S. military action could be imminent. We just witnessed the worst attack on Saudi oil production facilities in history, and it would seem to be extremely unlikely that the U.S. and Saudi Arabia would allow this to pass with no response. Houthi rebels in Yemen have publicly taken responsibility for the attacks, but as you will see below, U.S. officials have already completely rejected that explanation for a variety of reasons. At this point, we are being told that the attacks probably originated either from Iranian-backed Shia rebels in southern Iraq or from Iran itself. And if the U.S. strikes back by conducting airstrikes inside Iran, that could literally cause World War 3 to erupt. …

Is it just me, or does that make it sound like we will strike whoever the Saudis blame for the attack?

That is potentially very dangerous, because the Saudis seriously hate the Iranians, and there are many in the Saudi government that would like nothing more than for the U.S. military to bomb the living daylights out of Iran.

And as CNN has noted, the "locked and loaded" language that Trump just used is very similar to the "cocked & loaded" language that he used when we came within minutes of bombing Iran back in June…

So what would a U.S. attack on Iran look like?

Well, U.S. Senator Lindsey Graham has suggested hitting Iran's oil refineries…

US Republican Senator Lindsey Graham said the United States should consider an attack on Iran's oil refineries in retaliation.

Senator Graham, a strong ally of President Trump, tweeted: "It is now time for U.S. to put on the table an attack on Iranian oil refineries if they continue their provocations or increase nuclear enrichment."

President Trump would probably like that because it is "proportional", and if the attack is conducted at night the loss of life would likely be minimal.

But of course if the Iranians responded by hitting U.S. targets in the region, that could potentially set off a sequence of events that would inevitably lead to World War 3.

So let us hope it does not come to that. 09/15/19 http://endoftheamericandream.com/archives/u-s-prepares-to-strike-iran-as-the-middle-east-braces-for-world-war-3-to-erupt
It is difficult to know what Donald Trump's words mean in terms of actual actions he will take or authorize. He has a history of overstatements, exaggerations, and a seemingly lack of recall of some of his statements.
Anyway, although Donald Trump has taken steps that ultimately will lead to WWIII (cf. World War III: Steps in Progress), no the current situation with Iran is not about to start it. That war cannot start for at least 3 1/2 years from now and longer seems more likely at this stage (see When Will the Great Tribulation Begin?).
That being said, Iran will one day cause great damage to Jerusalem (Isaiah 22:6-9) and cause other issues, before it is essentially defeated (Jeremiah 49:34-38).
US military actions could well trigger Iranian desperation to take military steps that Iran otherwise may not have been inclined to make.
Some items of related interest include the following:
Iran in Prophecy Is Iran in Bible prophecy? If so, what does the Bible teach? What names, other than Persia, may be used to describe Iran? There is also a YouTube video titled Iran In Prophecy.
Can the Final Antichrist be Islamic? Is Joel Richardson correct that the final Antichrist will be Islamic and not European? Find out. A related sermon is titled: Is the Final Antichrist Islamic or European? Another video is Mystery Babylon USA, Mecca, or Rome?
Damascus and Syria in Prophecy Will Bashar Assad hold power as he has it? Does the Bible show that Damascus, the capital of Syria, will be destroyed? What will happen to Syria? Will the Syrians support the final King of the South that the Bible tells will rise up? Which scriptures discuss the rise and fall of an Arabic confederation? Does Islamic prophecy predict the destruction of Syria.
Is the Future King of the South Rising Up? Some no longer believe there needs to be a future King of the South. Might Egypt, Islam, Iran, Arabs, or Ethiopia be involved? Might this King be called the Mahdi or Caliph? What does the Bible say? A YouTube video of related interest may be: The Future King of the South is Rising.
The Muslim Brotherhood and the Rise of the King of the South The Bible tells of the formation of a power of nations that are in the Middle East and North Africa that are part of the final "King of the South" (Daniel 11:40-43) The Muslim Brotherhood wishes to have an Islamic empire with basically the same nations. This YouTube video explains what to expect from such a confederation.
Why Terrorism? Is Terrorism Prophesied? What does the Bible teach? Which nations may be affected? Here is a link to a related sermon: Terrorism, Christianity, and Islam.
The Arab and Islamic World In the Bible, History, and Prophecy The Bible discusses the origins of the Arab world and discusses the Middle East in prophecy. What is ahead for the Middle East and those who follow Islam? What about the Imam Mahdi? What lies ahead for Turkey, Iran, and the other non-Arabic Muslims? An item of possibly related interest in the Spanish language would be: Líderes iraníes condenan la hipocresía de Occidente y declaran que ahora es tiempo para prepararse para el Armagedón, la guerra, y el Imán Mahdi.
The Prophesied 'Islamic' Confederation Where is an Islamic caliphate prophesied? Will one happen? Should you be concerned about it? A related video is Will an Arabic Calphiphate Destroy the West?
The 'Peace Deal' of Daniel 9:27 This prophecy could give up to 3 1/2 years advance notice of the coming Great Tribulation. Will most ignore or misunderstand its fulfillment? Here is a link to a related sermon video Daniel 9:27 and the Start of the Great Tribulation.
How Will Middle East Peace be Brought About? Can humans bring peace to the Middle East? Here is a link to a related video: Middle East Peace? When?
When Will the Great Tribulation Begin? 2019, 2020, or 2021? Can the Great Tribulation begin today? What happens before the Great Tribulation in the "beginning of sorrows"? What happens in the Great Tribulation and the Day of the Lord? Is this the time of the Gentiles? When is the earliest that the Great Tribulation can begin? What is the Day of the Lord? Who are the 144,000? Here is a version of the article in the Spanish language: ¿Puede comenzar la Gran Tribulación en 2018 o 2019? ¿Es el Tiempo de los Gentiles? You can also see the English language sermon videos: The Great Tribulation from the Mount of Olives and Can the Great Tribulation begin before 2020? A shorter and newer video is: Might the Great Tribulation start in 2019?
The Times of the Gentiles Has there been more than one time of the Gentiles? Are we in it now or in the time of Anglo-America? What will the final time of the Gentiles be like? A related sermon is available and is titled: The Times of the Gentiles.
Armageddon Who is involved and when will this gathering happen? Here is also a video from Dr. Thiel, from Tel Megiddo in Israel: Armageddon. Other videos include: Armageddon Will it come on Trump's watch?, Iraq, Armageddon, & Prophecy, Freemasonry, Armageddon, and Rome, Is China paving roads to Armageddon?, and Jordan, Petra, and Armageddon.
Is Russia the King of the North? Some claim it is. But what does the Bible teach? Here is a link to a video, also titled Is Russia the King of the North?
Anglo – America in Prophecy & the Lost Tribes of Israel Are the Americans, Canadians, English, Scottish, Welsh, Australians, Anglo-Saxon (non-Dutch) Southern Africans, and New Zealanders descendants of Joseph? Where are the lost ten-tribes of Israel? Who are the lost tribes of Israel? What will happen to Jerusalem and the Jews in Israel? Will God punish the U.S.A., Canada, United Kingdom, and other Anglo-Saxon nations? Why might God allow them to be punished first? Here is a link to the Spanish version of this article: Anglo-América & las Tribus Perdidas de Israel. Information is also in the YouTube sermons titled Where are the Ten Lost Tribes? Why does it matter? and British are the Covenant People. A short YouTube of prophetic interest may be: Are Chinese threats against Australia for real?
Will the Anglo-Saxon Nations be Divided and Have People Taken as Slaves? Will the lands of the United States, United Kingdom, Canada, Australia, and New Zealand be divided? What about Jerusalem? What does Bible prophecy teach? Are there non-biblical prophecies that support this idea? Who will divide those lands? Who will end up with the lands and the people? Here is a link to a video titled Will the USA and other Anglo-nations be Divided and Their People Made Slaves? Here is a related item in the Spanish language ¿Serán divididas las naciones anglosajonas?
British are the Covenant People What do 'British' and 'Britain' mean in Hebrew? Are the descendants of the Anglo-Saxons people of the covenant? Does the British royal family connect to the throne of David? What does the Bible teach? What does history show us? Is there any DNA evidence related to British-Israelism? When did Christianity make it to the British Isles? Could Jeremiah have made it to the British Isles? What type of Christians made it to the British Isles? Did the last King of England believe in British Israelism?
Canada in Prophecy: What Does Bible Prophecy, Catholic Prophecy, and other Predictions Suggest About the Future of Canada? There are prophecies that suggest involvement with Canada. And many are not positive about its future. A sermon of related interest is also available: Canada in Prophecy.
Australia and New Zealand in Prophecy Do biblical prophecies help explain the wealth blessings for Australia and New Zealand? Might cursings from disobedience come in the 21st century? Here is a link to a related sermon: Australia and New Zealand: Origins and Prophecy.
USA in Prophecy: The Strongest Fortresses Can you point to scriptures, like Daniel 11:39, that point to the USA in the 21st century? This article does. A related sermon is titled: Do these 7 prophesies point to the end of the USA?
Who is the King of the West? Why is there no Final End-Time King of the West in Bible Prophecy? Is the United States the King of the West? Here is a version in the Spanish language: ¿Quién es el Rey del Occidente? ¿Por qué no hay un Rey del Occidente en la profecía del tiempo del fin? A related sermon is also available: The Bible, the USA, and the King of the West.
Germany's Assyrian Roots Throughout History Are the Germanic peoples descended from Asshur of the Bible? Have there been real Christians in Germanic history? What about the "Holy Roman Empire"? There is also a You-Tube video sermon on this titled Germany's Biblical Origins.
Germany in Biblical and Catholic Prophecy Does Assyria in the Bible equate to an end time power inhabiting the area of the old Roman Empire? What does prophecy say Germany will do and what does it say will happen to most of the German people? Here is a version of the article in the Spanish language: Alemania en la profecía bíblic. Here are links to two English language sermon videos Germany in Bible Prophecy and The Rise of the Germanic Beast Power of Prophecy.
World War III: Steps in Progress Are there surprising actions going on now that are leading to WWIII? Might a nuclear attack be expected? Does the Bible promise protection to all or only some Christians? How can you be part of those that will be protected? A related video would be Is World War III About to Begin? Can You Escape?
Syria and the start of World War 3 On April 14, 2018, Syrians were awoken by the sounds of about 120 missiles/bombs sent against areas of their country. The United States of America, United Kingdom, and France launched this attack related to claims of chemical weapons use earlier that week. Will Syria's capital one day be destroyed as prophesied in Isaiah chapter 17? If so, could this be before the start of the Great Tribulation? Are there prophecies about Syrians and the UK and USA? Is this attack against Syria leading to WWIII between the USA/UK/France and Russia/Syria/Iran? Is there an Arabic power that will rise up and be destroyed before the Great Tribulation as Tim McHyde has written related to Psalm 83? Is Ezekiel 38/39 about to be fulfilled? Who is the biblical King of the North and the biblical King of the South? Will the Beast power destroy the USA and its Anglo-Saxon descended allies (like the UK, Canada, Australia, & New Zealand)? Could this be WWIII and the start of the Great Tribulation? What is the prophetic sequence of events according to Jesus and Daniel the prophet? Dr. Thiel addresses all of these matters and more. This is a video.
Donald Trump in Prophecy Prophecy, Donald Trump? Are there prophecies that Donald Trump may fulfill? Are there any prophecies that he has already helped fulfill? Is a Donald Trump presidency proving to be apocalyptic? Two related videos are available: Donald: 'Trump of God' or Apocalyptic? and Donald Trump's Prophetic Presidency.
Trump Presidency Magic 8 Ball or Bible Prophecy? BBC reported that one might as well use a 'Magic Eight-Ball' to try to predict what will happen in the remaining time of Donald Trump's presidency. What is a 'Magic Eight-Ball'? Dr. Thiel not only explains that, but also briefly goes over 10 biblically-based warnings he wrote would happen if Donald Trump were elected that have already began to come to pass. He also goes over something he wrote back in 2008 that the Trump presidency is also helping lead to fulfillment. Should you trust Bible prophecy or not? Dr. Thiel says that Bible prophecy can be trusted, despite the view of skeptics and others that either overlook or despise the Bible. This is a video.
Donald Trump and America's Apocalypse This 188 page book is for people truly interested in prophecies related to Donald Trump and the United States, including learning about several that have already been fulfilled and those that will be fulfilled in the future. The physical book can be purchased at Amazon for $12.99 from the following link: Donald Trump and America's Apocalypse.
Donald Trump and America's Apocalypse-Kindle Edition This electronic version of the 188 page print edition is available for only US$3.99. And you do not need an actual Kindle device to read it. Why? Amazon will allow you to download it to almost any device: Please click HERE to download one of Amazon s Free Reader Apps. After you go to for your free Kindle reader and then go to Donald Trump and America's Apocalypse-Kindle Edition.
The Gospel of the Kingdom of God This free online pdf booklet has answers many questions people have about the Gospel of the Kingdom of God and explains why it is the solution to the issues the world is facing. Here are links to three related sermons: The World's False Gospel, The Gospel of the Kingdom: From the New and Old Testaments, and The Kingdom of God is the Solution.