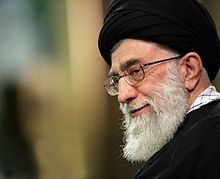 Ayatollah Ali Khamenei
Possibly to counter Israeli Prime Minister Benjamin Netanyahu's offensive against lifting sanctions against Iran for what he considers to be insufficient nuclear concessions, Iran's 'Supreme Leader' issued some warnings of his own:
November 20, 2013
Iran's Supreme leader says Tehran will not retreat on its nuclear rights, as negotiators from his country and a group of six world powers meet again Wednesday in Geneva.

Speaking ahead of the latest round of talks on Iran's nuclear program,  Ayatollah Ali Khamenei said that he set "red lines" for his negotiators, but also that Iran wants to be friendly with all nations, including the United States…
Iran's foreign minister and chief nuclear negotiator Javad Zarif…repeated warnings that Iran will not back down from what it argues is its right to enrich uranium…
a senior U.S. lawmaker said Congress will not vote on any new economic sanctions against Iran while the talks continue.  Senator Bob Corker spoke after taking part in a meeting with other key Senate leaders at the White House, where President Barack Obama asked for the delay to further pursue diplomacy before considering other steps.

Corker did not offer details of the meeting, and did not say how long a delay the president requested.  But he said no new sanctions amendments to the annual congressional defense bill will be considered before the end of the month, after the November 28 U.S. holiday of Thanksgiving.  http://www.voanews.com/content/iran-world-powers-resuming-nuclear-talks/1793741.html
I have difficulty to believe that Iran wishes to truly be friendly to all nations including the United States.  Ayatollah Ali Khamenei has stated that he will defeat the USA and that Israel should be eliminated by pretty much any means (see, for example, Ayatollah Khamenei Claims America "Will Soon be Defeated").  So, it would seem that what Ayatollah Ali Khamenei is currently really saying is that he would like the USA to be friendly to Iran and give Iran what it wants–no new sanctions, a lifting of existing sanctions, and the ability to test and develop its nuclear programs.
Barack Obama' Administration has claimed that Ayatollah Ali Khamenei issues a fatwa (religious order) against nuclear weapons that prevents him from building them.  The following suggests that trusting an alleged fatwa may be unwise:
According to an internal U.N. document, Khamenei embraced the concept of an Iranian nuclear bomb during a meeting of the country's top leadership more than two decades ago, saying nuclear weapons were essential for preserving Iran's Islamic Revolution.

The 2009 document, prepared for the International Atomic Energy Agency, is a collection of statements made by Iranian leaders about nuclear weapons, as gleaned from the nuclear watchdog's intelligence sources. It cites an April 1984 meeting in which Khamenei allegedly endorsed a decision by then-leader Ayatollah Ruhollah Khomeini to launch a secret nuclear weapons program.

"According to Ayatollah Khamenei, this was the only way to secure the very essence of the Islamic Revolution from the schemes of its enemies … and to prepare it for the emergence of Imam Mahdi," states the IAEA document, which was obtained by the Institute for Science and International Security, a Washington-based nonprofit group that analyzes nuclear weapons programs. In Shiite Islam, "Imam Mahdi" is the prophesied 12th Imam who will purge the world of evil in humanity's last days  http://www.americanthinker.com/blog/2012/04/hillary_clinton_embraces_fake_fatwa.html#ixzz1szDxw5pH
The above shows that Iran's Supreme Leader Ayatollah Khamenei endorsed getting nuclear weapons to help set the way for a leader commonly referred to as the Imam Mahdi to arrive.
Few in Israel and elsewhere have a lot of trust in his words that suggest Iran only is pursuing nuclear technology for peaceful purposes.  Israel's Prime Minister warns the world often that he considers that Iran is a nuclear threat and that the USA and others should not fall for Iran's negotiating tactics.  Notice a news item today related to that:
November 20, 2013

(Reuters) – Israeli Prime Minister Benjamin Netanyahu flew to Russia on Wednesday to appeal for tougher terms in a nuclear accord with Iran after failing to convince the United States that world powers are pursuing a bad deal.

Netanyahu was due to meet President Vladimir Putin as envoys from Russia, the United States, China, France, Britain and Germany began a third and possibly conclusive round of talks with Iran in Geneva on easing economic sanctions in return for curbs on Tehran's disputed nuclear program.

Israel, thought to have the Middle East's only nuclear arsenal, sees a nuclear-armed Iran as a mortal threat and wants its uranium enrichment capabilities dismantled and its enriched uranium removed. Tehran denies seeking atomic weapons.

Netanyahu says the deal now under negotiation, the exact details of which have not been disclosed, would still enable Tehran to build an atomic bomb quickly if it chose to do so.  http://www.reuters.com/article/2013/11/20/us-iran-nuclear-israel-russia-idUSBRE9AJ0JC20131120
It should seem odd to those in the USA that Israel has decided that it has to turn to Russia, instead of its historically close ally the USA, for diplomatic assistance here.  Barack Obama has some type of agenda with the Iranian regime that clearly differs from what Israel wants.
Though a more significant Islamic power will rise up for a short while in the 21st century, this power will not not be Iranian and will not last (Daniel 11:40-43). Ayatollah Khamenei should consider more of what the Bible says as Iran is not the going to be the primary instrument to truly make that happen.
Yet, also ignoring certain portions of scripture, Iran's last president publicly stated that the purpose of the Iranian revolution was to prepare the way for an Islamic leader, the Imam Mahdi, also called the the 12th Imam, to rise up (this was several years ago, but he still seems to believe it). This Imam Mahdi sounds a lot like the final King of the South that the Bible warns against (though the actual one that many Shi'ites expect from "suspended animation" is not likely to be that King, but a Mahdi belief will likely be a factor in getting the final King of the South). A few years back, Iran's former president Mahmoud Ahmadinejad claimed that it was the Imam Mahdi who was behind the revolutions in the various Arab lands as well as other events in the world (see Mahmoud Ahmadinejad: World Order About to Collapse, Mahdi Behind it).
Until the King of the South rises finally up, I would not be surprised if Iran, Hezbollah, and Syria get together to cause additional trouble (including possible war) with Israel as a means of hoping to provoke the rise of the Imam Mahdi, as well as to hope to get the Arab states to support the Iranian version of Shi'ite Islam (most of the Arab nations are mainly Sunni Islam). And while that latter item won't happen as Iran seems to envision, it certainly may get the Arab states in more of a mood to cooperate closer. A nuclear-armed Iran, or an Iran that Israel suspects is about to be nuclear-armed could trigger a regional conflict that could have major ramifications.
The USA may wish to reconsider what Iran is doing.
Some items of related interest may include:
The Arab and Islamic World In the Bible, History, and Prophecy The Bible discusses the origins of the Arab world and discusses the Middle East in prophecy. What is ahead for the Middle East and those who follow Islam? What about the Imam Mahdi? What lies ahead for Turkey, Iran, and the other non-Arabic Muslims? An item of possibly related interest in the Spanish language would be: Líderes iraníes condenan la hipocresía de Occidente y declaran que ahora es tiempo para prepararse para el Armagedón, la guerra, y el Imán Mahdi.
Is the Future King of the South Rising Up? Some no longer believe there needs to be a future King of the South. Might Egypt, Islam, Iran, Arabs, or Ethiopia be involved? Might this King be called the Mahdi or Caliph? What does the Bible say? A YouTube video of related interest may be: The Future King of the South is Rising.
Jerusalem To be divided and eliminated Many want Jerusalem. Who does the Bible teach will control Jerusalem? Will the Jews be forced out of Jerusalem and many made captive? What did Jesus teach about this? Are nations even now considering providing the prophesied armies to surround Jerusalem? What is Jerusalem Day? What is Nakba Day? What events should Christians watch in Jerusalem as signs that the Great Tribulation will begin? What is the solution to Jerusalem? This is a video.
Jerusalem: Past, Present, and Future What does the Bible say about Jerusalem and its future? Is Jerusalem going to be divided and eliminated? Is Jesus returning to the area of Jerusalem?
Russia: Its Origins and Prophesied Future Russia in prophecy. Where do the Russians come from? What about those in the Ukraine? What is prophesied for Russia and its allies? What will they do to the Europeans that supported the Beast in the end?
Is Russia the King of the North? Some claim it is. But what does the Bible teach? Here is a link to a video, also titled Is Russia the King of the North?
Anglo – America in Prophecy & the Lost Tribes of Israel Are the Americans, Canadians, English, Scottish, Welsh, Australians, Anglo (non-Dutch) Southern Africans, and New Zealanders descendants of Joseph? Where are the lost ten-tribes of Israel? Who are the lost tribes of Israel? What will happen to Jerusalem and the Jews in Israel? Will God punish the U.S.A., Canada, United Kingdom, and other Anglo nations? Why might God allow them to be punished first?
Who is the King of the West? Why is there no End-Time King of the West in Bible Prophecy? Is the United States the King of the West?
When Will the Great Tribulation Begin? 2013, 2014, or 2015? Can the Great Tribulation begin today? What happens before the Great Tribulation in the "beginning of sorrows"? What is the seven-year deal? What happens in the Great Tribulation and the Day of the Lord? Is this the time of the Gentiles? When is the earliest that the Great Tribulation can begin? What is the Day of the Lord? Who are the 144,000?
Barack Obama, Prophecy, and the Destruction of the United States-Second Edition for Second Obama Term This is a 160 page book for people truly interested in prophecies related to Barack Obama and the United States, including learning about many that have already been fulfilled (which the book documents in detail) and those that will be fulfilled in the future. It also has a chapter about a Republican choice. This book is available to order at www.barackobamaprophecy.com. The physical book can also be purchased at Amazon from the following link: Barack Obama, Prophecy, and the Destruction of the United States: Is Barack Obama Fulfilling Biblical, Islamic Catholic, Kenyan, and other America-Related Prophecies? What About Republican Leaders? Second Edition for Second Obama Term.
Barack Obama, Prophecy, and the Destruction of the United States-Second Term-Amazon Kindle edition. This electronic version is available for only US$2.99. And you do not need an actual Kindle device to read it. Why? Amazon will allow you to download it to almost any device: Please click HERE to download one of Amazon s Free Reader Apps. After you go to for your free Kindle reader and then go to Barack Obama, Prophecy, and the Destruction of the United States-Second Term-Amazon Kindle edition.