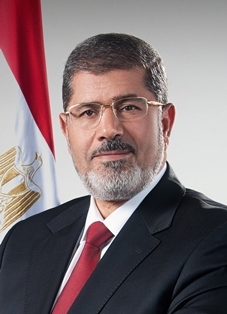 Mohamed Morsi (Photo by Mohammed Bin Abdullah)
An Israeli defense official is complaining that the Muslim Brotherhood's Mohamed Morsi, who is also Egypt's President, won't talk to Israel:
Israeli defense official: 'Shocking dictatorship' has grown in Egypt

November 2, 2012

(JTA) — Amos Gilad, an Israeli defense official, said that "a shocking dictatorship has grown in Egypt," according to reports in Israeli media.

Gilad, a department director at the Ministry of Defence, reportedly told students in Herzliya that Israel and Egypt "are not talking" to each other under Mohammed Morsi, the new Egyptian president who hails from the Muslim Brotherhood.

"There's no talking between our diplomatic corps and theirs, and I believe there will not be in the future. [Morsi] won't talk with us," he said, according to Israel's Army Radio.

"We need to keep the peace treaty with Egypt at any price," he said, adding that the country did not want to have to send troops against Egypt.  http://www.jta.org/news/article/2012/11/02/3110946/israeli-defense-official-shocking-dictatorship-has-grown-in-egypt
The Muslim Brotherhood does not want Israel to exist, and Dr. Morsi is a long-time member of the group.
Israel must know that the goal of the Muslim Brotherhood is basically to have all lands that were once under Muslim domination to be so again.
While Dr. Morsi likely wants US money and is not bent on an immediate war with Israel, the reality is that he also wants to maintain his position and expand Muslim influence–Israel is not Muslim so he likely cares very little about its wants.
When Dr. Morsi was responsible for the website of the Muslim Brotherhood, it said:
What is the Muslim Brotherhood?…

"The Islamic nation," its charter states, "must be fully prepared to fight the tyrants and the enemies of Allah as a prelude to establishing an Islamic state"—ideally a re-established caliphate, stretching from Spain across the Middle East and Central Asia to Indonesia, to be governed according to Islamic sharia law. (Understanding the Muslim Brotherhood. February 14, 2011. © The Muslim Brotherhood. http://www.ikhwanweb.com/article.php?id=28019 viewed 11/21/2011)
Anyway, the final Islamic Caliphate will not end up with Spain if I understand certain aspects of Bible prophecy correctly, but the confederation of the final King of the South may go from around Western Sahara and/or Mauritania to the tip of the Arab Peninsula and perhaps extending to Afghanistan, with possible coordination with Pakistan and/or Indonesia. (plus or minus)–and it wants Israel (though the Europeans will likely control at least parts of it eventually).
The Muslim Brotherhood was originally established in Egypt and seems to have the most adherents currently there (though it has branches in most of the Arab nations, if not all of them) and has made major political inroads in Egypt (as well as Gaza, Syria, Libya, Tunisia, Morocco, and elsewhere).
Bible prophecy (Daniel 11:40-43; Ezekiel 30:1-9) suggests that something like what the Muslim Brotherhood wants will form.  And this is not something enough in Israel realize will happen.
Some articles of possibly related interest may include:
The Arab World In the Bible, History, and Prophecy The Bible discusses the origins of the Arab world and discusses the Middle East in prophecy. What is ahead for the Middle East and those who follow Islam?
Is There A Future King of the South? Some no longer believe there needs to be. Might Egypt, Islam, Iran, Arabs, or Ethiopia be involved? What does the Bible say?
Arabic Nazarenes May Have Kept Original Christian Practices Were their faithful Arabs who held to original Christianity?
Nazarene Christianity: Were the Original Christians Nazarenes? Should Christians be Nazarenes today? What were the practices of the Nazarenes.