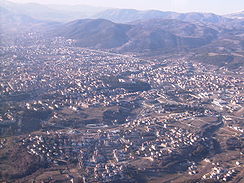 Aerial View of L'Aquila
There was a deadly earthquake in Italy:
Deadly Earthquake Strikes Central Italy
By MARTA FALCONI

,AP

posted:

2 HOURS 37 MINUTES AGO
L'AQUILA, Italy (April 6) – A powerful earthquake in mountainous central Italy knocked down whole blocks of buildings early Monday as residents slept, killing at least 50 people and trapping many more, officials said. Thousands were homeless.
The earthquake's epicenter was about 70 miles northeast of Rome near the medieval city of L'Aquila. It struck at 3:32 a.m. local time (0132 GMT) in a quake-prone region that has had at least nine smaller jolts since the beginning of April. The U.S. Geological Survey said Monday's quake was magnitude 6.3, but Italy's National Institute of Geophysics put it at 5.8…
A report just out increased the death toll to at least 70.
Here is a little background on the city from Wikipedia:
The city's construction was begun by Frederick II, Holy Roman Emperor and King of Sicily out of several already existing villages, as a bulwark against the power of the papacy. The name of Aquila means "Eagle" in Italian. Construction was completed in 1254 under Frederick's son, Conrad IV of Germany. The name was switched to Aquila degli Abruzzi in 1861, and L'Aquila in 1939.
Whether any will claim that the earthquake is retribution for the city's ancient founding against the papacy is not clear at this time.
But what is clear is that Jesus did prophesy earthquakes:
7…And there will be famines, pestilences, and earthquakes in various places. 8 All these are the beginning of sorrows (Matthew 24:7-8).
We are in or at least near, the start of what Jesus called "the beginning of sorrows".  But the end (meaning the Great Tribulation) is not yet (cf. Matthew 24:21).
Several articles of possibly related interest may include:
Can the Great Tribulation Begin in 2009, 2010, or 2011? Can the Great Tribulation begin today? When is the earliest that the Great Tribulation can begin? What is the Day of the Lord?
End of Mayan Calendar 2012–Might 2012 Mean Something? There is a Mayan calendar prediction for change in 2012. 2012 changes were also centuries ago predicted by the Hopi Native Americans (the Hindus may have some predictions for the next decade as well). Do these Mayan/Hindu/Hopi prophecies have any value? Why might Satan have inspired this date? Does the Dresden codex show destruction of the earth by flood? Can the great tribulation start before 2012?
Does God Have a 6,000 Year Plan? What Year Does the 6,000 Years End? Was a 6000 year time allowed for humans to rule followed by a literal thousand year reign of Christ on Earth taught by the early Christians? When does the six thousand years of human rule end?