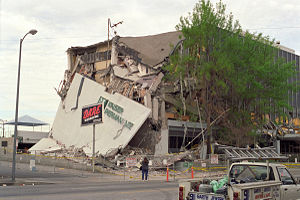 6.7 Earthquake in Northridge California Destroyed the Above Building of Kaiser Permanente As Well as Various Freeway Overpasses and other Buildings on January 17, 1994.

There were earthquakes in Sweden and South Caroline of note today:
Earthquake shakes southern Sweden
The Local, Sweden – Dec 16, 2008
Southern Sweden was rocked by an earthquake early on Tuesday morning which caused a flood of phone calls to emergency services operators from alarmed residents.
"The bed shook for about 20 seconds," Helsingborg resident John O'Leary told The Local.
O'Leary said the quake woke him at about 6:20am and that the shaking knocked over several items in his apartment.
Uppsala University seismologist Reynir Bödvarsson estimated the quake measured between 4.5 and 5.0 on the Richter scale.
"It was likely felt in much of southern Sweden. For Sweden, this is a very strong quake," Bödvarsson told the TT news agency…
Tuesday's tremor was felt primarily by residents in Skane.  People living in Malmö reported feeling strong tremors and buildings throughout the city shook.
"It's not dangerous for people, but there certainly may be some cracking in the facades of buildings," said Bödvarsson.
"I've never been so scared in my life," said Tina Morris, who resides in Skurup, about 40 kilometres south east of Malmö.
"The roar of the quake was horrible, but it was the bed shaking that woke me up. I could hear the plates
Weak earthquake hits SC near Charleston
AP – Dec 16, 2008
CHARLESTON, S.C. (AP) — A weak earthquake shook parts of the South Carolina coast, tipping over people's Christmas trees, knocking pictures off walls and causing minor injuries.
The Earthquake Hazards Program of the U.S. Geological Survey says the temblor hit at 7:42 a.m. Tuesday northwest of Charleston. It had a preliminary magnitude of 3.6. http://www.google.com/hostednews/ap/article/ALeqM5gGL7HfGXfus_72M0ocXAk4c5CYTAD953U8LO1
Of course, earthquakes of these magnitudes, at most, are indication of the beginning of sorrows according to Jesus:
7 And there will be famines, pestilences, and earthquakes in various places. 8 All these are the beginning of sorrows (Matthew 24:7-8).
But the end (meaning the Great Tribulation) is not yet (cf. Matthew 24:21).
We in the Living Church of God have tended to consider that the Swedes are mainly descended from the Israelite tribe of Naphtali (see The Lost Tribes of Israel).
Several articles of possibly related interest may include:
Can the Great Tribulation Begin in 2009, 2010, or 2011? Can the Great Tribulation begin today? When is the earliest that the Great Tribulation can begin? What is the Day of the Lord?
End of Mayan Calendar 2012–Might 2012 Mean Something? There is a Mayan calendar prediction for change in 2012. 2012 changes were also centuries ago predicted by the Hopi Native Americans (the Hindus may have some predictions for the next decade as well). Do these Mayan/Hindu/Hopi prophecies have any value? Why might Satan have inspired this date? Does the Dresden codex show destruction of the earth by flood? Can the great tribulation start before 2012?
Does God Have a 6,000 Year Plan? What Year Does the 6,000 Years End? Was a 6000 year time allowed for humans to rule followed by a literal thousand year reign of Christ on Earth taught by the early Christians? When does the six thousand years of human rule end?