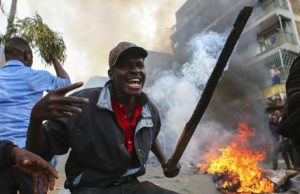 Kenya Protest (AP Photo/Brian Inganga)
Many in Kenya are not pleased with its election:
October 26, 2017

NAIROBI, Kenya (AP) — At least one person was killed as Kenyan police on Thursday fired bullets and tear gas at stone-throwing protesters in some opposition areas during the repeat presidential election, reflecting bitter divisions in a country whose main opposition leader urged his followers to boycott the vote.

Violence erupted in Nairobi's Kibera slum and Kisumu, a major city in the west where protesters set fires and blocked roads, and many polling stations didn't open because of security concerns.

Police said one man shot during protests in Kisumu died at a hospital, while three other people were admitted with gunshot wounds. An Associated Press journalist saw ambulances transporting several people from the protests there.

One Kisumu primary school that saw huge lines of voters when it served as a polling station in the Aug. 8 election was closed this time around, its gates locked.

"We are not going to vote and we are not going to allow it," said Olga Onyanga, an opposition supporter in Kisumu.

Voting proceeded in areas where President Uhuru Kenyatta has support, but fewer voters were turning out in comparison to the August election that the Supreme Court nullified because it found illegalities and irregularities in the election process.  https://www.apnews.com/5bd756280278490cbedb16b87f29e269/1-dead-as-Kenya-police,-protesters-clash-during-election

25 October 2017

Turnout appeared significantly low compared to August's election, which witnessed nearly 80 percent turnout, according to local media.

"We should be seeing a very huge crowd lining up to vote, but on the contrary, today the polling station isn't very busy," a polling agent told DW in Nairobi.

Read more: 'My withdrawal not to blame for confusion,' Odinga tells DW

Although all the names of the candidates from the August vote remain on the ballot papers, the main opposition challenger, Raila Odinga has called for a "national resistance movement" to boycott the election.

"Do not participate in any way in the sham election," Odinga told a rally in central Nairobi. "Convince your friends, neighbors and everyone else not to participate." He called for a rerun election governed by a new, reformed electoral commission within 90 days.

'My right and duty'

In Nairobi, one voter told DW: "It is my right and my duty to vote for the security of this nation." Despite the opposition's boycott, some of Kenyatta's supporters braved the polling stations to cast their vote.

After casting his vote, Kenyatta said the country needed to separate ethnic loyalties from politics in order for the country to move forward.

"What we have is a problem of tribalism, and tribalism is an issue that we must continue to deal with and fight with as we continue to develop our country," Kenyatta said. "We cannot achieve our goals if we continue to embark on tribalistic policies." http://www.dw.com/en/kenya-repeats-presidential-election-with-opposition-boycott/a-41116206
Sadly, this protesting is not unexpected.
I have been personally following aspects of the Kenya election this year. Because of reports I regularly receive from a CCOG leader in Kenya (the latest one was this morning), I was aware that there has been a lot of discontent about the presidential election there.
That being said, violent protests are not the answer. Troubles sadly, however, have been prophesied (Mark 13:8).
Voting does not solve the problems of this world and is not something we in the Continuing Church of God participate in (a written article of related interest is titled: Should a Christian Vote?; we also have a video: Should Christians Vote?).
Jesus taught:
25 Every kingdom divided against itself is brought to desolation, and every city or house divided against itself will not stand. (Matthew 12:25)

17 Every kingdom divided against itself is brought to desolation, and a house divided against a house falls. (Luke 11:17)
The Bible teaches:
9 'Thus says the Lord God: "Enough, O princes of Israel! Remove violence and plundering, execute justice and righteousness (Ezekiel 45:9)

9…You shall love your neighbor as yourself." 10 Love does no harm to a neighbor; therefore love is the fulfillment of the law. (Romans 13:9-10)
As far as violence goes, the Bible shows that God is against violence and that destruction will come because of it:
23 'Make a chain,
For the land is filled with crimes of blood,
And the city is full of violence.
24 Therefore I will bring the worst of the Gentiles,
And they will possess their houses;
I will cause the pomp of the strong to cease,
And their holy places shall be defiled. (Ezekiel 7:23-24)
Violence is not the answer.
Christians need to also understand that their priorities have to do with the love of God:
15 Do not love the world or the things in the world. If anyone loves the world, the love of the Father is not in him. 16 For all that is in the world — the lust of the flesh, the lust of the eyes, and the pride of life — is not of the Father but is of the world. 17 And the world is passing away, and the lust of it; but he who does the will of God abides forever. (1 John 2:15-17)
Christians are not to look to this world and its politics to solve the problems facing society. Each individual should seek God, repent, be baptized, and live as a true Christian, while looking forward to the glorious hope of the resurrection and the coming Kingdom of God.
Additional note: One reason for my own interest in Kenya itself is that the Continuing Church of God has nearly 2000 members in Kenya. Plus, I have been to that nation twice–the last time was in February of this year (watch Nairobi Conference: All About Love).
Kenya is in my prayers and hopefully peace and truth will prevail soon in the aftermath of this election.
Some items of possibly related interest may include:
Should a Christian Vote? This article gives some of the Biblical rationale on this subject. Would Jesus vote for president/prime minister? Is voting in the Bible? This is a subject Christians need to understand. A video of related interest is titled Should Christians Vote?
The Gospel of the Kingdom of God This free online pdf booklet has answers many questions people have about the Gospel of the Kingdom of God and explains why it is the solution to the issues the world is facing. Here are links to three related sermons: The World's False Gospel, The Gospel of the Kingdom: From the New and Old Testaments, and The Kingdom of God is the Solution.
Africa: Its Biblical Past and Prophesied Future What does the Bible teach about Africa and its future? Did the early Church reach Africa? Will God call all the Africans? A related online sermon is also available: Africa: Its biblical past, present, and future. A video of possible interest is: Nairobi Conference: All About Love.
CCOGAfrica channel. This has messages from African pastors in African languages such as Kalenjin, Kiswahili, Embu, and Dholuo.
CCOGAFRICA.ORG This is a website targeted towards those in Africa.
Are You Being Called by God? Norman Shoaf wrote various points to consider.
Is God Calling You? Alfred E Carrozzo wrote this.
What Did Christ Mean Many Are Called, But Few Are Chosen? This article was by Raymond McNair.
Christian Repentance Do you know what repentance is? Is it really necessary for salvation? A related sermon is also available titled: Real Christian Repentance.
Just What Do You Mean — Repentance? Do you know what repentance is? Have you truly repented? Repented of what? Herbert W. Armstrong wrote this as a booklet on this important subject.
Living as a Christian: How and Why? In what ways do Christians live differently than others. What about praying, fasting, tithing, holy days, and the world? There is also a YouTube video related to that also called: Living as a Christian: How and Why?
Crime can be stopped…here's how! This was a booklet that was edited with some updates by Dr. Thiel. Here is a link to a related sermon: Crime and How it Will be Stopped!