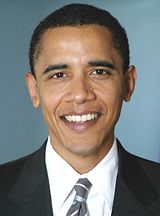 Barack Obama, A Prophesied Son of Kenya?
The following news item was of interest:
Africans celebrate victory of 'half-Kenyan' Obama
CNN – June 4, 2008
Kenyans have long watched the U.S. presidential election with special interest and, in many cases, a special sense of pride.
Barak Obama is the son of a black man from Kenya and a white woman from Kansas.
"I'm excited … because he's a Kenyan. He's a half Kenyan," a smiling woman said in a Nairobi neighborhood…
Obama is popular across many parts of the country, especially in western Kenya where many of his relatives live.
"I want a black man to rule America so that you can see the changes that Obama promised the people … to see the change," one young man said.
"Obama is a (good) man," said an older man with gray hair, carrying twisted wrought iron on his shoulder. "He's fit to lead the country."
In summer 2006 thousands of Kenyans lined the streets of Kisumu, giving Obama a hero's welcome on his visit to his father's home. Obama's father died in a car accident in Nairobi in 1982. http://www.cnn.com/2008/POLITICS/06/04/obama.kenya/
Of course, there is a Kenyan prophecy about a "son of Kenya" leading to the downfall of the United States.
(For more information, please refer to the news item Barack Obama, Prophecy, and the Destruction of the United States).