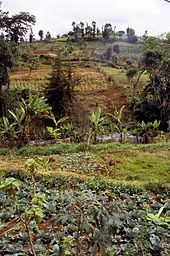 Mount Kenya (Mehmet Karatay)
There was a presidential election in Kenya earlier this week and the results have now been announced:
March 9, 2013

NAIROBI—Kenya's election commission on Saturday declared Uhuru Kenyatta the country's next president, handing control of East Africa's biggest economy to a man charged with crimes against humanity.

Final results showed Mr. Kenyatta triumphed with 50.07% of 12.3 million votes cast, a whisker above the 50% margin he needed to avoid a runoff. Some 86% of Kenya's more than 14 million registered voters turned out for Monday's elections, a record in the country's five decades of independence…

Mr. Kenyatta's supporters poured into the streets of Nairobi and stronghold towns across the country on Saturday, blowing whistles and vuvuzelas and waving red and white flags, the colors ofMr. Kenyatta's party. So far there have been no reports of the kind of violence that erupted after the last elections in 2007.  http://online.wsj.com/article/SB10001424127887323628804578349920740455776.html?mod=googlenews_wsj
While I have given no opinion about who should or should not win the Kenyan presidential election, I would like to thank all who prayed that that God would protect His people in Kenya and that as the result of the election, they will be able to lead "a quiet and peaceable life."  As well as encourage further prayers that we will not see violence resume in that land.
Two articles of possibly related interest may include:
Africa: Its Biblical Past and Prophesied Future What does the Bible teach about Africa and its future? Did the early Church reach Africa? Will God call all the Africans?
Should a Christian Vote? This article gives some of the Biblical rationale on this subject. Would Jesus vote for president/prime minister? Is voting in the Bible? This is a subject Christians need to understand.