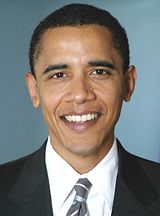 Barack Obama
US Democratic presidential candidate Barack Obama announced his choice for vice-president. The BBC reported:
US Democratic presidential hopeful Barack Obama has announced that Joe Biden will be his running mate in November's election.
Mr Obama's choice, confirmed on his website and with a text message to supporters, comes ahead of next week's Democratic Party convention.
Mr Biden, a 65-year-old veteran lawmaker, is highly respected on foreign policy issues…
"Barack has chosen Joe Biden to be his running mate," a brief statement on Mr Obama's campaign website said.
As far as who will or should win this election, two scriptures come to mind:
The will of the Lord be done (Acts 21:14).
Therefore I exhort first of all that supplications, prayers, intercessions, and giving of thanks be made for all men, for kings and all who are in authority, that we may lead a quiet and peaceable life in all godliness and reverence. For this is good and acceptable in the sight of God our Savior (1 Timothy 2:1-3).
Christians are to pray for and about their political leaders, in accordance with GOD'S (not their own) will.
Two articles of possibly related interest may include:
Should a Christian Vote? This article gives some of the Biblical rationale on this subject. Would Jesus vote for president? Is voting in the Bible? This is a subject Christians need to understand.
Barack Obama, Prophecy, and the Destruction of the United States Some claim that Barack Obama is the prophesied "son of Kenya". Might Bible prophecy be fulfilled if he is elected president?