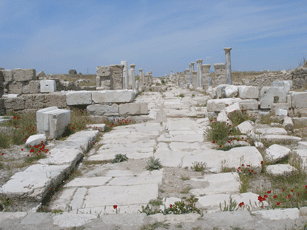 The Main Street of Laodicea (Taken 5/12/08)
This morning I went to see if the June 2008 edition of United News was online yet to see if it discussed anything about the problems that came up in UCG's latest council meetings, but it was not available yet.
However, Gavin Rumney had the following at his site this morning:
From Joel Meeker, Milford OH

I must apologize for my EF post of Wednesday last week. In my message I put the reputation of the organization before the honor of God, when I know that God owns the world and "those who dwell therein" as David said in Psalm 24. I allowed my feelings and communication to be harsh, when in reality I do have confidence that He will "complete a good work" in us as Paul said to the Philippians. His honor is always more important than our organizational concerns of the moment, and I trust He will accomplish what we cannot seem to do ourselves.

I want to apologize to the elders who submitted their ballots in all honesty, knowing that I don't have insight into the prayer, fasting, and sincerity with which you fulfilled your privilege at the GCE.

I want to apologize for posting a negative judgment of "another man's servant." I am reminded in the cool of the day that God tells us not to do so. He reserves the right to judge His servants according to His perfect justice and in His time.
Joel Meeker was once part of UCG's 12-man governing Council. In that earlier post Joel Meeker (see UCG Having More Dissent) railed against UCG's governance and took veiled shots against Aaron Dean (who won re-election to that Council, see UCG Reports on Its COE Meeting).
Although he mentions prayer, etc., he took shots at that in his earlier post (see UCG Having More Dissent). But although he, as a UCG supporter, never should have posted what he did, he at least finally apologized for it.
However, UCG still has to figure out what to do about its decision to purchase property and its later decision not to move its main offices there (see also UCG Keeps Aaron Dean on Council and Votes to Rescind Texas Move)–and see how the latest Council votes will affect itself.
Articles of possibly related interest may include:
The Laodicean Church Era was predominant circa 1986 A.D. to present. Non-Philadelphians who mainly descended from the old WCG.
Differences between the Living Church of God and United Church of God This article provides quotes information from the two largest groups which had their origins in WCG as well as commentary.
Herbert W. Armstrong and Roderick C. Meredith on Church Government Which form of governance would one expect to have in the Philadelphia remnant? The people decide and/or committee forms, odd dictatorships, or the same type that the Philadelphia era itself had?
What is a True Philadelphian? Many claim to be part of the Philadelphia era of the Church, but is claiming enough? This article has biblical and historical evidence about who really are the Philadelphians.
Are the Laodiceans the Modern Sadducees and Pharisees? Discusses similarities of the Sadducees and Pharisees to various COGs in this end-time.