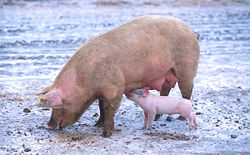 Now also a source of MRSA?
The following news item today was of interest:
Fears grow that MRSA variant has entered food chain
The Independent, UK – June 3, 2008
British people have been infected for the first time by an animal variant of MRSA, the hospital superbug that infects more than 4,000 patients a year.
Scientists revealed yesterday that three patients in separate hospitals were infected with the ST398 strain, which is found in factory-farmed pigs in the Netherlands. None of the humans had a close association with farm animals, raising the possibility that the superbug has entered the food chain…

MRSA has been found in pigs in the Netherlands, Denmark, Belgium and Germany and in other farm animals such as chickens and cattle. The strain – which has caused skin infections and rare heart and bone problems in humans – is believed to have spread among pigs that were fed antibiotics to spur growth and protect them from disease. A survey by the Dutch authorities in 2006 found traces of the bug in 20 per cent of pork products, 21 per cent of chicken meat and 3 per cent of beef.
No cases have been found in UK livestock but the Soil Association called for Britain to start testing meat because two-thirds of Britain's pork is imported from Holland. Professor Richard James, of the Centre for Healthcare Associated Infections at Nottingham University, backed the call. "It is a concern. We need people testing pork to see if it's there," he said.
The Food Standards Agency said that the bug should be eradicated by good hygiene and urged people to wash their hands and surfaces after handling meat.
All three patients, who were being treated in at least two different Scottish hospitals, recovered. Confirming the cases, Dr Giles Edwards, director of the Scottish MRSA Reference Laboratory, said: "A lot of the patients who got this infection in Holland and Canada have been people who work with animals, such as farmers and vets. But none of the three individuals in Scotland have been in contact with animals, not that we could find."
The Soil Association called on the Department for Environment, Food and Rural Affairs to publish interim results of its testing for MRSA in pigs. "We suspect that MRSA has now been found in British pigs," said the policy adviser, Richard Young.
"ST398 is no more serious than existing strains of MRSA, but it is resistant to different antibiotics, and where it is present it will make it harder for doctors to select an effective drug quickly. In some cases, that could be the difference between life and death."
The Food Standards Agency said it did "not see serious food safety issues". It advised cooks to wash their hands thoroughly; to cook and chill food properly; and avoid cross-contamination. http://www.independent.co.uk/life-style/health-and-wellbeing/health-news/fears-grow-that-mrsa-variant-has-entered-food-chain-838880.html
According to Mayo Clinic:
MRSA stands for methicillin-resistant Staphylococcus aureus. It's a strain of staph that's resistant to the broad-spectrum antibiotics commonly used to treat it. MRSA can be fatal.
I should also add that this is not just a European problem as I read yesterday that some foods in the USA food supply also apparently have MRSA. Which means some of your neighbors may get it.
Of course, if people would have obeyed God's laws regarding clean and unclean meats (as well as not mistreating farm animals), this problem (as well probably "mad cow" disease in the USA) probably could have been avoided.
There is a lot more to this matter of unclean meats that most who profess Christ realize.
To learn more about what the Bible teaches about clean and unclean meats (as well as how the professing mainstream "Christians" began to eat biblically prohibited meats), please see the article The New Testament Church and Unclean Meats (the article also contains a detailed listing of clean and unclean animals).