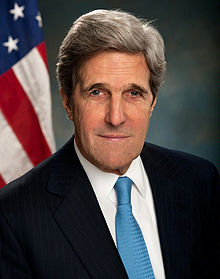 John Kerry, Official Portrait

The US Secretary of State claims that Syria has crossed a global 'red line':
September 8, 2013

US Secretary of State John Kerry says he and Arab League foreign ministers have agreed that the Syrian president's alleged use of chemical weapons crossed a "global red line".

Mr Kerry, speaking in Paris, is in Europe to muster support for action against President Bashar al-Assad.

"Assad's deplorable use of chemical weapons crosses an international, global red line," he said.  http://www.bbc.co.uk/news/world-europe-24008768

September 08, 2013
U.S. Secretary of State John Kerry says international support is growing for holding the Syrian government responsible for its alleged chemical weapons attack.

"This is growing, not receding, in terms of the global sense of outrage of what's happened."…
Meanwhile, Syrian activists said Sunday rebels, including Islamic extremists, have taken control of a Christian village north of Damascus. The Syrian Observatory for Human Rights said regime forces had withdrawn from Maalula after clashing with the Nusra Front.

On Saturday, Obama said in his weekly recorded address that failing to respond to what he called Syria's "outrageous attack" would increase a risk of further chemical weapons attacks.

He also said the Syrian government's alleged use of chemical weapons was a "direct attack on human dignity" and a threat to national security.  http://www.voanews.com/content/obama-administration-presses-for-syria-support/1745458.html
The USA appears to want to take some action, and the Obama Administration wants others to support it doing so. While the USA hopes to get off unscathed by this, that may be a false hope.  USA intervention may set off a series of events that will harm the USA and others.
There was an interesting report in the news today from Germany on whether or not Syria's President Assad would have authorized the use of chemical weapons:
September 8, 2013

(Reuters) – Syrian government forces may have carried out a chemical weapons attack close to Damascus without the personal permission of President Bashar al-Assad, Germany's Bild am Sonntag paper reported on Sunday, citing German intelligence.

Syrian brigade and division commanders had been asking the Presidential Palace to allow them to use chemical weapons for the last four-and-a-half months, according to radio messages intercepted by German spies, but permission had always been denied, the paper said.

This could mean Assad may not have personally approved the attack close to Damascus on August 21 in which more than 1,400 are estimated to have been killed, intelligence officers suggested.  http://www.reuters.com/article/2013/09/08/us-syria-crisis-germany-idUSBRE98707B20130908
Some have pointed out that it seems totally illogical that Syria's President Assad would have ordered the use of chemical weapons as he would know full well that the West (specifically the USA) would take military action if he did.
As far as military action, some are suggesting that the USA intends to make a significant statement with its military:
September 8, 2013

Pentagon planners are now considering using Air Force bombers, as well as five US missile destroyers currently patrolling the eastern Mediterranean Sea, to launch cruise missiles and air-to-surface missiles from far out of range of Syrian air defenses, according to the report.

The USS Nimitz aircraft carrier strike group with one cruiser and three destroyers positioned in the Red Sea can also fire cruise missiles at Syria.

"There will be several volleys and an assessment after each volley, but all within 72 hours and a clear indication when we are done," an officer familiar with the planning told the Times.

The intensified military planning comes as President Barack Obama prepares to personally make his case to the American people and further press reluctant lawmakers on the need for action after Assad allegedly used chemical weapons on his own people last month.

Obama is scheduled to tape interviews Monday with anchors of the three major broadcast networks, as well as with PBS, CNN and Fox News.

The interviews, to air that night, will precede Obama's address to the nation Tuesday ahead of an expected full Senate vote.  http://www.middle-east-online.com/english/?id=61193

WASHINGTON — The Pentagon is preparing for a longer bombardment of Syria than it originally had planned, with a heavy barrage of missile strikes followed soon after by more attacks on targets that the opening salvos missed or failed to destroy, officials said.

The planning for intense attacks over a three-day period reflects the growing belief in the White House and the Pentagon that the United States needs more firepower to inflict even minimal damage on Syrian President Bashar Assad's forces, which have been widely dispersed over the last two weeks, the officials said.

Two U.S. officers said the White House asked for an expanded target list in recent days to include many more than the 50 or so targets on the initial list. As a result, Pentagon planners are weighing whether to use Air Force bombers, in addition to five warships now on patrol in the eastern Mediterranean Sea, to launch cruise missiles and air-to-surface missiles from hundreds of miles offshore, well out of range of Syrian air defenses.  http://www.latimes.com/world/la-fg-syria-strikes-20130908,0,6708714.story
As reported before, the USA indicated PRIOR to the chemical release on August 21, 2013 that it expected to take military action in Syria, has supported the rebels there, and that it wanted Syria's President Assad out (Obama Administration: Assad will not be part of Syria's government).
Various ones, however, have pointed out that what would likely replace the Assad regime would not be better for the USA, etc.:
With President Obama threatening a military strike on Syria, President Assad apparently using chemical weapons, and rebel leaders killing enemy prisoners and eating their organs, many wonder what else could possibly go wrong in Syria.

The answer is: A lot.

Without some divine-like intervention, Syria could catapult into a failed state or, even worse, a failed state that is a safe-haven for terrorists.

Since the two-year civil war in Syria started, the country has fragmented. Syrian national identity has disappeared. Citizens now side with the government or the rebels, the Alawhites, the Sunni's or the Shiites, Aleppo residents or Damascus dwellers.http://communities.washingtontimes.com/neighborhood/intelligence-and-world-affairs/2013/sep/7/worst-case-syria-failed-state-and-terrorist-sanctu/#ixzz2eJPc20Ui

As the United States debates whether to support the Obama administration's proposal that Syrian forces should be attacked for using chemical weapons against civilians, this video, shot in the spring of 2012, joins a growing body of evidence of an increasingly criminal environment populated by gangs of highwaymen, kidnappers and killers.

The video also offers a reminder of the foreign policy puzzle the United States faces in finding rebel allies…American military action could inadvertently strengthen Islamic extremists and criminals…

Mr. Kerry said that there were 70,000 to 100,000 "oppositionists." Of these, he said, some 15 percent to 20 percent were "bad guys" or extremists.

Mr. McCaul responded by saying he had been told in briefings that half of the opposition fighters were extremists.

Much of the concern among American officials has focused on two groups that acknowledge ties to Al Qaeda. These groups — the Nusra Front and the Islamic State in Iraq and Syria — have attracted foreign jihadis, used terrorist tactics and vowed to create a society in Syria ruled by their severe interpretation of Islamic law.

They have established a firm presence in parts of Aleppo and Idlib Provinces and in the northern provincial capital of Raqqa and in Deir al-Zour, to the east on the Iraqi border.  http://www.nytimes.com/2013/09/05/world/middleeast/brutality-of-syrian-rebels-pose-dilemma-in-west.html?pagewanted=all&_r=0
The situation in Syria is more complex than many want to realize.
No matter who released the chemical weapons in Syria or what the chemicals were, the reality is that the Bible shows that the situation will change in Syria. The Assad regime will either leave or be changed, Damascus will at some point be destroyed (Isaiah 17:1), and Syria will end up supporting a power that will rise up that the Bible refers to as the final King of the South (Daniel 11:40-43).  Syria will align with Egypt (Ezekiel 30:1-9).
Some items of related interest may include:
Damascus and Syria in Prophecy Will Bashar Assad hold power as he has it? Does the Bible show that Damascus, the capital of Syria, will be destroyed? What will happen to Syria? Will the Syrians support the final King of the South that the Bible tells will rise up? Which scriptures discuss the rise and fall of an Arabic confederation? Does Islamic prophecy predict the destruction of Syria. This is a YouTube video.
Egypt in Prophecy Does Egypt have a special role in end time prophecy? Will Egypt rise up and then be defeated. What does God teach will happen to those in Egypt? Here is a link to a YouTube video titled Egypt and End Time Prophecy.
The Arab World In the Bible, History, and Prophecy The Bible discusses the origins of the Arab world and discusses the Middle East in prophecy. What is ahead for the Middle East and those who follow Islam? What does Islam teach about the Imam Mahdi?
Is the Future King of the South Rising Up? Some no longer believe there needs to be a future King of the South. Might Egypt, Islam, Iran, Arabs, or Ethiopia be involved? Might this King be called the Mahdi or Caliph? What does the Bible say?
The Future King of the South is Rising Does the Bible teach that there will be a future King of the South in Daniel 11? Is this kingdom rising up now? Did the old Worldwide Church of God (WCG) teach that there would be another one? And who is the King of the South? How will this involve Egypt? Is the final King of the South some type of Arab-Muslim confederation? Can Iran be involved? Is there a group that seems to be supporting the goals of the King of the South? Has the Obama Administration supported the rise of this power? This is a YouTube video.
The Muslim Brotherhood and the Rise of the King of the South The Bible tells of the formation of a power of nations that are in the Middle East and North Africa that are part of the final "King of the South" (Daniel 11:40-43) The Muslim Brotherhood wishes to have an Islamic empire with basically the same nations. This YouTube video explains what to expect from such a confederation.
Protestant and Church of God views of the United States in Bible Prophecy Is the USA mentioned in Bible prophecy? Some Protestants say yes, while others say no. What does the Bible really teach? Learn the truth about this. There is also a video available: Is The United States Mentioned In Bible Prophecy?
Barack Obama, Prophecy, and the Destruction of the United States-Second Edition for Second Obama Term This is a 160 page book for people truly interested in prophecies related to Barack Obama and the United States, including learning about many that have already been fulfilled (which the book documents in detail) and those that will be fulfilled in the future. It also has a chapter about a Republican choice. This book is available to order at www.barackobamaprophecy.com. The physical book can also be purchased at Amazon from the following link: Barack Obama, Prophecy, and the Destruction of the United States: Is Barack Obama Fulfilling Biblical, Islamic Catholic, Kenyan, and other America-Related Prophecies? What About Republican Leaders? Second Edition for Second Obama Term.
Barack Obama, Prophecy, and the Destruction of the United States-Second Term-Amazon Kindle edition. This electronic version is available for only US$2.99. And you do not need an actual Kindle device to read it. Why? Amazon will allow you to download it to almost any device: Please click HERE to download one of Amazon s Free Reader Apps. After you go to for your free Kindle reader and then go to Barack Obama, Prophecy, and the Destruction of the United States-Second Term-Amazon Kindle edition.