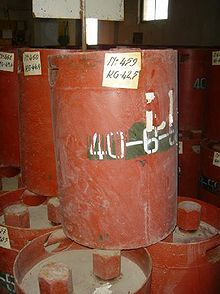 Soviet Chemical Weapons Canisters
Syria may have tested its ability to fire chemical weapons:
Syria Tested Chemical Weapons Systems, Witnesses Say

17 September 2012: The Syrian amy is believed to have tested firing systems for chemical weapons in the desert at the end of August, according to witness reports. The tests apparently took place near the country's largest chemical weapons facility at Safira…A total of five or six empty shells devised for delivering chemical agents were fired by tanks and aircraft, at a site called Diraiham in the desert near the village of Khanasir. Iranian officers believed to be members of the Revolutionary Guards were flown in by helicopter for the testing, according to the statements.http://www.spiegel.de/international/world/syria-tested-chemical-weapons-in-desert-in-august-eyewitnesses-say-a-856206.html
Both the U.S.A. and Israel have indicated that the use or expected use of chemical weapons by Syria would justify attacks, even preemptive ones.
The Bible specifically shows that Syria's capital city Damascus (Isaiah 7:8) will be destroyed (Isaiah 17:1). Whether this will happen because of internal civil war and/or an attack involving Israel or others remains to be seen. The use (or even the threat or simple possession) of chemical weapons by Syria could be a major factor in Damascus being destroyed.
The situation in the Middle East remains tense and the tension seems to be rising.
"And what I say to you, I say to all: Watch!" (Mark 13:37).

Some articles of possibly related interest may include:
Is There A Future King of the South? Some no longer believe there needs to be. Might Egypt, Islam, Iran, Arabs, or Ethiopia be involved? Might this King be called the Mahdi? What does the Bible say?
The Arab and Islamic World In the Bible, History, and Prophecy The Bible discusses the origins of the Arab world and discusses the Middle East in prophecy. What is ahead for the Middle East and those who follow Islam? What about the Imam Mahdi? What lies ahead for Turkey, Iran, and the other non-Arabic Muslims?
When Will the Great Tribulation Begin? 2012, 2013, or 2014? Can the Great Tribulation begin today? What happens before the Great Tribulation in the "beginning of sorrows"? Is there a needed peace deal first in the Middle East? What happens in the Great Tribulation and the Day of the Lord? Is this the time of the Gentiles? When is the earliest that the Great Tribulation can begin?