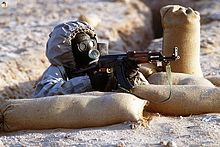 Syrian soldier wearing chemical weapon protection
Britain and France claim that Syria has used chemical weapons:
April 18, 203
Britain and France have informed the United Nations that there is credible evidence that Syria used chemical weapons on more than one occasion since December, according to senior diplomats and officials briefed on the accounts.
In letters to U.N. Secretary General Ban Ki-moon, the two European powers said soil samples, witness interviews and opposition sources support charges that nerve agents were used in and around the cities of Aleppo, Homs and possibly Damascus, the officials said, speaking on the condition of anonymity because of the sensitivity of the matter.  http://www.washingtonpost.com/world/national-security/britain-france-claim-syria-used-chemical-weapons/2013/04/18/f17a2e7c-a82f-11e2-a8e2-5b98cb59187f_story.html
Israel is concerned about Syria's weapons and where they may end up:
18 April 2013

Prime Minister Benjamin Netanyahu has affirmed that Israel is prepared to conduct military action inside Syria to keep "game-changing" weapons out of terrorists' hands. In an interview with the BBC in London Wednesday, Netanyahu also warned of a possible backlash if the international community decides to arm rebel groups.

"The main areas of concern to us are the arms that are already in Syria — these are anti-aircraft weapons, these are chemical weapons and other very, very dangerous weapons that could be game-changers," he said. "They will change the conditions, the balance of power in the Middle East. They could present a terrorist threat on a worldwide scale. It is definitely our interest to defend ourselves, but we also think it is in the interest of other countries."…

The prime minister explained that Israel was not seeking a fight with Syria, but was resolved to safeguard its security. In the past he has made it clear that Israel will not allow chemical weapons to be transferred to terrorist groups, particularly Lebanon's Hezbollah.

"We are not aggressive," he said. "We don't seek military confrontation, but we are prepared to defend ourselves if the need arises, and I think people know that what I say is both measured and serious."  http://www.timesofisrael.com/netanyahu-syrian-wmd-a-worldwide-terrorist-threat/
Syria has, in the past, admitted to having both chemical and biological weapons. As I have written for a long time, the situation in Syria must change. And it more and more is.
Both biblical and Islamic prophecy tell of the destruction of Syria's capital Damascus. Here is some of what Bible prophecies teaches:
7 thus says the Lord God: "It shall not stand, Nor shall it come to pass. 8 For the head of Syria is Damascus (Isaiah 7:7-8)

3 Thus says the Lord: "For three transgressions of Damascus, and for four, I will not turn away its punishment, Because they have threshed Gilead with implements of iron. (Amos 1:3)

1 The burden against Damascus. "Behold, Damascus will cease from being a city, And it will be a ruinous heap. (Isaiah 17:1)

23 Against Damascus. "Hamath and Arpad are shamed, For they have heard bad news. They are fainthearted; There is trouble on the sea; It cannot be quiet. 24 Damascus has grown feeble; She turns to flee, And fear has seized her. Anguish and sorrows have taken her like a woman in labor. 25 Why is the city of praise not deserted, the city of My joy? 26 Therefore her young men shall fall in her streets, And all the men of war shall be cut off in that day," says the Lord of hosts. 27 "I will kindle a fire in the wall of Damascus, And it shall consume the palaces of Ben-Hadad." (Jeremiah 49:23-27)
The Bible also suggests that Syria will be involved in a confederation of North African and Middle Eastern nations (Ezekiel 30:1-8; Psalm 83:4-8) who will support a leader that the Bible refers to as the final King of the South (Daniel 11:40-43). Since the Muslim Brotherhood wants a similar confederation, I have long believed that Syria will align with it or a group like it–and since Syria's President is opposed to that, he will have to go or change his views.
Whether it will be from the Syrian opposition to the Assad regime, actions by the Assad regime itself, other conflicts, and/or intervention from Israel, Syria will change and its capital Damascus will be destroyed. (Though this does not mean that Israel and/or the USA will not have problems themselves.)
"And what I say to you, I say to all: Watch!" (Mark 13:37).

Some articles of possibly related interest may include:
Damascus and Syria in Prophecy Will Bashar Assad hold power as he has it? Does the Bible show that Damascus, the capital of Syria, will be destroyed? What will happen to Syria? Will the Syrians support the final King of the South that the Bible tells will rise up? Which scriptures discuss the rise and fall of an Arabic confederation? Does Islamic prophecy predict the destruction of Syria. This is a YouTube video.
Is There A Future King of the South? Some no longer believe there needs to be. Might Egypt, Islam, Iran, Arabs, or Ethiopia be involved? Might this King be called the Mahdi? What does the Bible say?
The Arab and Islamic World In the Bible, History, and Prophecy The Bible discusses the origins of the Arab world and discusses the Middle East in prophecy. What is ahead for the Middle East and those who follow Islam? What about the Imam Mahdi? What lies ahead for Turkey, Iran, and the other non-Arabic Muslims?
When Will the Great Tribulation Begin? 2013, 2014, or 2015? Can the Great Tribulation begin today? What happens before the Great Tribulation in the "beginning of sorrows"? Is there a needed peace deal first in the Middle East? What happens in the Great Tribulation and the Day of the Lord? Is this the time of the Gentiles? When is the earliest that the Great Tribulation can begin? What is the Day of the Lord? Who are the 144,000?
Anglo – America in Prophecy & the Lost Tribes of Israel Are the Americans, Canadians, English, Scottish, Welsh, Australians, Anglo (non-Dutch) Southern Africans, and New Zealanders descendants of Joseph? Where are the lost ten-tribes of Israel? Who are the lost tribes of Israel? What will happen to Jerusalem and the Jews in Israel? Will God punish the U.S.A., Canada, United Kingdom, and other Anglo nations? Why might God allow them to be punished first?