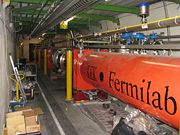 The CERN Large Hadron Collider is seemingly accelerating its testing:
Large Hadron Collider to jump to maximum energy

New Scientist – Feb 2, 2010
This collider device will grant Europeans technologies, some of which I strongly suspect will give its leaders military superiority for a time (cf. Revelation 13:3-4).
Some articles of possibly related interest may include:
Europa, the Beast, and Revelation Where did Europe get its name? What might Europe have to do with the Book of Revelation? What about "the Beast"? What is ahead for Europe?
Who is the King of the North? Is there one? Do biblical and Roman Catholic prophecies point to the same leader? Should he be followed? Who will be the King of the North discussed in Daniel 11? Is a nuclear attack prophesied to happen to the English-speaking peoples of the United States, Great Britain, Canada, Australia, and New Zealand? When do the 1335 days, 1290 days, and 1260 days (the time, times, and half a time) of Daniel 12 begin? When does the Bible show that economic collapse will affect the United States?
End of Mayan Calendar 2012–Might 2012 Mean Something? Are there Mayan calendar predictions for change in 2012? Changes were centuries ago predicted by the Hopi Native Americans. Do Mayan/Hindu/Hopi/Buddhist/New Age/Nostradamus prophecies have any value here? Why might Satan have inspired this date? Does the Dresden codex show destruction of the earth by flood?
Anglo – America in Prophecy & the Lost Tribes of Israel Are the Americans, Canadians, British, Scottish, Welsh, Australians, Anglo-Southern Africans, and New Zealanders descendants of Joseph? Where are the lost ten-tribes of Israel? Who are the lost tribes of Israel? Will God punish the U.S.A., Canada, United Kingdom, and other Anglo nations? Why might God allow them to be punished first?
Large Hadron Collider may result in military applications The Europeans have the largest physics project on the planet. Some scoff, but might it result in military applications? May the Large Hadron Collider help fulfill Revelation 13:4?
2012 and the Rise of the Secret Sect This page contains some concepts and prophecies related to 2012 and a book.  This also has YouTube videos related to 2012 and beyond.  It also discusses the Large Hadron Collider.