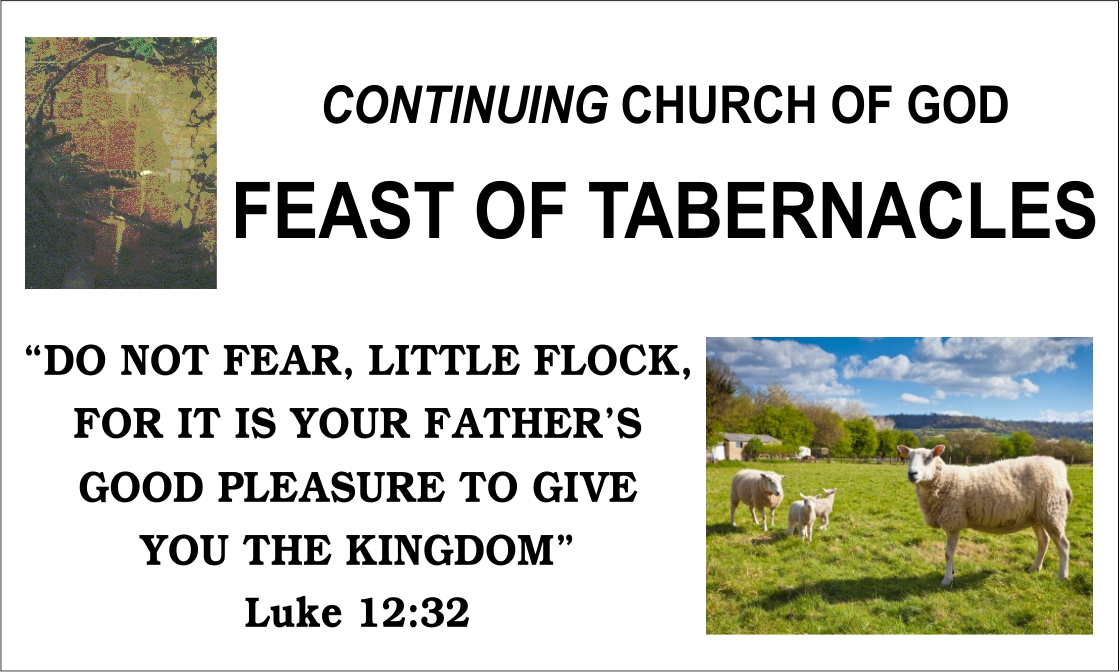 Here is a link to an offertory for this day:
Terry Nelson presents this offertory for the Last Great Day. He reminds people that God does not need their money, but that He commands tithes and offerings in Malachi 3. He also cites New Testament writings such as 2 Corinthians 9:6-9 and Acts 13:41. He also discusses the fulness of the Gentiles in Romans 11:25.

To mail an offering, here is our US address: Continuing Church of God 1036 W. Grand Avenue Grover Beach, CA 93433 To give donations online via PayPal, please go to: https://www.ccog.org/donations/
Here is a link to the offertory: Last Great Day Offertory.
Here is a link to a sermon you may wish to watch:

1:21:23

Is God fair? Is God partial? Are only some being called now? Why? Wouldn't it be better if everyone knew God now? What is prophesied in Ezekiel 37? What about the former and latter rain? What did Jesus teach on the Last Great Day? Do the Jews have any idea of its importance? Will idolaters be called? Does God have a time-plan different than most people do? Dr. Thiel addresses these issues and more?
Here is a link to the sermon: Last Great Day: God is impartial and has a plan for all.
We also have a sermon for this day in the Spanish language:
¿El plan de salvación de Dios incluye el juicio del trono blanco de Apocalipsis 20? Si es así, ¿tiene alguna relación con el período de 100 años de Isaías 65:20? Dado que Dios es amor, todo sabio, todopoderoso y es el Dios de salvación, ¿tiene un plan de salvación que funcione para la mayoría? ¿Se ofrecerá la salvación a todos, ya sea en esta era o en la venidera? ¿La misericordia triunfa sobre el juicio? ¿Por qué aspectos de esto se consideran un misterio? ¿El Dr. Thiel responde estas preguntas y más?
Here is a link to the sermon in Spanish: El Misterioso Trono Blanco De Juicio De Dio.
Some items of possibly related interest may include:
Universal OFFER of Salvation, Apokatastasis: Can God save the lost in an age to come? Hundreds of scriptures reveal God's plan of salvation Will all get a fair chance at salvation? This free book is packed with scriptures showing that God does intend to offer salvation to all who ever lived–the elect in this age, and the rest in the age to come. Here is a link to a related sermon series: Universal Offer of Salvation 1: Apocatastasis, Universal Offer of Salvation 2: Jesus Desires All to be Saved, Mysteries of the Great White Throne Judgment (Universal Offer of Salvation part 3), Is God Fair, Will God Pardon the Ignorant?, Can God Save Your Relatives?, Babies, Limbo, Purgatory and God's Plan, and 'By the Mouth of All His Holy Prophets'.
The Last Great Day: Shemini 'Azeret What is the 'eighth day' of the Feast? What does it help picture? A sermon on this topic is also available: Shemini Azaret: The Last Great Day.
Difficulties and Your Role in the Kingdom of God Are the difficulties and trials we face being called today worth it? Why? What is your role in the Kingdom of God? Do you know? What about trials and coming persecution? Here is a link to a related sermon: Our role in the Kingdom and Persecutions.
Feast of Tabernacles' Sites for 2020 This is information on the Feast of Tabernacles' sites for the Continuing Church of God in 2020. The Feast in 2020 Services began the evening of October 2nd and runs (including the Last Great Day) until sunset October 10th.
A Better Resurrection Is it better to be called now? Is it better to be Philadelphian? Here is a link to a related sermon: The Better Resurrection.
The Feast of Tabernacles: A Time for Christians? Is this pilgrimage holy day still valid? Does it teach anything relevant for today's Christians? What is the Last Great Day? What do these days teach? Here is a link to the sermon: Christianity and the Feast of Tabernacles.
Should You Observe God's Holy Days or Demonic Holidays? This is a free pdf booklet explaining what the Bible and history shows about God's Holy Days and popular holidays.
How to Keep God's Festivals Many have heard of God's Holy Days and wonder how they are kept in the 21st century. This is an overview article. A related sermon is also available titled: How to Keep God's Feasts.
Offertory – Feast of Tabernacles Should an offering be taken up on the first day of the Feast of Tabernacles? Why?
The Feast of Tabernacles: A Time to Learn the Law The Bible teaches that every seven years that the law should be read at the Feast of Tabernacles. This is what I did at the first Feast site were I gave an actual sermon (as opposed to a sermonette) in 2006.
The Gospel of the Kingdom of God This free online pdf booklet has answers many questions people have about the Gospel of the Kingdom of God and explains why it is the solution to the issues the world is facing. Here are links to three related sermons: The World's False Gospel, The Gospel of the Kingdom: From the New and Old Testaments, and The Kingdom of God is the Solution.
Feast of Tabernacles' Sites for 2019 This is information on the Feast of Tabernacles' sites for the Continuing Church of God in 2019. Services will begin the evening of October 13th and run through (including the Last Great Day) October 21st.
Is Second Tithe and Third Tithe Still Valid Today? Should you save and use second tithe? Some in the COGs no longer teach payment of third tithe, is this biblically correct?
Is There "An Annual Worship Calendar" In the Bible? This paper provides a biblical and historical critique of several articles, including one by the Tkach WCG which states that this should be a local decision. What do the Holy Days mean? Also you can click here for the calendar of Holy Days. (Here is a related link in Spanish/español: Calendario Anual de Adoración –Una crítica basada en la Biblia y en la Historia: ¿Hay un Calendario Anual de Adoración en la Biblia?
Holy Day Calendar This is a listing of the biblical holy days through 2024, with their Roman calendar dates. They are really hard to observe if you do not know when they occur 🙂 In the Spanish/Español/Castellano language: Calendario de los Días Santos. In Mandarin Chinese: 何日是神的圣日? 这里是一份神的圣日日历从2013年至2024年。</a