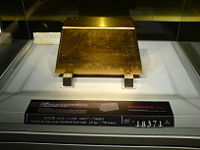 The 220 kg Gold brick displayed in Chinkuashi Gold Museum, Taiwan
The following was of prophetic interest:
Centamin ups reserves view at Egypt gold mine
Reuters – April 9, 2009
LONDON (Reuters) – Gold explorer Centamin Egypt (CNT.AX) said the reserves estimate for its Sukari gold mine in Egypt had increased by 72 percent to 6.4 million ounces.
The firm said on Thursday this marked an increase of 2.7 million ounces from the previously reported 3.7 million ounces in March 2007.
The new reserves were based on drilling up to January 25 and used a gold price of $700 per ounce, it said.
"The ongoing drilling program has been very encouraging, and the company is confident that this will result in further additions to the reserve and resource inventory," said Chief Executive Josef El-Raghy. http://uk.reuters.com/article/businessNews/idUKTRE5381II20090409
The Bible tells of a time when the  King of the North will attack the King of the South and carry off:
…the treasures of gold and silver, and over all the precious things of Egypt (Daniel 11:43).
For years, many experts felt Egypt had too little gold to make that a worthwhile effort.  But it appears that Egypt now clearly does.  We are getting closer to the end.  But it is not yet.
Some articles of possibly related interest may include:
Who is the King of the North? Is there one? Do biblical and Roman Catholic prophecies point to the same leader? Should he be followed? Who will be the King of the North discussed in Daniel 11? Is a nuclear attack prophesied to happen to the English-speaking peoples of the United States, Great Britain, Canada, Australia, and New Zealand? When do the 1335 days, 1290 days, and 1260 days (the time, times, and half a time) of Daniel 12 begin? When does the Bible show that economic collapse will affect the United States?
Is There A Future King of the South? Some no longer believe there needs to be. Might Egypt, Islam, Iran, Arabs, or Ethiopia be involved? What does the Bible say?
The Arab World In the Bible, History, and Prophecy The Bible discusses the origins of the Arab world and discusses the Middle East in prophecy. What is ahead for the Middle East and those who follow Islam?
End of Mayan Calendar 2012–Might 2012 Mean Something?There is a Mayan calendar prediction for change in 2012. 2012 changes were also centuries ago predicted by the Hopi Native Americans. Do Mayan/Hindu/Hopi/Buddhist/New Age/Nostradaumus prophecies have any value here? Why might Satan have inspired this date? Does the Dresden codex show destruction of the earth by flood? Can the great tribulation start before 2012?
Can the Great Tribulation Begin in 2009, 2010, or 2011? Can the Great Tribulation begin today? When is the earliest that the Great Tribulation can begin? What is the Day of the Lord?