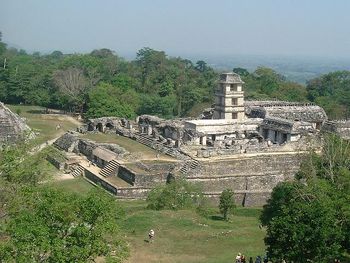 Ancient Mayan City of Palenque
The following announcement was of interest:
LOS ANGELES (Hollywood Reporter) – Sony Pictures has picked up disaster-movie king Roland Emmerich's apocalyptic script "2012," one of the first big projects to hit the market since the three-month writers strike ended on February 12.

While a deal almost was assured, many studios quickly dropped out of the hunt. Some didn't like the story, describing it as a "Roland Emmerich greatest-hits package." Others balked at the price tag. The project comes with a $200 million budget.

The script blends the idea of the Mayan calendar, which predicts the world ending in 2012, with natural disasters such as volcanic eruptions, typhoons and glaciers plaguing the planet and a large cast of characters dealing with the mayhem.

Emmerich, known for such films as "Independence Day" and "Godzilla," will direct the project from a script he co-wrote with Harald Kloser.  Sony is planning a July 10, 2009, release. http://www.reuters.com/article/industryNews/idUSN2252926420080222
December 21, 2012 is when the Maya's "Long Count" calendar marks the end of a 5,126-year era. 
While some astronomical occurrences will happen then, some people suspect that the Mayan date may mark the end of civilization or perhaps the beginning of a time of great tribulation or the emergence of a new and better age. 
A few others seem to believe that December 22, 2012 may mark the beginning of a new and better era for humanity.
Personally, I suspect that the European King of the North may become more obvious around that time (and may be a leader, but not yet King at that time) and in retrospect may even claim that he is bringing in the positive era that some suggest the Mayan calendar may indicate  
As I have written before, while I do not believe that the Great Tribulation will start in 2012, 2012 is probably the earliest year that it can begin.
However, because of all the hype that will be associated with 2012, I suspect that it is more likely that the great tribulation will begin in 2013 or a couple of years from that.
More on 2012 and how other cultures have alluded to it is in the article End of Mayan Calendar 2012–Might 2012 Mean Something?