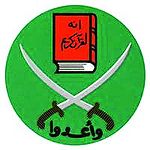 Muslim Brotherhood

Supporters of the Muslim Brotherhood and Egypt's elected President Morsi are protesting in Egypt:
July 05, 2013

Egypt's Muslim Brotherhood…is part of an alliance of Islamist parties calling for peaceful protests to follow afternoon prayers across the country…
He was replaced by Adly Mansour, a top judge who was sworn in Thursday as interim president — a move that was quickly rejected by the Brotherhood.

Islam Abdel-Rahman, who is on the the foreign affairs committee of the Muslim Brotherhood's Freedom and Justice Party, told VOA that his group will not take part in any military-led political process.

But he says his group is calling for strictly peaceful protests against the move.

"We believe in peaceful means of defying this military coup," Abdel-Rahman said. "We don't believe in taking up arms or something like this. We still believe this country can be managed by political means."

He also rejected regional comparisons that some have made to other countries that experienced widespread unrest following military takeovers.

"Egypt is not like Pakistan. Egypt is not like Algeria," he said. "Egypt is Egypt and people are very confident and determined that we can give an example of a peaceful challenge to an armed coup."

Friday's protests are seen by some as a test of whether the Islamist faction still has the popular support that brought it to power in a series of elections held since the ouster of authoritarian leader Hosni Mubarak in 2011.

There were no signs of mass violence by mid-day Friday. Still, there were fears of retaliation, possibly by fringe Islamist elements, in response to what some consider a military coup against their elected leader.

Early Friday, security officials said "Islamist gunmen" attacked several military and police checkpoints in the lawless northern Sinai, killing an Egyptian soldier and wounding at least two others.

Egypt's military is calling for reconciliation and playing down concerns of a revenge campaign against the Muslim Brotherhood. A military spokesperson Thursday said no arbitrary measures will be taken against any political group.

But as of early Friday, prosecutors had issued arrest warrants for 300 of the group's members and detained some of its top leaders. Morsi has also been placed in military custody.
The Brotherhood has also slammed the military for shutting down its official television channel and newspaper, as well as several other Islamist media outlets. In a statement, the group said the moves bring Egypt "back to the era of repressive practices, dictatorship, and corruption."

Judicial officials say they will open an investigation next week against Morsi and other Brotherhood members on charges of "insulting the judiciary."…

The military has already suspended the country's Islamist-backed constitution and dissolved the parliament. It plans to soon set up a panel to review the constitution and set a timetable for new elections. http://www.voanews.com/content/article/1695591.html

July 5, 2013

Egypt's Muslim Brotherhood called for a wave of protests Friday, furious over the military's ouster of its president and arrest of its revered leader and other top figures, raising fears of violence and retaliation from Islamic militants.The first coordinated assault by Islamic militants since the ouster of Mohammed Morsi came in the lawless Sinai Peninsula. Masked assailants launched coordinated attacks with rockets, mortars, RPGs and anti-aircraft guns on el-Arish airport, where military aircrafts are stationed, as well as the Central Security camp in Rafah and five military and police posts.

The military and security forces returned the fire. Military helicopters flew over the area…Military officials denied reports that an official state of emergency had been declared in south Sinai on Friday, but added that troops in the area remained on alert.

The military forced Morsi out Wednesday after millions of Egyptians turned out in four days of protests. After its top leaders were targeted with arrest warrants, the Muslim Brotherhood hotly rejected an appeal by the military to take part in forming a new regime.

A military statement late Thursday appeared to signal a wider wave of arrests was not in the offing. A spokesman, Col. Ahmed Mohammed Ali, said in a Facebook posting that that the army and security forces will not take "any exceptional or arbitrary measures" against any political group.  http://www.cbsnews.com/8301-202_162-57592395/egypts-interim-govt-faces-security-test-as-muslim-brotherhood-jihadist-groups-vow-to-retaliate-for-morsis-ouster/
Egypt is being affected by basically four groups:
The military who correctly suspected that President Morsi wanted to curb its influence and take it in a direction that it did not want to go.
The secularists who correctly suspected that President Morsi was implementing an Islamic agenda.
The Muslim Brotherhood who supported President Morsi's agenda.
Certain other Islamic groups that did not feel that President Morsi was working enough towards their Islamic agendas.
And of course, there are the Copts and other non-Muslims who faced additional persecution from the Morsi Administration, as well as people simply frustrated by Egypt's economic state, etc.
Now, the USA has a problem in that it backed Dr. Morsi in the past and recently abandoned him.  Yet since the USA claims it supports democracy, it has in effect supported 'mobocracy' (rule by mobs).   This is fairly hypocritical and much of the world can see this.  But the USA has a history of hypocrisy and this will not bode well for the USA (cf. Isaiah 10:5-11, KJV).
But getting back to Egypt, what was the agenda that Dr. Morsi wanted?
Dr. Morsi wanted the establish a nation that firmly backed the Muslim Brotherhood and its objectives.
Which are?
The Muslim Brotherhood wants as its top priority a pan-national Islamic caliphate based upon Sharia law ruled by an Imam/Caliph.
When Dr. Morsi was responsible for the official website of the Muslim Brotherhood, it put up an article that stated the following:
The Muslim Brethren…believe that the caliphate is a symbol of Islamic Union and an indication of the bonds between the nations of Islam. They see the caliphate and its re-establishment as a top priority, subsequently; an association of Muslims people should be set up, which would elect the imam". (zhyntativ. HASAN AL-BANNA AND HIS POLITICAL THOUGHT OF ISLAMIC BROTHERHOOD. IkhwanWeb, May 13, 2008. http://www.ikhwanweb.com/article.php?id=17065 viewed 09/22/11)

What is the Muslim Brotherhood?
The world's largest and most influential Islamist movement…"The Islamic nation," its charter states, "must be fully prepared to fight the tyrants and the enemies of Allah as a prelude to establishing an Islamic state"—ideally a re-established caliphate, stretching from Spain across the Middle East and Central Asia to Indonesia, to be governed according to Islamic sharia law. (Understanding the Muslim Brotherhood. February 14, 2011. © The Muslim Brotherhood. http://www.ikhwanweb.com/article.php?id=28019 viewed 11/21/2011)
While the Muslim Brotherhood will not get all the territory it wants, it is likely to end up in some type of confederation with at least most of North Africa and the Middle East.  This appears to be a Sunni Muslim goal and is consistent with the territory that the King of the South of Bible prophecy will lead (Daniel 11:40-43).
The Muslim Brotherhood is a Sunni Muslim group (countries such as Iran and Iraq are mainly Shi'ite Muslims).  A few ago, Egypt's President Morsi called for Egyptian fighters to begin a war against three Shi'ite ruled nations, including Syria (see Egypt's Morsi taking 'King of the South' steps, but…).  This did not set well with the military in Egypt and it decided that it wanted to see certain changes from President Morsi or it would support the unelected opposition.  When the changes the military wanted did not quickly materialize, after mob protests, it removed President Morsi from office and declared the Chief Justice of its Supreme Court, Adly Mansour, as interim president (Adly Mansour installed as Egypt's interim president).
So, the Muslim Brotherhood called for protests.
Despite the changes in Egypt this week, there is still going to be a rise of a pan-national Arabic power (with likely support from Turkey and others) similar to what the Muslim Brotherhood wants.
The situation in Egypt will change as this will come to pass.
UPDATE 12:00 pm  PDT/3:00 pm EDT.  Protesters supporting the Muslim Brotherhood have reportedly been killed by the Egyptian army:
Egyptian troops have opened fire on protesters marching in support of ousted President Mohammed Morsi, killing three and wounding dozens.

The shooting came as crowds moved to the Republican Guard headquarters, where Mr Morsi is believed to be held.

Later the Muslim Brotherhood's leader told supporters that protests would continue until Mr Morsi was reinstated.

The army, which removed Mr Morsi on Wednesday after days of unrest, denied shooting live rounds at demonstrators.

However the BBC's Jeremy Bowen at the scene says he saw soldiers fire on the protesters.  http://www.bbc.co.uk/news/world-middle-east-23202096

Army troops opened fire Friday on protesters demanding the reinstatement of toppled President Mohammed Morsi, killing at least one, as supporters of the Islamist leader rallied across Egypt chanting "Down with military rule!"    http://www.cbsnews.com/8301-202_162-57592395/clashes-erupt-between-egyptian-military-supporters-of-deposed-president-at-least-1-dead/
This incident will hurt the army in the long run, and perhaps sooner.  The situation in Egypt will change as I have been writing and Egypt will be part of a multinational confederation that will be the King of the South of Bible prophecy.
Some items of possibly related interest may include:
The Future King of the South is Rising Does the Bible teach that there will be a future King of the South in Daniel 11? Is this kingdom rising up now? Did the old Worldwide Church of God (WCG) teach that there would be another one? And who is the King of the South? How will this involve Egypt? Is the final King of the South some type of Arab-Muslim confederation? Can Iran be involved? Is there a group that seems to be supporting the goals of the King of the South? Has the Obama Administration supported the rise of this power? This sermon video answers those questions.
The Muslim Brotherhood and the Rise of the King of the South The Bible tells of the formation of a power of nations that are in the Middle East and North Africa that are part of the final "King of the South" (Daniel 11:40-43) The Muslim Brotherhood wishes to have an Islamic empire with basically the same nations. This YouTube video explains what to expect from such a confederation.
Is There A Future King of the South? Some no longer believe there needs to be. Might Egypt, Islam, Iran, Arabs, or Ethiopia be involved? Might this King be called the Mahdi? What does the Bible say?
The Arab and Islamic World In the Bible, History, and Prophecy The Bible discusses the origins of the Arab world and discusses the Middle East in prophecy. What is ahead for the Middle East and those who follow Islam? What about the Imam Mahdi? What lies ahead for Turkey, Iran, and the other non-Arabic Muslims?
What Should You Know About Turkey in Prophecy Do you know the Turkish people descended from? Did the Ottoman Empire possibly fulfill a promise in Genesis? Will Turkey support the European King of the North or Arabic King of the South? Will it betray one of them? Will Turkey be involved in the encouraging the destruction of Israel? Is Turkey going to become Catholic? Is Turkey mentioned in Psalm 83, Daniel 11, and elsewhere in the Bible? This video provides answers.
Damascus and Syria in Prophecy Will Bashar Assad hold power as he has it? Does the Bible show that Damascus, the capital of Syria, will be destroyed? What will happen to Syria? Will the Syrians support the final King of the South that the Bible tells will rise up? Which scriptures discuss the rise and fall of an Arabic confederation? Does Islamic prophecy predict the destruction of Syria. This is a YouTube video.
Is There an Islamic Antichrist? Is Joel Richardson correct that the final Antichrist will be Islamic and not European? Find out.
Barack Obama in Islamic Prophecy? There is actually a 17th century Shiite prophecy that some believe that Barack Obama will fulfill that will lead to a rising up of Islam.
Arabic Nazarenes May Have Kept Original Christian Practices Were their faithful Arabs who held to original Christianity?
Nazarene Christianity: Were the Original Christians Nazarenes? Should Christians be Nazarenes today? What were the practices of the Nazarenes.
Barack Obama, Prophecy, and the Destruction of the United States-Second Edition for Second Obama Term This is a 160 page book for people truly interested in prophecies related to Barack Obama and the United States, including learning about many that have already been fulfilled (which the book documents in detail) and those that will be fulfilled in the future. It also has a chapter about a Republican choice. This book is available to order at www.barackobamaprophecy.com. The physical book can also be purchased at Amazon from the following link: Barack Obama, Prophecy, and the Destruction of the United States: Is Barack Obama Fulfilling Biblical, Islamic Catholic, Kenyan, and other America-Related Prophecies? What About Republican Leaders? Second Edition for Second Obama Term.
Barack Obama, Prophecy, and the Destruction of the United States-Second Term-Amazon Kindle edition. This electronic version is available for only US$2.99. And you do not need an actual Kindle device to read it. Why? Amazon will allow you to download it to almost any device: Please click HERE to download one of Amazon s Free Reader Apps. After you go to for your free Kindle reader and then go to Barack Obama, Prophecy, and the Destruction of the United States-Second Term-Amazon Kindle edition.