By COGwriter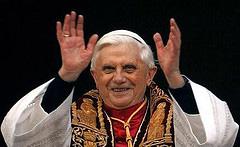 Pope Benedict XVI 
The Pope has called for prayer on unity with the Orthodox.  Notice the following story: 
Benedict XVI Praying for Catholic-Orthodox Meeting
Zenit – Oct 10, 2007
VATICAN CITY – Benedict XVI called for prayer to bring about full communion between Catholics and Orthodox, especially as theologians from the two Churches engage in ecumenical dialogue.
Before bidding farewell to the thousands gathered in St. Peter's Square for today's general audience, the Pope recalled how "the Joint International Commission for Theological Dialogue between Catholics and Orthodox is currently holding its 10th plenary assembly in Ravenna, Italy, where it is deliberating upon a theological subject of particular ecumenical interest: the ecclesiological and canonical consequences of the sacramental nature of the Church — ecclesial communion, conciliarity and authority."
"I ask you to join me in my prayer," said the Holy Father, "that this important gathering may help us to progress toward full communion between Catholics and Orthodox, and that we may soon be able to share the one chalice of the Lord."
http://www.zenit.org/article-20722?l=english
Comments by COGwriter:
The Orthodox should study their Bibles and pray that they will embrace the truth of the Bible instead of unity with the Roman Catholics, which is prophesied to lead to dominance over the Orthodox.
One prophecy, that was given no later than 1202, by Abbott Joachim states:
A remarkable Pope will be seated on the pontifical throne, under special protection of the angels. Holy and full of gentleness, he shall undo all wrong, he shall recover the states of the Church, and reunite the exiled temporal powers. As the only Pastor, he shall reunite the Eastern to the Western Church…This holy Pope shall be both pastor and reformer. Through him the East and West shall be in ever lasting concord. The city of Babylon shall then be the head and guide of the world. Rome, weakened in temporal power, shall forever preserve her spiritual dominion, and shall enjoy great peace…At the beginning, in order to bring these happy results, having need of a powerful assistance, this holy Pontiff will ask the cooperation of the generous monarch of France (Great Monarch). (Cited in Connor, Edward. Prophecy for Today. Tan Books and Publishers, Rockford (IL), 1984, pp. 31-32).
This suggests that some Roman Catholics believe that they have to reunite with the Eastern Orthodox as well as support the reuniting of the Europeans (the "temporal powers" is a term used by Catholics to mean the political leaders in the world) and that Babylon will then be the head of the world! 
Something that the Bible warns against!
More information can be found in the articles:
Orthodox Must Reject Unity with the Roman Catholics
Which Is Faithful: The Roman Catholic Church or the Church of God?
Europa, the Beast, and Revelation