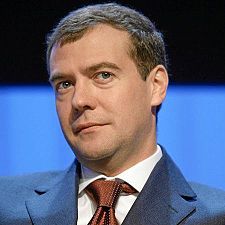 Dmitry Anatolyevich Medvedev

The following religious news was of interest:
Moscow, January 25, Interfax – Russian President Dmitry Medvedev has congratulated Bishop Irinej on being elected the new Patriarch of the Serbian Orthodox Church, the Kremlin reports.
Essentially, the Russians want to maintain ties with Serbia and to maintain ties with apparently all the Eastern Orthodox groups that they can.
In the meantime, the heads of the Russian and Constantinople Orthodox churches sent a book to the Pope in order to encourage ties with the Vatican that should be received today:
Benedict XVI to Receive Copy of Pauline Codex

At Closing of Prayer Week for Christian Unity
ROME, JAN. 22, 2010 (Zenit.org).- A 424-page "Codex Pauli" that honors the Apostle to the Gentiles with illustrations and writings in the spirit of the ancient monastic codices, will be presented to Benedict XVI.
While events are not quite ready for re-unification, this seems to be the goal of the Vatican, Constantinople, and some of the other Orthodox.  How closely Russia will support this unification is still not clear, but to some degree, it seems to be supporting some of it (see also Russia and the Vatican Establish Full Diplomatic Ties).
But according to biblical, Catholic, and Orthodox prophecy, such re-unification will be a disaster.
Some articles of possibly related interest may include:
Russia: Its Origins and Prophesied Future Where do the Russians come from? What is prophesied for Russia? What will it do to the Europeans that supported the Beast in the end?
Catholic Prophecies: Do They Mirror, Highlight, or Contradict Biblical Prophecies? People of all faiths may be surprised to see what various Roman and Orthodox Catholic prophets have been predicting as many of their predictions will be looked to in the 21st century.
Europa, the Beast, and Revelation Where did Europe get its name? What might Europe have to do with the Book of Revelation? What about "the Beast"? What is ahead for Europe?
Why Should American Catholics Should Fear Unity with the Orthodox? Are the current ecumenical meetings a good thing or will they result in disaster?
Orthodox Must Reject Unity with the Roman Catholics The talks for unification involve compromise and the apparent rising up of a changed religion that no one should accept.