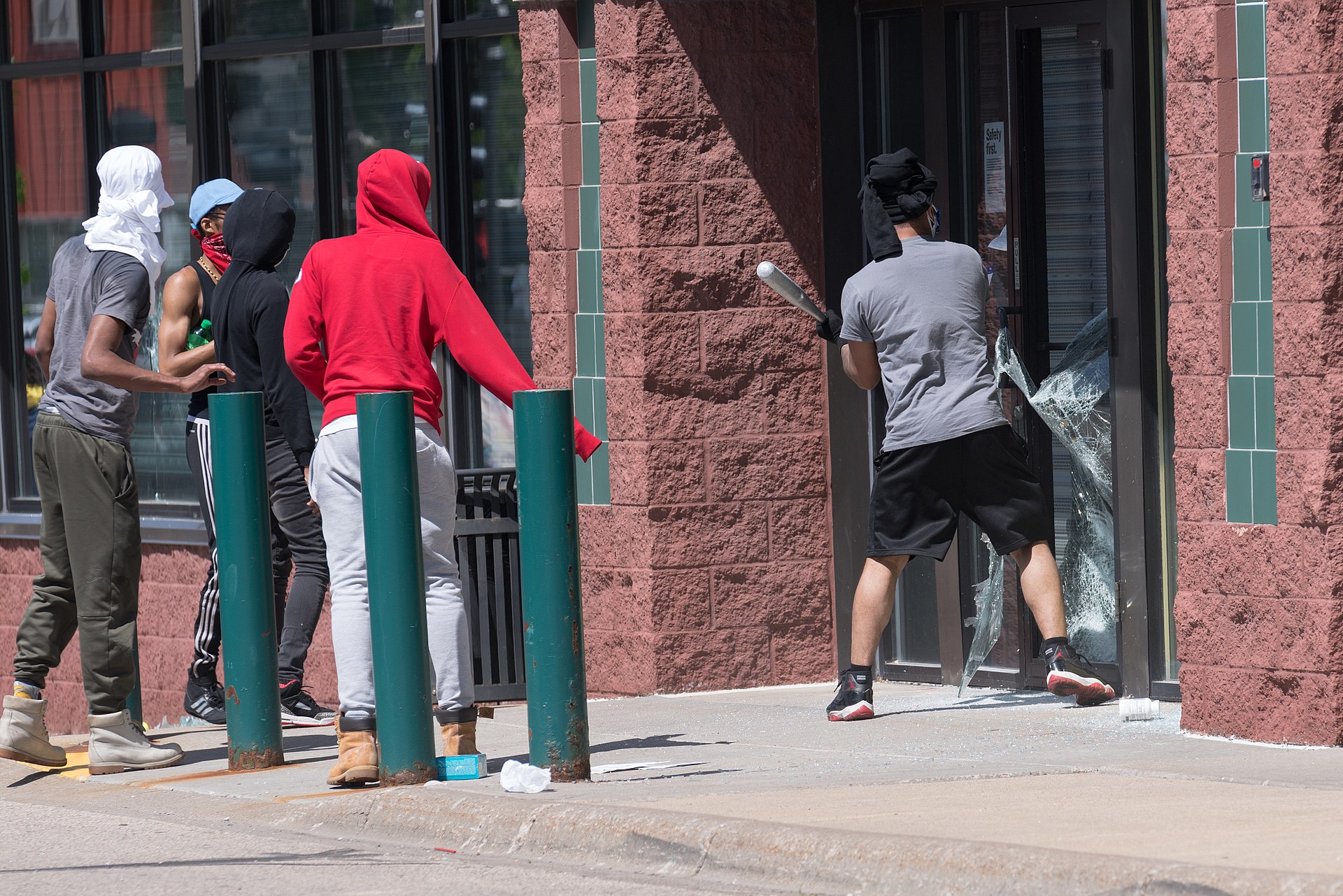 Rioter smashing business window  (photo by Lorie Shaull)
Destructive violence, lootings, threats, and burning of buildings has been going on in the USA, in addition to peaceful protests.
Here is a map from Voice of America of where some of the protests have been: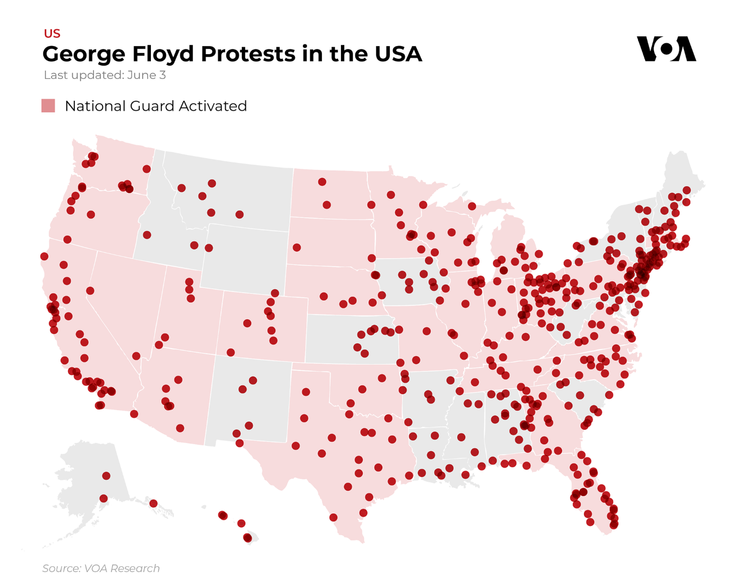 Now notice the following post:
Protesters Provide Cover While The Country Bleeds

June 5, 2020

While the country burns, and the country bleeds, thousands are willingly providing cover for those carrying out acts of violence and bloodshed during these protests over George Floyd's death, and others are succumbing to their pent-up anger as bait is dangled in front of them.

What has become of humanity that so many could be so blind? The young are out of their minds with boredom and desire to get a little crazy after being in lockdown for nearly three months. Adults want to stick it to the man, stick it to people, and stick it wherever they think their voice will be heard. They say it's all for a cause, yet they watch buildings burn, the destruction of our cities, and people being murdered, and they have settled into the madness as though it's their newfound comfort zone. They continue each day, no matter how devastating the night before was, and they amplify their so-called "cause" to convince themselves they are doing something good. Blood is on their hands as much as those committing the acts themselves. And blood is on the hands of all of those encouraging these nighttime protests to continue.

By choosing to carry out nighttime protests, it is providing cover for those whose intentions are destruction and violence, making each person complicit. Some are handed bricks to throw, and some make the choice to do it, because they follow the leader instead of thinking for themselves. Others choose to spit and yell at police officers while throwing projectiles at them, all to be as rebellious as the stranger standing next to them. And young kids are spray painting buildings because they think it's "cool." Meanwhile, families across the country continue to suffer because their businesses cannot open after nearly three months of being closed.

Strings of white people are taking a knee, some in crowds by the hundreds, and repeating a script read to them by someone with the Black Lives Matter group. They shame and guilt you to bring you to your knees and demoralize you as though you've done something wrong, under the guise of solidarity, when in reality they are controlling you, manipulating you, and getting you to submit while they spread photos of white people on their knees – the very same position a white police officer was in while bringing a black man to his death. You've been played. It's called conditioning people's mind by use of repeated imagery, to display "the guilty ones."

The "me too" movement, the "women's march" and the "no guns" rallies all served as preparations to refine how they would rally, coordinate, and grow their herd. "Their," being those behind organizing all of these manufactured "movements" so as to build an army of good little soldiers at the right time, the right place, and right stage of their psychological games in order to step up the impact to a level of rage and terror that would escalate to a revolution. https://www.coreysdigs.com/law-order/protesters-provide-cover-while-the-country-bleeds/
As far as being destructive at night goes, notice the following photo of one of the night-time fruits of the rioters: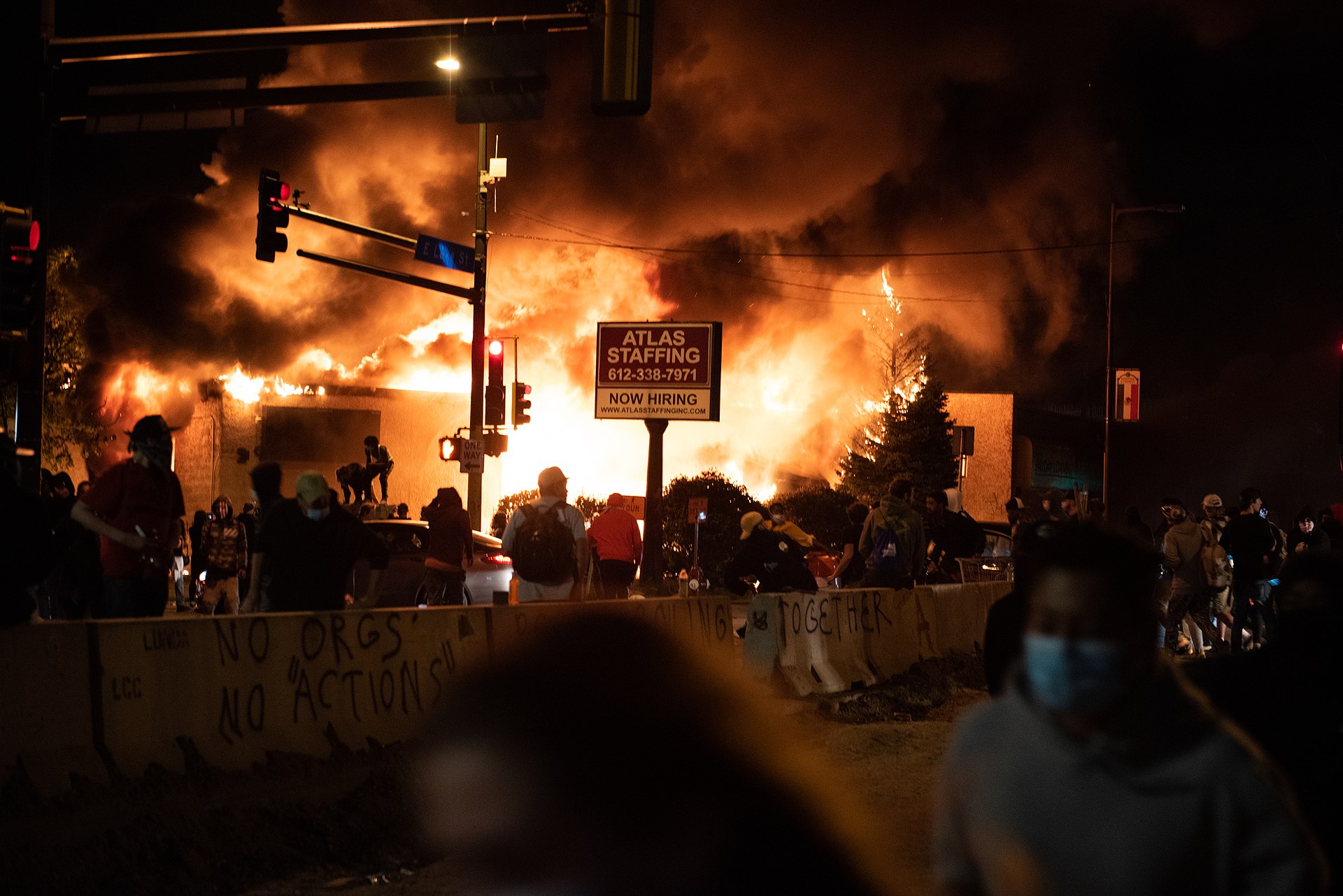 Burning caused by 'George Floyd excuse' rioters (Hungryogrephotos)
Now, consider the following scripture:
11 And have no fellowship with the unfruitful works of darkness, but rather expose them. (Ephesians 5:11)
The violence, lootings, threats, and burning of buildings is wrong. Yes, many are angry, and yes, it is right to be outraged by the treatment of George Floyd, but the violence, thievery, and destruction is wrong.

The Bible says:
12 The night is far spent, the day is at hand. Therefore let us cast off the works of darkness, and let us put on the armor of light. 13 Let us walk properly, as in the day, not in revelry and drunkenness, not in lewdness and lust, not in strife and envy. 14 But put on the Lord Jesus Christ, and make no provision for the flesh, to fulfill its lusts. (Romans 13:12-14)
That includes lusts of sinning when angry and causing harm.
26 "Be angry, and do not sin": do not let the sun go down on your wrath, 27 nor give place to the devil. 28 Let him who stole steal no longer, but rather let him labor, working with his hands what is good, that he may have something to give him who has need. (Ephesians 4:26-29)
The angry are not to sin. Those who stole are to stop, work, and be productive. They need to produce in order to give, not sin and destroy.
Related to the rioting, here is our latest video:
We are seeing riots and protests across the USA, protests and skirmishes in Hong Kong, and another potential intifada with the Palestinians over Israel's annexation plans. Could any of this be related to the beginning of sorrows Jesus mentioned in Matthew 24? What about rider of the red horse of war of the apocalypse? Is ethic group prophesied to be against ethnic group according to the Orthodox Jewish Bible? Did the red horse begin the ride in the 20th century? What is the relationship of the seals of Revelation 6 and the start of the Great Tribulation? Will a warring 'Beast' leader arise in Europe? Might he quell civil unrest? Might he militarily destroy the United States, United Kingdom, and Canada? What about the Islamic nations of the Middle East and North Africa? Will Jesus have the King of the North Beast defeated? After Jesus returns will this be the time when people will not learn war? What about the other seals in the Book of Revelation? Dr. Thiel address these and more in this video.
Here is a link to the video: Riots and the Red Horse of the Apocalypse.
Disaster is coming.
Although national repentance is needed, it is not expected. But you can repent (see Christian Repentance and Is God Calling You?). Watch also, and pray (cf. Luke 21:36; 1 Timothy 2:1-3). Do good (cf. Romans 12:17-21).
As far as the USA goes, it will be destroyed within a decade or so.  The riots now are another step in weakening the nation.
Michael Synder reported the following:
Do you have to go to "looting school" to learn this stuff? It is not that difficult to smash a few store windows and grab a few things, but some of the incidents that we have witnessed over the last several days have been so bizarre that it is hard to believe that they are actually real. In fact, if they were put into a big Hollywood disaster movie at lot of people would probably dismiss them as "unrealistic". But it is very important to understand what is going on out there, because these looters are giving us a preview of coming attractions. If they will sink to such depths now, what will they be willing to do once things get really, really bad in this country? …
Now that criminals have seen how much they can get away with, they are going to become more emboldened than ever, and the entire west coast is going to be a major danger zone for the foreseeable future. …

All over America, thousands upon thousands of criminals are using the George Floyd protests as an opportunity to commit crimes, and the fact that it is happening on such a widespread basis is extremely sobering.

At this point, things have gotten so crazy that looters are even looting from other looters.  The U.S. is descending into madness, and many people believe that this is just the beginning.

Of course all of this rampant lawlessness is deeply alarming millions upon millions of ordinary citizens, and a lot of people are deeply concerned that this sort of behavior could start spreading into the suburbs and beyond.  …

Just six months ago, life in America seemed so "normal", but now everything has changed.

All of the anger that has been building up for years is now starting to boil over, and the upcoming election in November is just going to increase tensions even more.

So please be very careful out there, because our society really is starting to fall apart right in front of our eyes. 06/03/20 http://theeconomiccollapseblog.com/archives/extreme-looting-we-are-seeing-looters-use-absolutely-crazy-tactics-that-have-never-been-seen-before
It looks like over 10,000 have been arrested so far. And if the police would have arrested all who have violated one or more aspects of the law (like curfews), the number would be probably be in the hundreds of thousands.
Yet, what has happened related to the George Floyd protests is only the tip of the iceberg. More will be coming later. And ultimately, the USA will be taken over and be no more (cf. Daniel 11:39; see also USA in Prophecy: The Strongest Fortresses).
As far as violence goes, that has been expected. Notice the following prophecies:
5 They have corrupted themselves; They are not His children, Because of their blemish: A perverse and crooked generation. … 25 The sword shall destroy outside; There shall be terror within (Deuteronomy 32:5,25)

12 "Cry and wail, son of man; For it will be against My people, Against all the princes of Israel. Terrors including the sword will be against My people; … (Ezekiel 21:12)

5 Also they are afraid of height, And of terrors in the way (Ecclesiastes 12:5).

6 You have forsaken Me," says the Lord,
"You have gone backward.
Therefore I will stretch out My hand against you and destroy you;
I am weary of relenting!
7 And I will winnow them with a winnowing fan in the gates of the land;
I will bereave them of children;
I will destroy My people,
Since they do not return from their ways.
8 Their widows will be increased to Me more than the sand of the seas;
I will bring against them,
Against the mother of the young men,
A plunderer at noonday;
I will cause anguish and terror to fall on them suddenly. (Jeremiah 15:6-8)
While many political, media, and other leaders refuse to believe the Bible, the reality is that those of us who believe the Bible realize that terrorism is prophesied.
Terror will hit not only the USA and its Anglo-Saxon descended allies, but also many in Europe and elsewhere.
Expect more protests, including violent protests:
1 But know this, that in the last days perilous times will come: 2 For men will be lovers of themselves, lovers of money, boasters, proud, blasphemers, disobedient to parents, unthankful, unholy, 3 unloving, unforgiving, slanderers, without self-control, brutal, despisers of good, 4 traitors, headstrong, haughty, lovers of pleasure rather than lovers of God, 5 having a form of godliness but denying its power. And from such people turn away! 6 For of this sort are those who creep into households and make captives of gullible women loaded down with sins, led away by various lusts, 7 always learning and never able to come to the knowledge of the truth. (2 Timothy 3:1-7)

23 'Make a chain,
For the land is filled with crimes of blood,
And the city is full of violence.
24 Therefore I will bring the worst of the Gentiles,
And they will possess their houses;
I will cause the pomp of the strong to cease,
And their holy places shall be defiled. (Ezekiel 7:23-24)
Here is something I posted back in 2011:
Specifically, I expect violent protests in the USA, UK, and Canada (though it may be different there). (Thiel B. Riots in London and Spain. COGwriter, August 7, 2011)
Consider something I posted here back in September 2016:
For years I have warned that more civil unrest was coming to the USA. We have already seen a re-emergence of civil unrest already in 2015 and 2016.

That does not mean that I agree that globalists will necessarily trigger it etc. But the media certainly has fanned the flames in the past and I expect them to do more such fanning in the future if Donald Trump were to win. (Thiel B. 'Chaos will erupt across America in less than 100 days… no matter who wins the election'. COGwriter, September 5, 2016)
We certainly have seen a lot more support for protests, even when the protesters are clearly wrong, than we used to in the USA.
In December 2019, I posted an article titled 20 items to prophetically watch in 2020. Here is something from number 7 of those items:
Notice how the Orthodox Jewish Bible translates the first half of Matthew 24:7:

For there will be an intifada of ethnic group against ethnic group, …

We expect to see more wars, rumors of war, and civil unrest.
We are seeing this.
Last night on the news, I saw buildings in Stockton with packages on their doors with threats to police that some thought could have been explosives.
That is terrorism.
In the Five Cities area here, businesses have been warned about a protest that has been called for later today. Several businesses have already boarded themselves up. The protesters have no permit, and we will see what they do. A couple of days ago, it was reported that three busloads of protesters were coming to this county from at least 100 miles away.
More disaster is coming.
But most, including most Christians, will not heed until after it is a bit too late (see Church of God Leaders on Prophets and Does the CCOG have the confirmed signs of Acts 2:17-18?).
Jesus taught:
25 Every kingdom divided against itself is brought to desolation, and every city or house divided against itself will not stand. (Matthew 12:25)
We are seeing more divide in the USA and parts of it certainly appear to be intentional. Much of it is ideological. The USA is becoming less and less united and more polarized.
This will not end well for the USA (cf. Daniel 11:39; Ezekiel 7:23-24).
Some items of possibly related interest may include:
Why Terrorism? Is Terrorism Prophesied? What does the Bible teach? Which nations may be affected? Here is a link to a related sermon: Terrorism, Christianity, and Islam.
God's Grace is For All Is being Jewish a hindrance to salvation? What about not being a descendant of Israel? What does the Bible really teach? Here is a link to a related sermon titled Race and Grace; Do you view race as God does?
20 items to prophetically watch in 2020 Much is happening. Dr. Thiel points to 20 items to watch (cf. Mark 13:37) in this article. Here is a link to a related sermon: 20 Prophetic Items to Watch in 2020.
Four Horsemen of the Apocalypse What do each of the four horseman of the Apocalypse represent? Have they began their ride? Did Jesus discuss the any of this? Might their rides coincide with the "beginning of sorrows? Do they start their ride prior to the Great Tribulation? Did Nostradamus or any other 'private prophets' write predictions that may mislead people so that they may not understand the truth of one or more of the four horseman? There is also a related YouTube video titled The Four Horsemen of the Apocalypse.
World War III: Steps in Progress Are there surprising actions going on now that are leading to WWIII? Might a nuclear attack be expected? Does the Bible promise protection to all or only some Christians? How can you be part of those that will be protected? A related video would be Is World War III About to Begin? Can You Escape?
Fourth Horseman of the Apocalypse What is the pale horse of death and pestilences? What will it bring and when? Here is a link to a related sermon: Fourth Horseman, COVID, and the Rise of the Beast of Revelation. Some shorter related videos may include Amphibian Apocalypse: Threat to Humans? and Zombie Deer Disease is Here! Are the 10 Plagues on Egypt Coming? Here is a version of the article in Spanish: El cuarto jinete de Apocalipsis, el caballo pálido de muerte y pestilencia.
USA in Prophecy: The Strongest Fortresses Can you point to scriptures, like Daniel 11:39, that point to the USA in the 21st century? This article does. A related sermon is titled: Do these 7 prophesies point to the end of the USA?
Who is the King of the West? Why is there no Final End-Time King of the West in Bible Prophecy? Is the United States the King of the West? Here is a version in the Spanish language: ¿Quién es el Rey del Occidente? ¿Por qué no hay un Rey del Occidente en la profecía del tiempo del fin? A related sermon is also available: The Bible, the USA, and the King of the West.
COVID 19 is NOT the End, but could it be TEOTWAWKI? The novel coronavirus called COVID-19 is wreaking havoc around the world. Many states of the USA as well as countries in Europe are on lockdown with shelter in place /shelter in residence requirements. In France, a form is required when you are not at your house. In Spain, drones are being used to warn people who are outside to got back to their homes–does that bring up feelings of 'Big Brother'? Italy, France, and other areas are using police and/or military force to encourage people to stay inside. According to the Bible could this be the end? If not, what has to happen first? Have the second and third of the four horsemen of the Apocalypse started their ride? Could COVID-19 be the fourth horseman? Why or why not? Could we be seeing The End of the World as We Know It (TEOTWAWKI) like the R.E.M.'s 1987 single song discussed? Do Christians need to fear? What did Jesus teach? What did the Psalmist teach? This is a video. Here is a link to a version in the Spanish language: Corona 19 no es el final PERO es el TEOTWAWKI.
COVID-19 Leading to 666? The novel coronavirus of Wuhan, China fame, is now called COVID-19. It has also been called the 'Coronapocalypse.' Does COVID-19 have any prophetic ramifications? What did Jesus teach about pestilences and sorrows in the Olivet prophecy in Matthew 24? Could COVID-19 be the ride of the fourth horseman of the Apocalypse? Why was this type of disease expected according to the O. Here is a link to a version in the Spanish language: ld Testament prophecies in Deuteronomy and Leviticus? What has the US Centers for Disease Control warned about? What has the CDC reported about the flu? Were there lessons about fear and infections in the 2011 movie 'Contagion'? Because of COVID-19, the World Health Organization (WHO), nation of Iran, and certain French locations are telling people not to use cash, but instead electronic forms of payment. The US Federal Reserve is now quarantining money repatriated from Asia to reduce the potential spread of the coronavirus on US currency bills. Is COVID-19 worse than we have been told or could this all be a 'false flag' event to encourage people to move towards a cashless society? If the thousands of deaths associated with COVID-19 are pushing parts of the world towards cashlessness, how much more likely will the ride of the fourth horseman and over a billion human deaths motivate people to move to making electronic payments that can be monitored? The Bible tells of a soon coming society that controls buying and selling to force allegiance to a coming European Beast power, known as 666 (Revelation 13:16-18). Does the 'great tribulation' begin before ride of the fourth horseman or with the opening of the fifth seal of Revelation 6? Do the words of Jesus helps us better understand the sequence of the four horsemen of the Apocalypse and the start of the Great Tribulation? Will the ride of the fourth horseman help lead to the rise of 666? Is that ride very close? Dr. Thiel addresses these issues and more in this video. Here is a link to a version in the Spanish language: El COVID-19 ¿Conduce al 666?
God's Grace is For All Is being Jewish a hindrance to salvation? What about not being a descendant of Israel? What does the Bible really teach? Here is a link to a related sermon titled Race and Grace; Do you view race as God does?
Is God Calling You? This booklet discusses topics including calling, election, and selection. If God is calling you, how will you respond? Here is a link to a related sermon: Could God be Calling You? A short animation is also available: Is God Calling You?
Christian Repentance Do you know what repentance is? Is it really necessary for salvation? A related sermon is also available titled: Real Christian Repentance.
Just What Do You Mean — Repentance? Do you know what repentance is? Have you truly repented? Repented of what? Herbert W. Armstrong wrote this as a booklet on this important subject.
The Gospel of the Kingdom of God This free online pdf booklet has answers many questions people have about the Gospel of the Kingdom of God and explains why it is the solution to the issues the world is facing. Here are links to three related sermons: The World's False Gospel, The Gospel of the Kingdom: From the New and Old Testaments, and The Kingdom of God is the Solution.
When Will the Great Tribulation Begin? 2019, 2020, or 2021? Can the Great Tribulation begin today? What happens before the Great Tribulation in the "beginning of sorrows"? What happens in the Great Tribulation and the Day of the Lord? Is this the time of the Gentiles? When is the earliest that the Great Tribulation can begin? What is the Day of the Lord? Who are the 144,000? Here is a version of the article in the Spanish language: ¿Puede comenzar la Gran Tribulación en 2018 o 2019? ¿Es el Tiempo de los Gentiles? You can also see the English language sermon videos: The Great Tribulation from the Mount of Olives and Can the Great Tribulation begin before 2020? A shorter and newer video is: Might the Great Tribulation start in 2019?
The Times of the Gentiles Has there been more than one time of the Gentiles? Are we in it now or in the time of Anglo-America? What will the final time of the Gentiles be like? A related sermon is available and is titled: The Times of the Gentiles.
Armageddon Who is involved and when will this gathering happen? Here is also a video from Dr. Thiel, from Tel Megiddo in Israel: Armageddon. Other videos include: Armageddon Will it come on Trump's watch?, Iraq, Armageddon, & Prophecy, Freemasonry, Armageddon, and Rome, Is China paving roads to Armageddon?, and Jordan, Petra, and Armageddon.
Anglo – America in Prophecy & the Lost Tribes of Israel Are the Americans, Canadians, English, Scottish, Welsh, Australians, Anglo-Saxon (non-Dutch) Southern Africans, and New Zealanders descendants of Joseph? Where are the lost ten-tribes of Israel? Who are the lost tribes of Israel? What will happen to Jerusalem and the Jews in Israel? Will God punish the U.S.A., Canada, United Kingdom, and other Anglo-Saxon nations? Why might God allow them to be punished first? Here is a link to the Spanish version of this article: Anglo-América & las Tribus Perdidas de Israel. Information is also in the YouTube sermons titled Where are the Ten Lost Tribes? Why does it matter? and British are the Covenant People. A short YouTube of prophetic interest may be: Are Chinese threats against Australia for real?
Will the Anglo-Saxon-Celtic Nations be Divided and Have People Taken as Slaves? Will the lands of the United States, United Kingdom, Canada, Australia, and New Zealand be divided? What about Jerusalem? What does Bible prophecy teach? Are there non-biblical prophecies that support this idea? Who will divide those lands? Who will end up with the lands and the people? Here is a link to a video titled Will the USA and other Anglo-nations be Divided and Their People Made Slaves? Here is a related item in the Spanish language ¿Serán divididas las naciones anglosajonas?
British are the Covenant People What do 'British' and 'Britain' mean in Hebrew? Are the descendants of the Anglo-Saxons people of the covenant? Does the British royal family connect to the throne of David? What does the Bible teach? What does history show us? Is there any DNA evidence related to British-Israelism? When did Christianity make it to the British Isles? Could Jeremiah have made it to the British Isles? What type of Christians made it to the British Isles? Did the last King of England believe in British Israelism?
Canada in Prophecy: What Does Bible Prophecy, Catholic Prophecy, and other Predictions Suggest About the Future of Canada? There are prophecies that suggest involvement with Canada. And many are not positive about its future. A sermon of related interest is also available: Canada in Prophecy.
Australia and New Zealand in Prophecy Do biblical prophecies help explain the wealth blessings for Australia and New Zealand? Might cursings from disobedience come in the 21st century? Here is a link to a related sermon: Australia and New Zealand: Origins and Prophecy.
There is a Place of Safety for the Philadelphians. Why it May Be Petra This article discusses a biblical 'place of safety' and includes quotes from the Bible and Herbert W. Armstrong on this subject–thus, there is a biblically supported alternative to the rapture theory. There is also a video on the subject: Might Petra be the Place of Safety?
Donald Trump in Prophecy Prophecy, Donald Trump? Are there prophecies that Donald Trump may fulfill? Are there any prophecies that he has already helped fulfill? Is a Donald Trump presidency proving to be apocalyptic? Two related videos are available: Donald: 'Trump of God' or Apocalyptic? and Donald Trump's Prophetic Presidency.
Trump Presidency Magic 8 Ball or Bible Prophecy? BBC reported that one might as well use a 'Magic Eight-Ball' to try to predict what will happen in the remaining time of Donald Trump's presidency. What is a 'Magic Eight-Ball'? Dr. Thiel not only explains that, but also briefly goes over 10 biblically-based warnings he wrote would happen if Donald Trump were elected that have already began to come to pass. He also goes over something he wrote back in 2008 that the Trump presidency is also helping lead to fulfillment. Should you trust Bible prophecy or not? Dr. Thiel says that Bible prophecy can be trusted, despite the view of skeptics and others that either overlook or despise the Bible. This is a video.
Donald Trump and America's Apocalypse This 188 page book is for people truly interested in prophecies related to Donald Trump and the United States, including learning about several that have already been fulfilled and those that will be fulfilled in the future. The physical book can be purchased at Amazon for $12.99 from the following link: Donald Trump and America's Apocalypse.
Donald Trump and America's Apocalypse-Kindle Edition This electronic version of the 188 page print edition is available for only US$3.99. And you do not need an actual Kindle device to read it. Why? Amazon will allow you to download it to almost any device: Please click HERE to download one of Amazon s Free Reader Apps. After you go to for your free Kindle reader and then go to Donald Trump and America's Apocalypse-Kindle Edition.
Does the CCOG have the confirmed signs of Acts 2:17-18? Does any church have the confirmed dream and prophetic signs of Acts 2:17-18? Should one? Here is a link in the Spanish language: ¿Tiene la CCOG confirmadas las señales de Hechos 2: 17-18? Here is a link in the French language: Est-ce que l'Église Continue de Dieu confirme les signes d'Actes 2:17-18? A related sermon in the English language is also available: 17 Last Days' Signs of the Holy Spirit.
Church of God Leaders on Prophets Have there been prophets throughout the church age? Are any supposed to be around in the last days? What have COG leaders stated or written about prophets? Here is a link to a related sermon: Church of God Leaders on Prophets.
How To Determine If Someone is a True Prophet of God There are many false prophets. How can Christians determine who is a true prophet? There is also a sermon-length video titled How to determine if someone is a true prophet of God. Here is a related link in Spanish/español: ¿Cómo determinar si alguien es un verdadero profeta de Dios?