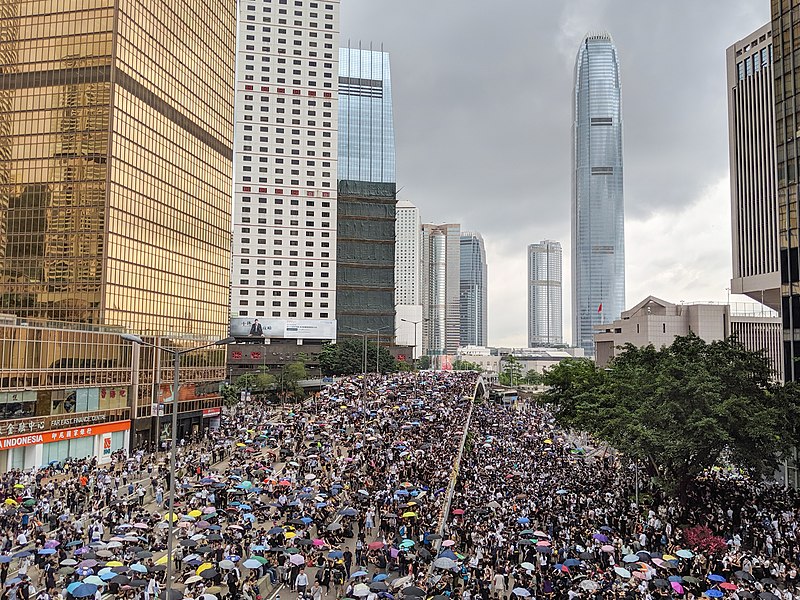 2019 Hong Kong Protesters (Studio Incendo)

We see more protests in Hong Kong:
25 December 2019

Hong Kong leader Carrie Lam said many residents and tourists had seen their Christmas celebrations "ruined by a group of reckless and selfish rioters".

"Such illegal acts have not only dampened the festive mood but also adversely affected local businesses," she said in a Facebook post on Wednesday.

The protests began in June, focusing on a bill that would have allowed the extradition of suspects to mainland China.

The bill was later withdrawn, but demonstrations have since evolved into a broader movement demanding investigations into police brutality and democratic reform.

The protests, which had been largely peaceful in recent weeks, have turned more confrontational over the festive season.

On Wednesday hundreds of activists marched through shopping centres shouting slogans such as "Liberate Hong Kong! Revolution of our times!" Police arrested several people after using pepper spray. https://www.bbc.com/news/world-asia-china-50910408
While the Hong Kong protests have been large and basically ongoing, they are not the only ones.
Notice something about Chile:
Chile Is In Danger Of Becoming Just Another Crisis-Ridden Latin American Country

Although we Latin Americans thought Chile was immune to populism, small protests have grown into the largest ones since the nation's re-democratization in the 90s. Initially, the protestors were groups of students complaining about a raise in the Santiago subway fare — an increase of 3.75 percent or about five US cents (which could add up to $1.15 during peak hours). …

Now, the movement has taken on a whole new character, with protestors' complaints becoming about income inequality and a poor welfare state. Violence also entered the picture, as protestors started rioting, burning nineteen subway stations. President Sebastian Piñera then declared a state of emergency, calling in troops to restore order.

Who's to blame? Well, protestors attribute these problems to the nefarious legacies of Augusto Pinochet's dictatorship and its relentless implementation of a "neoliberal" agenda, with widespread liberalization of the market and privatizations in the 70s and 80s. …

Reactions to the Protests and Chile's Future

The pressure seems to be working, as President Piñera has announced a list of measures as an answer to protestors:

Raise in the minimum wage to 350,000 pesos (470 USD) per month. If wages are below this value, the government will provide the remaining.
Raise of 40 percent in taxes for those with an income above 8 million pesos (10,700 USD).
Raise of 20 percent in pension payments.
Price controls on electricity rates, canceling a recent 9.2 percent increase.
A ceiling for health expenditures for families. Government will pay for anything that goes beyond that amount.
Expansion of the deal between the public health system (Fonasa) and pharmacies to provide cheaper medicines.

In addition to that, Piñera also replaced eight of his ministers — in favor of a much younger cabinet — and declared that he is open to any "structural reforms" and hasn't dismissed the idea of a new constitution. He has thus given in to the populists' desires, and the future doesn't look so bright.

Chile is walking on the road to serfdom, because, despite having experienced great free market reforms, there was no campaign to disseminate ideas. 12/24/19 https://www.silverdoctors.com/headlines/world-news/chile-is-in-danger-of-becoming-just-another-crisis-ridden-latin-american-country/
Notice also the following:
Belgium

Lately, there seems to be an unusually large number of mass resistance movements unfolding in countries all over the world.  France is repeatedly paralysed by national strikes …

Sweden

In Sweden, the CEO of Scania, a major trucking company in Sweden, warned that the country could be headed towards a civil war due to the social problems that have bubbled up as a result taking in massive numbers of migrants from alien cultures. …

In Spain, Italy and Germany, such as the disenchantment with their current regimes that a massive swing to the popular right is taking place.

Britain on December 12 heads for the polls and likely a hung or coalition regime squatting in Westminster. The United States is tearing itself apart as the U.S. President Donald Trump is impeached …

South Africa is mired in a racial civil war …

In the U.S., Puerto Rico's recent political turmoil upended the entire local government structure. In Latin America, there have been upheavals over the past few weeks in Peru, Bolivia, Ecuador and Chile. ..

Haiti is experiencing its worst political turmoil since 2004 ousting of President Jean Bertrand Aristide. On the other side of the planet, Arab nations like Iraq and Lebanon have erupted into mass upheavals.

Sudan just a few months ago toppled dictator Omar al-Bashir and now wants his party disbanded. And in Hong Kong, months of mass sustained protests have brought the nation to a standstill. … In Lebanon, Prime Minister Saad Hariri resigned after just 13 days of sustained mass protests in cities all over the country that included the formation of a human chain. https://russia-insider.com/en/not-just-france-14-major-countries-where-people-are-rioting-what-does-it-mean/ri28013
Libya was also mentioned above. There have also been sporadic protests in Russia.
Notice the following:
3 When He opened the second seal, I heard the second living creature saying, "Come and see." 4 Another horse, fiery red, went out. And it was granted to the one who sat on it to take peace from the earth, and that people should kill one another; and there was given to him a great sword. (Revelation 6:3-4)
Somewhat paralleling the ride of the second horseman of Revelation 6:3-4, Jesus warned about wars and disturbances:
6 And you will hear of wars and rumors of wars. See that you are not troubled; for all these things must come to pass, but the end is not yet.  7 For nation will rise against nation, and kingdom against kingdom. (Matthew 24:6-7a)
"Nation … against nation" is literally "ethnos … against ethnos" in the original Greek. Notice how the Orthodox Jewish Bible translates the first half of Matthew 24:7:
For there will be an intifada of ethnic group against ethnic group,
And, of course, there have been Palestinian protests against Israel.
The old WCG taught about the time of the red horse:
John was not speaking about the fall of Jerusalem. That war was already some twenty years behind him. John was referring to future events that would bring 6000 years of human history crashing to a cataclysmic close. … John is referring to a time yet ahead of us when "peaceful coexistence" will be a thing of the past. …

It's no wonder that Jeremiah, in referring to these tumultuous times, stated: "Alas! for that day is great, so that none is like it: it is even the time of Jacob's trouble …" (Jer. 30:7). (Ritter G. 4 Horsemen of the Apocalypse – The Red Horse – War, pp. 48, 52; see also Ritter R. The War that could end it all. Good News, December 1975)
We expect to see more wars, rumors of war, and civil unrest.
We are getting closer to civil wars in many parts of the world.
Do not think that the USA and Europe will not be affected–they will.
Jesus said:
37 And what I say to you, I say to all: Watch!"  (Mark 13:37)
Jesus warned:
6 For many will come in My name, saying, 'I am He,' and will deceive many. 7 But when you hear of wars and rumors of wars, do not be troubled; for such things must happen, but the end is not yet. 8 For nation will rise against nation, and kingdom against kingdom. And there will be earthquakes in various places, and there will be famines and troubles. These are the beginnings of sorrows. (Mark 13:6-8)
We are in a time of "troubles."
A worse time of 'tribulation' is coming (Mark 13:19) and is getting closer.
But, ultimately, there will be good news. Jesus will return and the millennial Kingdom of God will be established. Justice will be implemented in all the lands:
7 Of the increase of His government and peace There will be no end, Upon the throne of David and over His kingdom, To order it and establish it with judgment and justice From that time forward, even forever. The zeal of the Lord of hosts will perform this. (Isaiah 9:7)

16 Therefore thus says the Lord God:

"Behold, I lay in Zion a stone for a foundation,
A tried stone, a precious cornerstone, a sure foundation;
Whoever believes will not act hastily.
17 Also I will make justice the measuring line,
And righteousness the plummet;
The hail will sweep away the refuge of lies,
And the waters will overflow the hiding place. (Isaiah 28:16-17)

16 Then justice will dwell in the wilderness,
And righteousness remain in the fruitful field.
17 The work of righteousness will be peace,
And the effect of righteousness, quietness and assurance forever.
18 My people will dwell in a peaceful habitation,
In secure dwellings, and in quiet resting places, (Isaiah 32:16-18a)

3 A bruised reed He will not break,
And smoking flax He will not quench;
He will bring forth justice for truth.
4 He will not fail nor be discouraged,
Till He has established justice in the earth;
And the coastlands shall wait for His law. (Isaiah 42:3-4)

4 "Listen to Me, My people;
And give ear to Me, O My nation:
For law will proceed from Me,
And I will make My justice rest
As a light of the peoples.
5 My righteousness is near,
My salvation has gone forth,
And My arms will judge the peoples;
The coastlands will wait upon Me,
And on My arm they will trust.  (Isaiah 51:4-5)
Five times in the Hebrew scriptures (Esther 1:13; Proverbs 31:5; Isaiah 42:4, 51:4; Habakkuk 1:4) and once in the New Testament (Matthew 23:23), we clearly can see that justice is connected to God's law.
People will one day keep God's law.
Then, justice will one day prevail under God's governance in His Kingdom.
Some items of possibly related interest may include:
Does God Have a 6,000 Year Plan? What Year Does the 6,000 Years End? Was a 6000 year time allowed for humans to rule followed by a literal thousand year reign of Christ on Earth taught by the early Christians? Does God have 7,000 year plan? What year may the six thousand years of human rule end? When will Jesus return? 2027 or 20xx? There is also a video titled 6000 Years: When will God's Kingdom Come? Here is a link to the article in Spanish: ¿Tiene Dios un plan de 6,000 años?
When Will the Great Tribulation Begin? 2020, 2021, or 2022? Can the Great Tribulation begin today? What happens before the Great Tribulation in the "beginning of sorrows"? What happens in the Great Tribulation and the Day of the Lord? Is this the time of the Gentiles? When is the earliest that the Great Tribulation can begin? What is the Day of the Lord? Who are the 144,000? Here is a version of the article in the Spanish language: ¿Puede comenzar la Gran Tribulación en 2018 o 2019? ¿Es el Tiempo de los Gentiles? You can also see the English language sermon videos: The Great Tribulation from the Mount of Olives and Can the Great Tribulation begin before 2020? A shorter and newer video is: Could the Great Tribulation Begin in 2020?
The Times of the Gentiles Has there been more than one time of the Gentiles? Are we in it now or in the time of Anglo-America? What will the final time of the Gentiles be like? A related sermon is available and is titled: The Times of the Gentiles.
Armageddon Who is involved and when will this gathering happen? Here is also a video from Dr. Thiel, from Tel Megiddo in Israel: Armageddon. Other videos include: Armageddon Will it come on Trump's watch?, Iraq, Armageddon, & Prophecy, Freemasonry, Armageddon, and Rome, Is China paving roads to Armageddon?, and Jordan, Petra, and Armageddon.
God's Grace is For All Is being Jewish a hindrance to salvation? What about not being a descendant of Israel? What does the Bible really teach? Here is a link to a related sermon titled Race and Grace; Do you view race as God does?
Military Service and the Churches of God: Do Real Christians Participate in Carnal Warfare or Encourage Violence? Here are current and historical perspectives on a matter which show the beliefs of the true church on military participation. Is war proper for Christians? A related sermon would be: Christians, Violence, and Military Service.
Is American Football Evil? Is the most popular spectator sport in the USA something that Christians should watch? What do the Bible and early writings show? There is also a YouTube video available titled Should Christians watch American football?
Crime can be stopped…here's how! This was a booklet that was edited with some updates by Dr. Thiel. Here is a link to a related sermon: Crime and How it Will be Stopped!
Why Terrorism? Is Terrorism Prophesied? What does the Bible teach? Which nations may be affected? Here is a link to a related sermon: Terrorism, Christianity, and Islam.
Christian Soldiers How are Christians to be like soldiers? How are they to be different?
Anglo – America in Prophecy & the Lost Tribes of Israel Are the Americans, Canadians, English, Scottish, Welsh, Australians, Anglo-Saxon (non-Dutch) Southern Africans, and New Zealanders descendants of Joseph? Where are the lost ten-tribes of Israel? Who are the lost tribes of Israel? What will happen to Jerusalem and the Jews in Israel? Will God punish the U.S.A., Canada, United Kingdom, and other Anglo-Saxon nations? Why might God allow them to be punished first? Here is a link to the Spanish version of this article: Anglo-América & las Tribus Perdidas de Israel. Information is also in the YouTube sermons titled Where are the Ten Lost Tribes? Why does it matter? and British are the Covenant People. A short YouTube of prophetic interest may be: Are Chinese threats against Australia for real?
Will the Anglo-Saxon-Celtic Nations be Divided and Have People Taken as Slaves? Will the lands of the United States, United Kingdom, Canada, Australia, and New Zealand be divided? What about Jerusalem? What does Bible prophecy teach? Are there non-biblical prophecies that support this idea? Who will divide those lands? Who will end up with the lands and the people? Here is a link to a video titled Will the USA and other Anglo-nations be Divided and Their People Made Slaves? Here is a related item in the Spanish language ¿Serán divididas las naciones anglosajonas?
British are the Covenant People What do 'British' and 'Britain' mean in Hebrew? Are the descendants of the Anglo-Saxons people of the covenant? Does the British royal family connect to the throne of David? What does the Bible teach? What does history show us? Is there any DNA evidence related to British-Israelism? When did Christianity make it to the British Isles? Could Jeremiah have made it to the British Isles? What type of Christians made it to the British Isles? Did the last King of England believe in British Israelism?
Canada in Prophecy: What Does Bible Prophecy, Catholic Prophecy, and other Predictions Suggest About the Future of Canada? There are prophecies that suggest involvement with Canada. And many are not positive about its future. A sermon of related interest is also available: Canada in Prophecy.
Australia and New Zealand in Prophecy Do biblical prophecies help explain the wealth blessings for Australia and New Zealand? Might cursings from disobedience come in the 21st century? Here is a link to a related sermon: Australia and New Zealand: Origins and Prophecy.
The 'Lost Tribe' of Reuben: France in Prophecy? What is the origin of this in France? What is prophesied to happen to them? A two-part sermon related to history and prophecy is available online: The 'Lost Tribe' of Reuben and France and Prophecy.
Ten clues tying Belgium and Luxembourg with the tribe of Asher Who did some in Belgium and Luxembourg descend from?
Ten clues tying Zebulun with the Dutch Who did some in the Netherlands descend from?
Ten Prophetic Clues Concerning Naphtali – Sweden Do the Swedes have any ties to the biblical tribe of Naphtali? Some think so.
The Bible, Peter, Paul, John, Polycarp, Herbert W. Armstrong, Roderick C. Meredith, and Bob Thiel on Church Government What form of governance did the early church have? Was it hierarchical? Which form of governance would one expect to have in the Philadelphia remnant? The people decide and/or committee forms, odd dictatorships, or the same type that the Philadelphia era itself had? What are some of the scriptural limits on ecclesiastical authority? Do some commit organizational idolatry? Here is a Spanish language version La Biblia, Policarpo, Herbert W. Armstrong, y Roderick C. Meredith sobre el gobierno de la Iglesia. Here is a link to a sermon titled Church Governance.
The Ten Commandments: The Decalogue, Christianity, and the Beast This is a free draft/unedited pdf book explaining the what the Ten Commandments are, where they came from, how early professors of Christ viewed them, and how various ones, including the Beast of Revelation, will oppose them. A related sermon is titled: The Ten Commandments and the Beast of Revelation.
The Ten Commandments Reflect Love, Breaking them is Evil Some feel that the ten commandments are a burden. Is that what Jesus, Paul, Peter, James, and John taught? For a more detailed discussion of the first four commandments, please see the video The Ten Commandments: Loving God. For a more detailed discussion of the last six commandments, please see: The Ten Commandments: Loving Your Neighbor. Here is a link to a related article in Mandarin Chinese 十条诫命显示爱,违反诫命的就是邪恶的
The Gospel of the Kingdom of God This free online pdf booklet has answers many questions people have about the Gospel of the Kingdom of God and explains why it is the solution to the issues the world is facing. Here are links to three related sermons: The World's False Gospel, The Gospel of the Kingdom: From the New and Old Testaments, and The Kingdom of God is the Solution.
Did The Early Church Teach Millenarianism? Was the millennium (sometimes called chiliasm) taught by early Christians? Who condemned it? Will Jesus literally reign for 1000 years on the earth? Is this time near? Two related sermons are available Millennial Utopia and The Millennium.