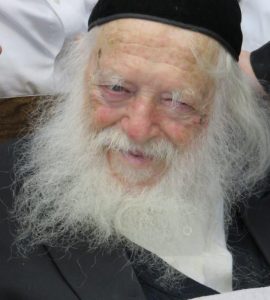 Chaim Kanievsky (מוישימי)
Breaking Israel News reported the following:
Messianic Process Began with IAF Airstrike in Syria, Will End With Israeli Elections

January 22, 2019

Rabbi Chaim Kanievsky, one of the most prominent rabbis of this generation, made a shocking statement, claiming that the Messiah will precede the upcoming Israeli elections. …

Rabbi Fish related a story that is just now being told within Haredi circles in Israel. A young Torah scholar from outside of Israel was hosted for the Sabbath a few weeks ago at the house of a follower of Rabbi Kanievsky. The young man visited Kanievsky during the Sabbath. He asked the rabbi if he should apply for Israeli citizenship in order to vote for the Haredi party in the Israeli elections being held on April 9.

"There is no need," Rabbi Kanievsky answered. "The  Messiah will already be here before the elections." …

"God can be speaking right at you, saying the Messiah is right in front of you, but if you refuse to hear, you won't," Winston explained.

Rabbi Fish agreed, emphasizing that prophetic predictions could materialize while going unnoticed. Eight days ago, Rabbi Fish predicted that the blood moon lunar eclipse that passed over the continental U.S. on Sunday would be a significant omen, even more so because it coincided with the Jewish holiday of Tu B'Shevat.

In fact, an unprecedented daylight airstrike by the Israeli Air Force against Iranian military targets in southern Syria on Sunday led to an intensification of the conflict. An Iranian General declared that his forces were prepared to "destroy Israel" and the Israeli Intelligence Minister referred to the situation as an "open confrontation" with Iran.

"It is true that Rabbi Kanievsky has been saying the Moshiach is imminent for a few years, but that is not really very long when we are speaking about the Messiah," Rabbi Fish said. "And every time, Rabbi Kanievsky speaks in different terms, describing a different aspect of the process," he added.

"The Messiah is already active in the world but not everyone is willing to see this," Fish said. "Some people are unwilling to see this no matter what proof is presented. If the conflict with Syria develops, it will become clear that the process of the Messiah began on Tu B'Shevat." https://www.breakingisraelnews.com/120689/airstrike-syria-israeli-elections/
Chaim Kanievsky previously claimed that the Messiah was born last Summer:
Messiah-mania has reached a fever pitch in Israel, as one prominent rabbi says the prophesied redeemer was born a week ago, while a group promoting the rebuilding of the Temple released a new TV spot saying, "The time has arrived." …

Maybe it's the blood moons. Maybe it's the new U.S. Embassy in Jerusalem. Or, maybe, suggest other rabbis, now that the majority of Jews in the world now live in Israel, prophecy is read to be fulfilled.

Perhaps the most surprising development is a statement by a well-respected Israeli rabbi, Chaim Kanievsky, a leading authority in Haredi Jewish society, stating unequivocally that the messiah was born July 21.

Kanievsky, hailed as one of the leading rabbis of his generation, wrote a book, "Siach Nechama," or "A Comforting Discourse," that claims the messiah is alive today and when Israel merits it, he will immediately reveal himself."

A Hebrew-language religious news site explained the rabbi based his statement on the Jerusalem Talmud (Tractate Brachot) and Midrash Rabbah, a collection of homiletic teachings believed to have been compiled in the fifth century in Tiberias, which states that the Messiah will be born on Tisha B'Av, which is observed as a fast day mourning the destruction of the Jewish Temples. This year, Tisha B'Av fell on Saturday, July 21.

"It seems to me that the sages intended to teach us that even when the Temple is destroyed, in any case the Redemption exists," he said. "And the Messiah actually exists and lives among us. He passes from one body to another in each generation." 07/29/18 https://www.wnd.com/2018/07/messiah-mania-hits-fever-pitch-in-israel/#yKZHtghGhb2pFSqW.99
For more about that see: Rabbi claims Messiah was born last week, but Jews should know He was born over 2000 years ago.
In my view, while something may well happen in Israel in the next couple of months, Chaim Kanievsky does not have prophetic credibility.
As far as the Messiah goes, here are links to a free online book and many videos which should demonstrate to all interested in the truth, Jew or not, that Jesus was the prophesied Messiah:
Proof Jesus is the Messiah This free book has over 200 Hebrew prophecies were fulfilled by Jesus. Plus, His arrival was consistent with specific prophecies and even Jewish interpretations of prophecy. Here are links to seven related sermons: Proof Jesus is the Messiah, Prophecies of Jesus' birth, timing, and death, Jesus' prophesied divinity, 200+ OT prophecies Jesus filled; Plus prophecies He made, Why Don't Jews Accept Jesus?, Daniel 9, Jews, and Jesus, and Facts and Atheists' Delusions About Jesus. Plus the links to two sermonettes: Luke's census: Any historical evidence? and Muslims believe Jesus is the Messiah, but … These videos cover nearly all of the book, plus have some information not in the book.
Now, what about the Israeli airstrikes?
Some see this of potentially prophetic significance:
Israel Unleashes An 'Armageddon-Like' Assault On Iranian And Hezbollah Targets In Damascus With Largest Air Strike In Recent Memory

On Monday, Israel began a massive campaign of air strikes on Iranian and Lebanese military targets located in Damascus in Syria. The word Damascus appears exactly 60 times in  your King James Bible, and is heavily associated with fulfillment of end times Bible prophecy, most of it still yet future.

"The burden of Damascus. Behold, Damascus is taken away from being a city, and it shall be a ruinous heap." Isaiah 17:1 (KJV)

So it comes to no surprise to me at all that Damascus continues to be in the exact epicenter of the action in the Middle East as Iran continues to slither closer and closer to their dream of invading Israel by overrunning their border with Syria at the Golan Heights border.

Israeli strikes said to destroy Iranian, Hezbollah sites near Damascus …

Israel has accused Iran of seeking to establish a military presence in Syria that could threaten Israeli security and attempting to transfer advanced weaponry to the Hezbollah terror group in Lebanon. 01/20/19 https://www.nowtheendbegins.com/israel-unleashes-an-armageddon-like-assault-on-iranian-and-hezbollah-targets-in-damascus-with-largest-air-strike-in-recent-memory/
It is true that Isaiah 17:1 is a prophecy and it will be fulfilled. Damascus will be destroyed.
Iran is not pleased, One of its generals says Iran is ready to eliminate Israel:
21 January 2019

A second night of Israeli airstrikes have hit targets inside Syria in a tit-for-tat exchange that included the launch of a medium-range missile from the outskirts of Damascus towards the Israeli-occupied Golan Heights.

The sharp increase in tensions between Israel and Syria, and its key backer, Iran, comes at a time when the security situation in Syria is rapidly changing owing to the recently announced US troop drawdown and a jockeying for influence on all sides. …

Iran, meanwhile, has been moving to consolidate its presence in Syria even as the civil war has swung ever more decisively in the direction of Assad's regime, not least as recent moves by the Trump administration are perceived as leaving a vacuum. …

In a sign of the increasingly war-like rhetoric of recent days, Tehran's air force chief, Brig Gen Aziz Nasirzadeh, said Iran was "fully ready and impatient to confront the Zionist regime and eliminate it from the Earth", according to the Young Journalists Club, a website supervised by Iranian state television. https://www.theguardian.com/world/2019/jan/21/israeli-military-strikes-iranian-targets-inside-syria
Based upon various prophecies, I expect Iran will retaliate against Israel militarily–and it will not end well for Israel.
Let us look at some passages from the Bible:
1 The burden against the Valley of Vision.

What ails you now, that you have all gone up to the housetops, 2 You who are full of noise, A tumultuous city, a joyous city? Your slain men are not slain with the sword, Nor dead in battle. 3 All your rulers have fled together; They are captured by the archers. All who are found in you are bound together; They have fled from afar. 4 Therefore I said, "Look away from me, I will weep bitterly; Do not labor to comfort me Because of the plundering of the daughter of my people."

5 For it is a day of trouble and treading down and perplexity By the Lord God of hosts In the Valley of Vision — Breaking down the walls And of crying to the mountain. 6 Elam bore the quiver With chariots of men and horsemen, And Kir uncovered the shield. 7 It shall come to pass that your choicest valleys Shall be full of chariots,And the horsemen shall set themselves in array at the gate.

8 He removed the protection of Judah. You looked in that day to the armor of the House of the Forest; 9 You also saw the damage to the city of David, That it was great; And you gathered together the waters of the lower pool. 10 You numbered the houses of Jerusalem, And the houses you broke down To fortify the wall. 11 You also made a reservoir between the two walls For the water of the old pool. But you did not look to its Maker, Nor did you have respect for Him who fashioned it long ago.

12 And in that day the Lord God of hosts Called for weeping and for mourning,For baldness and for girding with sackcloth. 13 But instead, joy and gladness, Slaying oxen and killing sheep, Eating meat and drinking wine: "Let us eat and drink, for tomorrow we die!"

14 Then it was revealed in my hearing by the Lord of hosts,"Surely for this iniquity there will be no atonement for you, Even to your death," says the Lord God of hosts. (Isaiah 22:1-14 NKJV)
Elam looks to be a reference to at least some in Iran. Kir is of interest as it has several possibilities. One is that the Bible tells that after Tiglath-Pileser king of Assyria took over Damascus, he moved Syrians to Kir. While this does not mean that Kir must (or must only) be a reference to Syria, the fact that Syria is an ally of Iran is interesting. Some believe Kir is an area in the south of Iran, while others suggest closer to the Black Sea. The Bible tells of a time when Kir will be destroyed (Isaiah 15:1b) and also says that Syria's capital Damascus will be destroyed (Isaiah 17:1).
In Isaiah 22: 8, "Judah" is a reference to those in the land commonly called Israel–God will allow Israel to be attacked! In Isaiah 22:9, consider that "the damage to the city of David" is a reference to at least part of Jerusalem–and notice that the damage will be great.
So, yes, there will be military escalation in the region.
While that battle in Isaiah 22 is NOT the one related to Armageddon, Israel will be hit worse than it thinks and push a prophesied peace deal (see ).
This will truly change various matters in the Middle East as it will trigger the final countdown to the Great Tribulation.
Some items of possibly related interest may include:
Iran in Prophecy Is Iran in Bible prophecy? If so, what does the Bible teach? What names, other than Persia, may be used to describe Iran? There is also a YouTube video titled Iran In Prophecy.
Damascus and Syria in Prophecy Will Bashar Assad hold power as he has it? Does the Bible show that Damascus, the capital of Syria, will be destroyed? What will happen to Syria? Will the Syrians support the final King of the South that the Bible tells will rise up? Which scriptures discuss the rise and fall of an Arabic confederation? Does Islamic prophecy predict the destruction of Syria.
Is the Future King of the South Rising Up? Some no longer believe there needs to be a future King of the South. Might Egypt, Islam, Iran, Arabs, or Ethiopia be involved? Might this King be called the Mahdi or Caliph? What does the Bible say? A YouTube video of related interest may be: The Future King of the South is Rising.
The Muslim Brotherhood and the Rise of the King of the South The Bible tells of the formation of a power of nations that are in the Middle East and North Africa that are part of the final "King of the South" (Daniel 11:40-43) The Muslim Brotherhood wishes to have an Islamic empire with basically the same nations. This YouTube video explains what to expect from such a confederation.
Why Terrorism? Is Terrorism Prophesied? What does the Bible teach? Which nations may be affected? Here is a link to a related sermon: Terrorism, Christianity, and Islam.
The Arab and Islamic World In the Bible, History, and Prophecy The Bible discusses the origins of the Arab world and discusses the Middle East in prophecy. What is ahead for the Middle East and those who follow Islam? What about the Imam Mahdi? What lies ahead for Turkey, Iran, and the other non-Arabic Muslims? An item of possibly related interest in the Spanish language would be: Líderes iraníes condenan la hipocresía de Occidente y declaran que ahora es tiempo para prepararse para el Armagedón, la guerra, y el Imán Mahdi.
The Prophesied 'Islamic' Confederation Where is an Islamic caliphate prophesied? Will one happen? Should you be concerned about it? A related video is Will an Arabic Calphiphate Destroy the West?
The 'Peace Deal' of Daniel 9:27 This prophecy could give up to 3 1/2 years advance notice of the coming Great Tribulation. Will most ignore or misunderstand its fulfillment? Here is a link to a related sermon video Daniel 9:27 and the Start of the Great Tribulation.
How Will Middle East Peace be Brought About? Can humans bring peace to the Middle East? Here is a link to a related video: Middle East Peace? When?
When Will the Great Tribulation Begin? 2019, 2020, or 2021? Can the Great Tribulation begin today? What happens before the Great Tribulation in the "beginning of sorrows"? What happens in the Great Tribulation and the Day of the Lord? Is this the time of the Gentiles? When is the earliest that the Great Tribulation can begin? What is the Day of the Lord? Who are the 144,000? Here is a version of the article in the Spanish language: ¿Puede comenzar la Gran Tribulación en 2018 o 2019? ¿Es el Tiempo de los Gentiles? You can also see the English language sermon videos: The Great Tribulation from the Mount of Olives and Can the Great Tribulation begin before 2020? A shorter and newer video is: Might the Great Tribulation start in 2019?
The Times of the Gentiles Has there been more than one time of the Gentiles? Are we in it now or in the time of Anglo-America? What will the final time of the Gentiles be like? A related sermon is available and is titled: The Times of the Gentiles.
Armageddon Who is involved and when will this gathering happen? Here is also a video from Dr. Thiel, from Tel Megiddo in Israel: Armageddon. Other videos include: Armageddon Will it come on Trump's watch?, Iraq, Armageddon, & Prophecy, Freemasonry, Armageddon, and Rome, Is China paving roads to Armageddon?, and Jordan, Petra, and Armageddon.
The 'Peace Deal' of Daniel 9:27 This prophecy could give up to 3 1/2 years advance notice of the coming Great Tribulation. Will most ignore or misunderstand its fulfillment? Here is a link to a related sermon video Daniel 9:27 and the Start of the Great Tribulation.
Is Russia the King of the North? Some claim it is. But what does the Bible teach? Here is a link to a video, also titled Is Russia the King of the North?
Anglo – America in Prophecy & the Lost Tribes of Israel Are the Americans, Canadians, English, Scottish, Welsh, Australians, Anglo-Saxon (non-Dutch) Southern Africans, and New Zealanders descendants of Joseph? Where are the lost ten-tribes of Israel? Who are the lost tribes of Israel? What will happen to Jerusalem and the Jews in Israel? Will God punish the U.S.A., Canada, United Kingdom, and other Anglo-Saxon nations? Why might God allow them to be punished first? Here is a link to the Spanish version of this article: Anglo-América & las Tribus Perdidas de Israel. Information is also in the YouTube sermons titled Where are the Ten Lost Tribes? Why does it matter? and British are the Covenant People. A short YouTube of prophetic interest may be: Are Chinese threats against Australia for real?
Will the Anglo-Saxon-Celtic Nations be Divided and Have People Taken as Slaves? Will the lands of the United States, United Kingdom, Canada, Australia, and New Zealand be divided? What about Jerusalem? What does Bible prophecy teach? Are there non-biblical prophecies that support this idea? Who will divide those lands? Who will end up with the lands and the people? Here is a link to a video titled Will the USA and other Anglo-nations be Divided and Their People Made Slaves? Here is a related item in the Spanish language ¿Serán divididas las naciones anglosajonas?
Donald Trump in Prophecy Prophecy, Donald Trump? Are there prophecies that Donald Trump may fulfill?  Are there any prophecies that he has already helped fulfill?  Is a Donald Trump presidency proving to be apocalyptic?  Two related videos are available: Donald: 'Trump of God' or Apocalyptic? and Donald Trump's Prophetic Presidency.
Trump Presidency Magic 8 Ball or Bible Prophecy? BBC reported that one might as well use a 'Magic Eight-Ball' to try to predict what will happen in the remaining time of Donald Trump's presidency. What is a 'Magic Eight-Ball'? Dr. Thiel not only explains that, but also briefly goes over 10 biblically-based warnings he wrote would happen if Donald Trump were elected that have already began to come to pass. He also goes over something he wrote back in 2008 that the Trump presidency is also helping lead to fulfillment. Should you trust Bible prophecy or not? Dr. Thiel says that Bible prophecy can be trusted, despite the view of skeptics and others that either overlook or despise the Bible. This is a video.
Donald Trump and America's Apocalypse This 188 page book is for people truly interested in prophecies related to Donald Trump and the United States, including learning about several that have already been fulfilled and those that will be fulfilled in the future. The physical book can be purchased at Amazon for $12.99 from the following link: Donald Trump and America's Apocalypse.
Donald Trump and America's Apocalypse-Kindle Edition This electronic version of the 188 page print edition is available for only US$3.99. And you do not need an actual Kindle device to read it. Why? Amazon will allow you to download it to almost any device: Please click HERE to download one of Amazon s Free Reader Apps. After you go to for your free Kindle reader and then go to Donald Trump and America's Apocalypse-Kindle Edition.
World War III: Steps in Progress Are there surprising actions going on now that are leading to WWIII? Might a nuclear attack be expected? Does the Bible promise protection to all or only some Christians? How can you be part of those that will be protected? A related video would be Is World War III About to Begin? Can You Escape?
Syria and the start of World War 3 On April 14, 2018, Syrians were awoken by the sounds of about 120 missiles/bombs sent against areas of their country. The United States of America, United Kingdom, and France launched this attack related to claims of chemical weapons use earlier that week. Will Syria's capital one day be destroyed as prophesied in Isaiah chapter 17? If so, could this be before the start of the Great Tribulation? Are there prophecies about Syrians and the UK and USA? Is this attack against Syria leading to WWIII between the USA/UK/France and Russia/Syria/Iran? Is there an Arabic power that will rise up and be destroyed before the Great Tribulation as Tim McHyde has written related to Psalm 83? Is Ezekiel 38/39 about to be fulfilled? Who is the biblical King of the North and the biblical King of the South? Will the Beast power destroy the USA and its Anglo-Saxon descended allies (like the UK, Canada, Australia, & New Zealand)? Could this be WWIII and the start of the Great Tribulation? What is the prophetic sequence of events according to Jesus and Daniel the prophet? Dr. Thiel addresses all of these matters and more. This is a video.