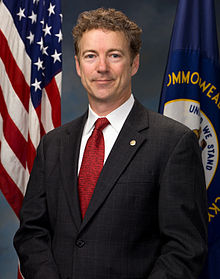 Rand Paul, Official Senate Photo

US Senator Rand Paul and former US Defense Secretary Robert Gates have written about USA warmongering:
Sen. Rand Paul may not be a foreign policy hawk but he is a political one. He wrote, in a recent critique of his Republican colleagues: "What we don't need right now is politicians who have never seen war talking tough for the sake of their political careers." Incoming! Paul was talking about grandstanding responses to the Ukraine crisis. It wasn't a pinprick attack about a policy disagreement: Sen. Paul is claiming his rivals–ignorant to the sacrifices of war–are too cavalier about committing American troops to foreign conflicts in their rush to make a name for themselves…Paul's charge against his competition was a solid tremor in the vibrating football game of the 2016 presidential campaign, but it also raised interesting questions about the experience required to be president.

Paul is not the only one to link the issue of sacrifice and hot rhetoric. That was a central message of former Defense Secretary Robert Gates' book: Both parties are too quick to threaten war. It's a fascinating question that should engage us between now and the next presidential election.

Paul's argument would seem to offer aid and comfort to Hillary Clinton. She, above all likely 2016 candidates, has had actual experience with the topics of war and peace. That's part of what gives the Benghazi attacks their potency. She was in a position of responsibility when one of her ambassadors died in a terrorist attack. But if Paul is claiming that seeing war gives you some special insight, she has seen its costs from a closer perspective than anyone in the Republican field. It would be cleaner for Republicans if the Obama team, including Clinton, could just be labeled weak. Rand Paul is calling for a more reasoned and fact-based discussion of foreign policy; he is asking people to assess whether the people taking hawkish positions have the standing to take those positions. This is the way we should all want to talk about foreign policy in a presidential campaign, but it bares little resemblance to the way that it is is discussed. In a campaign, the conversation is reductionist and appeals to emotion. The current tussle with Russia offers a good example.  http://www.cbsnews.com/news/rand-pauls-preemptive-strike/

Paul's charge arrives at a moment of flux in American foreign policy. The question of whether a president's posture invites aggression from other countries is open for general discussion again in a way it was not during the Bush years and in their aftermath. Barack Obama won the 2008 presidential campaign in part because voters thought the previous administration was too concerned with appearing tough. But now, only 39 percent of the country approve of the way the president is handling foreign policy, according to the recent CBS/New York Times poll. The Washington Post says Obama's foreign policy "is based on fantasy."

Republicans see a chance to regain their foreign policy edge with voters, and hawks see a chance to regain ground in the debate over how to approach the world. Paul is providing an inadvertent defense of President Obama's foreign policy in this debate.

The Republican critique of President Obama operates on a simple switch. He is weak, which invites peril. Condoleezza Rice, for example, argued recently that Obama's weakness invited Russian aggression. Paul is also a target of this critique. At CPAC, former U.N. ambassador John Bolton said that while isolationists came to their ideology by a different route than the feckless Barack Obama, the views were effectively the same.

There are specific ways in which the president may appear weak—his fishtailing Syria policy is a good example—but the critique doesn't rely on specifics. It simply relies on Obama being in office while bad things are happening in the world. If he were strong, goes the critique, these things wouldn't be happening.  http://www.slate.com/articles/news_and_politics/politics/2014/03/rand_paul_foreign_policy_and_military_service_the_kentucky_senator_just.html
Of course, throughout world history, political leaders have tried to use war and sending the children of others out to war for political advantage.  Many do not realize that this is also sometimes true in the USA.
The USA itself has been involved in so many armed conflicts that most have lost count.
The USA has effectively appointed itself as the world's policeman.  Though many publicly complain about that, much of the time many in the world, in general, seem to support the USA's military actions.  That does not make them right, but it has encouraged the USA to continue to be engaged in wars and threats of wars.
It should be noted that the Bible has warnings of destruction for the violent:
23 'Make a chain,
For the land is filled with crimes of blood,
And the city is full of violence.
24 Therefore I will bring the worst of the Gentiles,
And they will possess their houses;
I will cause the pomp of the strong to cease,
And their holy places shall be defiled.   (Ezekiel 7:23-24)

7 The violence of the wicked will destroy them,
Because they refuse to do justice.  (Proverbs 21:7)

6 Therefore pride serves as their necklace; Violence covers them like a garment. 7 Their eyes bulge with abundance; They have more than heart could wish. 8 They scoff and speak wickedly concerning oppression; They speak loftily. 9 They set their mouth against the heavens, And their tongue walks through the earth. 10 Therefore his people return here, And waters of a full cup are drained by them. 11 And they say, "How does God know?And is there knowledge in the Most High?" 12 Behold, these are the ungodly, Who are always at ease; They increase in riches. 13 Surely I have cleansed my heart in vain,And washed my hands in innocence. 14 For all day long I have been plagued,And chastened every morning.  15 If I had said, "I will speak thus,"Behold, I would have been untrue to the generation of Your children. 16 When I thought how to understand this, It was too painful for me —  17 Until I went into the sanctuary of God; Then I understood their end. 18 Surely You set them in slippery places; You cast them down to destruction. 19 Oh, how they are brought to desolation, as in a moment! They are utterly consumed with terrors.  (Psalm 73:6-19)

6 "Will not all these take up a proverb against him,
And a taunting riddle against him, and say,
'Woe to him who increases
What is not his — how long?
And to him who loads himself with many pledges'?
7 Will not your creditors rise up suddenly?
Will they not awaken who oppress you?
And you will become their booty.
8 Because you have plundered many nations,
All the remnant of the people shall plunder you,
Because of men's blood
And the violence of the land and the city,
And of all who dwell in it.  (Habakkuk 2:6-8)

52…all they that take the sword shall perish with the sword (Matthew 26:52, KJV)
Terrors and destruction are what is prophesied for the warmongers (including the highly indebted ones). And notice that Psalm 73 indicates that this will happen to those that are at ease, and apparently do not think that it could happen to them.
Already some terrorism has affected the USA, but much more is expected in the future.  The Bible tells of destruction to come to the violent and highly indebted–and no nation has been more in debt than the USA.  The Bible also tells of destruction coming to the most powerful military on the planet in the end times (Daniel 11:39)–this does not bode well for the USA.
Iowa 2016 Presidential Preference Poll
On other USA matters, a poll released today indicates that Hillary Clinton is currently the favorite for the 2016 presidential elections:
March 13, 2014

DES MOINES | Former Secretary of State Hillary Clinton has turned around her potential political fortunes in Iowa, according to a presidential preference poll released this morning.

The former first lady who is being encouraged to make another White House run in 2016 leads Gov. Chris Christie 48 to 35 in a hypothetical matchup, according to a Quinnipiac University Poll of 1,411 registered voters in Iowa. That reverses the New Jersey governor's 48 to 45 percent lead in a December Quinnipiac poll…

She has a 49 to 39 percent lead over Sen. Rand Paul of Kentucky, 51 to 35 percent over U.S. Sen. Ted Cruz of Texas and 51 to 37 percent over former Gov. Jeb Bush of Florida…

By a 55 to 38 percent margin, Iowans say Clinton would make a good president, the only listed candidate to get a positive score.  http://wcfcourier.com/news/local/govt-and-politics/clinton-takes-iowa-lead-in-presidential-matchup/article_a4b3c311-3e73-526a-aae6-26cd35e5341b.html
This is not a surprise, but it is still too early to know who will win.  Although she has taken steps consistent with one who would run for president in 2016, Hillary Clinton has not declared that she would.  If she does run and win, I believe that she will help fulfill several prophecies (see Hillary Clinton in Prophecy).
Some items of possibly related interest may include:
Anglo – America in Prophecy & the Lost Tribes of Israel Are the Americans, Canadians, English, Scottish, Welsh, Australians, Anglo-Saxon (non-Dutch) Southern Africans, and New Zealanders descendants of Joseph? Where are the lost ten-tribes of Israel? Who are the lost tribes of Israel? What will happen to Jerusalem and the Jews in Israel? Will God punish the U.S.A., Canada, United Kingdom, and other Anglo-Saxon nations? Why might God allow them to be punished first? Here is a link to the Spanish version of this article: Anglo-América & las Tribus Perdidas de Israel. Information is also in the YouTube sermons titled Where are the Ten Lost Tribes? Why does it matter? and British are the Covenant People. A short YouTube of prophetic interest may be Barack Obama and the State of the Apocalypse.
Will the Anglo-Saxon Nations be Divided and Have People Taken as Slaves? Will the lands of the United States, United Kingdom, Canada, Australia, and New Zealand be divided? What about Jerusalem? What does Bible prophecy teach? Are there non-biblical prophecies that support this idea? Who will divide those lands? Who will end up with the lands and the people? Here is a link to a video titled Will the USA and other Anglo-nations be Divided and Their People Made Slaves? Here is a related item in the Spanish language ¿Serán divididas las naciones anglosajonas?
Does God Have a 6,000 Year Plan? What Year Does the 6,000 Years End? Was a 6000 year time allowed for humans to rule followed by a literal thousand year reign of Christ on Earth taught by the early Christians? Does God have 7,000 year plan? What year may the six thousand years of human rule end? When will Jesus return? 2021 or 20xx? There is also a video titled The 6000 Year Plan: Is the end of humanity's reign almost up?
Hillary Clinton in Prophecy Prophecy, Hillary Clinton? Are there prophecies that Hillary Clinton may fulfill? Are there any prophecies that she has already helped fulfill? Could Hillary Clinton be apocalyptic? Could Hillary Clinton be the final Antichrist?
When Will the Great Tribulation Begin? 2014, 2015, or 2016? Can the Great Tribulation begin today? What happens before the Great Tribulation in the "beginning of sorrows"? What happens in the Great Tribulation and the Day of the Lord? Is this the time of the Gentiles? When is the earliest that the Great Tribulation can begin? What is the Day of the Lord? Who are the 144,000? Here is a version of the article in the Spanish language: ¿Puede comenzar la Gran Tribulación en 2013 o 2014? ¿Es el Tiempo de los Gentiles? You can also see the English language video The Great Tribulation Will Not Begin Before 2017.
Just What Do You Mean — Repentance? Do you know what repentance is? Have you truly repented? Repented of what? Herbert W. Armstrong wrote this as a booklet on this important subject.
When You Sin: Do You Really Repent? This is an article by Charles F. Hunting. A related sermon is Confess to God and truly repent.
Barack Obama, Prophecy, and the Destruction of the United States-Second Edition for Second Obama Term This is a 160 page book for people truly interested in prophecies related to Barack Obama and the United States, including learning about many that have already been fulfilled (which the book documents in detail) and those that will be fulfilled in the future. It also has a chapter about a Republican choice. This book is available to order at www.barackobamaprophecy.com. The physical book can also be purchased at Amazon from the following link: Barack Obama, Prophecy, and the Destruction of the United States: Is Barack Obama Fulfilling Biblical, Islamic Catholic, Kenyan, and other America-Related Prophecies? What About Republican Leaders? Second Edition for Second Obama Term.
Barack Obama, Prophecy, and the Destruction of the United States-Second Term-Amazon Kindle edition. This electronic version is available for only US$2.99. And you do not need an actual Kindle device to read it. Why? Amazon will allow you to download it to almost any device: Please click HERE to download one of Amazon s Free Reader Apps. After you go to for your free Kindle reader and then go to Barack Obama, Prophecy, and the Destruction of the United States-Second Term-Amazon Kindle edition.