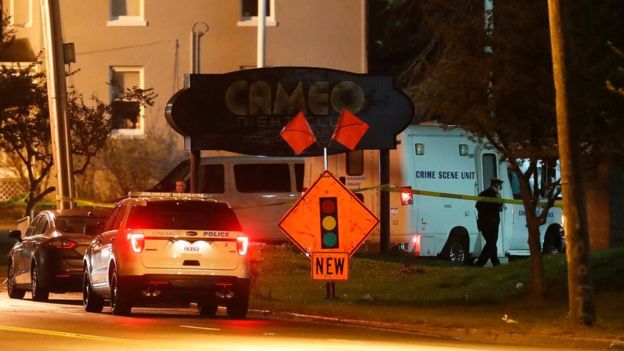 Cameo Night Club (AP photo)

There was violence in Cincinnati, Ohio:
March 26, 2017

An unidentified shooter opened fire at a Cincinnati nightclub early Sunday, killing one person and wounding 14 others, officials said.

The shooter escaped the melee and remained on the run Sunday. …

The motive for the shooting remained unclear, but Assistant Police Chief Paul Neudigate said there was no indication the attack is terrorism related. The shooting occurred around 1:30 a.m., WLWT reported. …

Capt. Kim Williams said authorities were not sure what prompted the shooting.

"Saturday night, it is a very young crowd," Williams said. "We have had incidents here in the past, but this is by far the worst."

Several officers were working security detail at the club and performed first aid and tried to revive the person that died, Williams said. http://www.foxnews.com/us/2017/03/26/15-people-shot-1-dead-at-cincinnati-nightclub.html
The fact that this may not have been done by an Islamic terrorist does not mean that this was not horrific.
Violence is not unexpected. Notice some biblical prophecies:
25 There shall be terror within (Deuteronomy 32:25)

1 But know this, that in the last days perilous times will come: 2 For men will be lovers of themselves, lovers of money, boasters, proud, blasphemers, disobedient to parents, unthankful, unholy, 3 unloving, unforgiving, slanderers, without self-control, brutal, despisers of good, 4 traitors, headstrong, haughty, lovers of pleasure rather than lovers of God, 5 having a form of godliness but denying its power. And from such people turn away! 6 For of this sort are those who creep into households and make captives of gullible women loaded down with sins, led away by various lusts, 7 always learning and never able to come to the knowledge of the truth. (2 Timothy 3:1-7)

23 'Make a chain,
For the land is filled with crimes of blood,
And the city is full of violence.
24 Therefore I will bring the worst of the Gentiles,
And they will possess their houses;
I will cause the pomp of the strong to cease,
And their holy places shall be defiled. (Ezekiel 7:23-24)

13 … evil men and impostors will grow worse and worse, deceiving and being deceived. (2 Timothy 3:13)
Many lack self-control and do not love their neighbor.
Notice something from the old Ambassador College Research Department:
God's Stern Warning

As God Almighty has said: "Ah, sinful nation, a people laden with iniquity, a seed of evildoers, children that are corrupters: they have forsaken the Lord, they have provoked the Holy One of Israel into anger, they are gone away backward. Why should ye be stricken anymore? Ye will revolt more and more: the whole head is SICK, and the whole heart FAINT. From the sole of the foot even unto the head there is no soundness in it; but wounds, and bruises, and putrefying sores: they have not been closed, neither bound up, neither mollified with ointment" (Isaiah 1:4-6).

What a vivid description of our urbanized society today!

And yet, in spite of this bleak and pessimistic outlook for the immediate future — the painful lessons that must yet be learned by a rebellious and sinning mankind — there is GOOD NEWS AHEAD! Beyond the catastrophic events destined to take place within the next few years (all fully explained in our free book The United States and British Commonwealth in Prophecy), there is the bright prospect, the happy outlook of The WORLD TOMORROW — God's Great Society — His kind of city.

Just as man has reached the end of his rope and is about to blast himself into nothingness, God will intervene and STOP man's … inhumanity to man. He will send Jesus Christ back to this earth to CRUSH man's rebellion and to establish God's Government on this earth once and for all — to FORCE mankind to be happy, healthy and prosperous. (Plain Truth, October 1968)
Jesus will return.
It remains my view that we currently are in the beginning of sorrows that Jesus prophesied (Matthew 24:4-8).
While this one shooter is not the cause, he/she is, sadly, a sign of the times. The Great Tribulation is coming relatively soon.