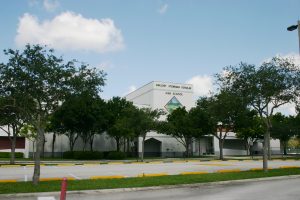 Marjory Stoneman Douglas High School, Parkland, Florida

More information has been coming out related to the murdering of 17 people at Marjory Stoneman Douglas High School in Parkland, Florida.
The more information we have, the more it looks like the 'solutions' to this problem evade both the Left and the Right.
Both sides advocate turning over information to police and governmental authorities to prevent terrorist acts.
In the case of Nikolas Cruz, the confessed murderer and shooter, the US Federal Bureau of Investigation (FBI) was warned. Notice one such warning:
February 24, 2018

PARKLAND, Fla. (CBSNewYork/AP) — Chilling new details have emerged from a call made to the FBI tip line preceding the deadly Valentine's Day shooting at a high school in South Florida.

The agency says it failed to act after a woman close to the suspect told investigators "I know he's going to explode." The revelation comes as the debate rages on how to prevent similar gun violence in American schools.

The woman says she saw one warning

sign after the next in 19-year-old Nikolas Cruz, saying he had the mental capacity of a 12 or 13-year-old with a growing arsenal of guns and an uncontrollable temper.

She says she feared something could lead him to "getting into a school and just shooting the place up." Now, people across the nation are demanding change. http://newyork.cbslocal.com/2018/02/24/fbi-tip-line-call/

A person close to Nikolas Cruz, the teenager accused of killing 17 people at a Florida high school on Valentines day, warned the FBI she was concerned Cruz would "get into a school and just shoot the place up," according to a leaked transcript of her call to the bureau's tip line one month before the massacre. https://www.zerohedge.com/news/2018-02-23/fbi-tipster-transcript-leaked-cruz-will-get-school-and-shoot-place
That did not help in this case. The shooter still came.
And the shooter was a known threat in the past:
Administrators considered him enough of a potential threat that one teacher said a warning was emailed last year against allowing him on the campus with a backpack. …

Math teacher Jim Gard remembered that the school administration earlier sent out an email warning teachers about Cruz.

"We were told last year that he wasn't allowed on campus with a backpack on him," said Gard, who had him in class. "There were problems with him last year threatening students, and I guess he was asked to leave campus." http://www.miamiherald.com/news/local/community/broward/article200126034.html#storylink=cpy
So involving governmental officials did not solve the problem.
The Left tends to believe that psychological counseling and medications are the solution for troubled people.
So, consider the following
In the case of Nikolas Cruz, the 19-year-old Florida mass-shooter, his mother's sister, Barbara Kumbatovich, told the Miami Herald that she believed Cruz was on medication to deal with his emotional fragility.  …

Fact: A disturbing number of perpetrators of school shootings and similar mass murders in our modern era were either on – or just recently coming off of – psychiatric medications. A few of the most high-profile examples, out of many others, include:

Columbine mass-killer Eric Harris was taking Luvox – like Prozac, Paxil, Zoloft, Effexor and many others, a modern and widely prescribed type of antidepressant drug called selective serotonin reuptake inhibitors, or SSRIs. Harris and fellow student Dylan Klebold went on a hellish school shooting rampage in 1999 during which they killed 12 students and a teacher and wounded 24 others before turning their guns on themselves. Luvox manufacturer Solvay Pharmaceuticals concedes that during short-term controlled clinical trials, 4 percent of children and youth taking Luvox – that's one in 25 – developed mania, a dangerous and violence-prone mental derangement characterized by extreme excitement and delusion.
Patrick Purdy went on a schoolyard shooting rampage in Stockton, California, in 1989, which became the catalyst for the original legislative frenzy to ban "semiautomatic assault weapons" in California and the nation. The 25-year-old Purdy, who murdered five children and wounded 30, had been on Amitriptyline, an antidepressant, as well as the antipsychotic drug Thorazine.
Kip Kinkel, 15, murdered his parents in 1998 and the next day went to his school, Thurston High in Springfield, Oregon, and opened fire on his classmates, killing two and wounding 22 others. He had been prescribed both Prozac and Ritalin.
In 1988, 31-year-old Laurie Dann went on a shooting rampage in a second-grade classroom in Winnetka, Illinois, killing one child and wounding six. She had been taking the antidepressant Anafranil as well as Lithium, long used to treat mania.
In Paducah, Kentucky, in late 1997, 14-year-old Michael Carneal, son of a prominent attorney, traveled to Heath High School and started shooting students in a prayer meeting taking place in the school's lobby, killing three and leaving another paralyzed. Carneal reportedly was on Ritalin.
In 2005, 16-year-old Jeff Weise, living on Minnesota's Red Lake Indian Reservation, shot and killed nine people and wounded five others before killing himself. Weise had been taking Prozac.
In another famous case, 47-year-old Joseph T. Wesbecker, just a month after he began taking Prozac in 1989, shot 20 workers at Standard Gravure Corp. in Louisville, Kentucky, killing nine. Prozac-maker Eli Lilly later settled a lawsuit brought by survivors.
Kurt Danysh, 18, shot his own father to death in 1996, a little more than two weeks after starting on Prozac. Danysh's description of own his mental-emotional state at the time of the murder is chilling: "I didn't realize I did it until after it was done," Danysh said. "This might sound weird, but it felt like I had no control of what I was doing, like I was left there just holding a gun."
John Hinckley, age 25, took four Valium two hours before shooting and almost killing President Ronald Reagan in 1981. In the assassination attempt, Hinckley also wounded press secretary James Brady, Secret Service agent Timothy McCarthy and policeman Thomas Delahanty.

Read more at http://www.wnd.com/2018/02/media-ignoring-1-crucial-factor-in-florida-school-shooting/#1e44e0lzsICO0mTp.99
So, many deranged shooters have been on prescription drugs–which are normally not prescribed without psychological counseling.
The news has shown students protesting and calling for more gun control:
February 24, 2018

(Reuters) – In the week since 17 of David Hogg's classmates and teachers were gunned down in Florida, he and his fellow high schoolers have launched a movement that reshaped the gun control debate almost overnight and may influence the U.S. midterm elections. https://www.reuters.com/article/us-usa-guns-students/florida-students-take-on-nra-set-eyes-on-midterm-elections-idUSKCN1G80GT
The above article showed t-shirts that had the printed message "NOW IS EXACTLY THE RIGHT TIME TO TALK ABOUT GUN CONTROL."
People have been talking about gun control for decades. But that has not been shown to work.
The Right calls for armed guards and/or armed teachers:
February 24, 2018

"You failed us," Marjory Stoneman Douglas survivor Samantha Fuentes said. "You took an oath, and you broke your promise." Fuentes directed her harsh words at armed school resource officer Scot Peterson, who officials say hid outside as Cruz opened fire in the hallways and classrooms of the school, killing 17.

On Friday, President Trump further pushed his controversial proposal to arm teachers with guns.

"A security guard doesn't know the children, doesn't love the children," he said. "You have to be adept. I'm not talking about every teacher, I'm talking about a small percentage." http://newyork.cbslocal.com/2018/02/24/fbi-tip-line-call/

(CNN) When Coral Springs police officers arrived at Marjory Stoneman Douglas High School in Parkland, Florida, on February 14 in the midst of the school shooting crisis, many officers were surprised to find not only that Broward County Sheriff's Deputy Scot Peterson, the armed school resource officer, had not entered the building, but that three other Broward County Sheriff's deputies were also outside the school and had not entered, Coral Springs sources tell CNN. The deputies had their pistols drawn and were behind their vehicles, the sources said, and not one of them had gone into the school. https://www.cnn.com/2018/02/23/politics/parkland-school-shooting-broward-deputies/index.html
So, having a paid armed guard did not help. And the first police that showed up did not help.
To add insult to injury, notice the following:
The school resource officer who was at the Parkland school but "never went in" where 17 people were shot dead has retired after Broward County Sheriff Scott Israel on Thursday said the official had been suspended without pay.

Israel said school resource officer Scot Peterson took a position outside of  Marjory Stoneman Douglas High School as the onslaught occurred, citing security footage. Israel said Peterson was "absolutely on campus," adding that he was armed and in uniform during the shooting.

"After seeing video and witness statements, and Peterson's own statement, I decided this morning … to suspend Scot Peterson without pay pending an internal investigation," Israel said, adding that Peterson chose to then resign and retire. https://www.nbcmiami.com/news/local/He-Never-Went-In-BSO-Suspends-Officer-Who-Was-at-Parkland-Shooting-474889753.html
So, a person who took a job as an armed guard, did not do what his job was, and after being paid for years by taxpayers, has now retired at taxpayer expense, and he never did the job he agreed to.
Armed guards, even if they do their agreed to job, are not the answer.
What about boycotts?
The Left is also encouraging companies to boycott or otherwise cut ties with the National Rifle Association (NRA).
There have been boycotts of the NRA before, but that has not stopped shooters.
The Bible teaches:
 

16

Destruction and misery are in their ways;

17

And the way of peace they have not known."

18

"There is no fear of God before their eyes." (Romans 3:16-18)

The problem is lack of proper fear of God.
Notice that terror for the corrupt was prophesied:
5 They have corrupted themselves; They are not His children, Because of their blemish: A perverse and crooked generation. … 25 The sword shall destroy outside; There shall be terror within (Deuteronomy 32:5,25)
We continue to see shootings and other terroristic acts.
The Bible teaches:
9 'Thus says the Lord God: "Enough, O princes of Israel! Remove violence and plundering, execute justice and righteousness (Ezekiel 45:9)

9…You shall love your neighbor as yourself." 10 Love does no harm to a neighbor; therefore love is the fulfillment of the law. (Romans 13:9-10)
The further that the USA moves away from biblical morality, the more violence we will see.
National repentance, not more guns or more gun control, is what the USA needs. But since that is not likely, the real solution is the Kingdom of God.
The Bible shows that God is against violence and that destruction will come because of it:
23 'Make a chain,
For the land is filled with crimes of blood,
And the city is full of violence.
24 Therefore I will bring the worst of the Gentiles,
And they will possess their houses;
I will cause the pomp of the strong to cease,
And their holy places shall be defiled. (Ezekiel 7:23-24)

28 And even as they did not like to retain God in their knowledge, God gave them over to a debased mind, to do those things which are not fitting; 29 being filled with all unrighteousness, sexual immorality…30…violent, proud, boasters,…31…unmerciful; 32 who, knowing the righteous judgment of God, that those who practice such things are deserving of death, not only do the same but also approve of those who practice them. (Romans 1:28-32)

8…And the violence of the land and the city, And of all who dwell in it. ( Habakkuk 2:8)
Consider also the following prophecy for the last days:
1

But know this, that in the last days perilous times will come:

2

For men will be lovers of themselves, lovers of money, boasters, proud, blasphemers, disobedient to parents, unthankful, unholy,

3

unloving, unforgiving, slanderers, without self-control, brutal, despisers of good,

4

traitors, headstrong, haughty, lovers of pleasure rather than lovers of God,

(2 Timothy 3:1-4).
Terroristic murderes are brutal. Many are boasters, proud, without self-control.
Jesus warned:
6 For many will come in My name, saying, 'I am He,' and will deceive many. 7 But when you hear of wars and rumors of wars, do not be troubled; for such things must happen, but the end is not yet. 8 For nation will rise against nation, and kingdom against kingdom. And there will be earthquakes in various places, and there will be famines and troubles. These are the beginnings of sorrows. (Mark 13:6-8)
We are in a time of "troubles." We are in the "beginning of sorrows."
A worse time of 'tribulation' is coming (Mark 13:19) and is getting closer.
Despite this, there really is good news coming. One day, Jesus will return and the millennial Kingdom of God will be established.
Notice something about that phase of the Kingdom of God:
2 Many nations shall come and say,
"Come, and let us go up to the mountain of the Lord,
To the house of the God of Jacob;
He will teach us His ways,
And we shall walk in His paths."
For out of Zion the law shall go forth,
And the word of the Lord from Jerusalem.
3 He shall judge between many peoples,
And rebuke strong nations afar off;
They shall beat their swords into plowshares,
And their spears into pruning hooks;
Nation shall not lift up sword against nation,
Neither shall they learn war anymore.
4 But everyone shall sit under his vine and under his fig tree,
And no one shall make them afraid;
For the mouth of the Lord of hosts has spoken. (Micah 4:2-4)
Living God's ways under His government is the only solution that will really work.
As Jesus taught:
9

In this manner, therefore, pray: Our Father in heaven, Hallowed be Your name.

10

Your kingdom come. Your will be done On earth as it is in heaven. (Matthew 6:9-10)

It is God's kingdom, not the major positions of the Left or the Right that will stop these horrific acts of violence.
UPDATE 02/25/18: We just produced and uploaded a related video on this you can watch: High School Shootings 7 Failed Solutions.
Some items of possibly related interest may include:
Crime can be stopped…here's how! This was a booklet that was edited with some updates by Dr. Thiel. Here is a link to a related sermon: Crime and How it Will be Stopped!
Why Terrorism? Is Terrorism Prophesied? What does the Bible teach? Which nations may be affected? Here is a link to a related sermon: Terrorism, Christianity, and Islam.
Prayer: What Does the Bible Teach? This free booklet contains 28 biblically-based tips on improving the effectiveness of your prayers. This is a pdf. A related two part sermon is available: What Does the Bible Teach About Prayer? and What does the Bible Teach About Prayer (& Healing)?
The Times of the Gentiles Has there been more than one time of the Gentiles? Are we in it now or in the time of Anglo-America? What will the final time of the Gentiles be like? A related sermon is available and is titled: The Times of the Gentiles.
When Will the Great Tribulation Begin? 2018, 2019, or 2020? Can the Great Tribulation begin today? What happens before the Great Tribulation in the "beginning of sorrows"? What happens in the Great Tribulation and the Day of the Lord? Is this the time of the Gentiles? When is the earliest that the Great Tribulation can begin? What is the Day of the Lord? Who are the 144,000? Here is a version of the article in the Spanish language: ¿Puede comenzar la Gran Tribulación en 2018 o 2019? ¿Es el Tiempo de los Gentiles? You can also see the English language sermon videos: The Great Tribulation from the Mount of Olives and Can the Great Tribulation begin before 2020? A shorter video is: Can the Great Tribulation begin in 2018?
God's Grace is For All Is being Jewish a hindrance to salvation? What about not being a descendant of Israel? What does the Bible really teach? Here is a link to a related sermon titled Race and Grace; Do you view race as God does?
Military Service and the Churches of God: Do Real Christians Participate in Carnal Warfare or Encourage Violence? Here are current and historical perspectives on a matter which show the beliefs of the true church on military participation. Is war proper for Christians? A related sermon would be: Christians, Violence, and Military Service.
Is American Football Evil? Is the most popular spectator sport in the USA something that Christians should watch? What do the Bible and early writings show? There is also a YouTube video available titled Should Christians watch American football?
Christian Soldiers How are Christians to be like soldiers? How are they to be different?
Anglo – America in Prophecy & the Lost Tribes of Israel Are the Americans, Canadians, English, Scottish, Welsh, Australians, Anglo-Saxon (non-Dutch) Southern Africans, and New Zealanders descendants of Joseph? Where are the lost ten-tribes of Israel? Who are the lost tribes of Israel? What will happen to Jerusalem and the Jews in Israel? Will God punish the U.S.A., Canada, United Kingdom, and other Anglo-Saxon nations? Why might God allow them to be punished first? Here is a link to the Spanish version of this article: Anglo-América & las Tribus Perdidas de Israel. Information is also in the YouTube sermons titled Where are the Ten Lost Tribes? Why does it matter? and British are the Covenant People. A short YouTube of prophetic interest may be Barack Obama and the State of the Apocalypse.
Will the Anglo-Saxon Nations be Divided and Have People Taken as Slaves? Will the lands of the United States, United Kingdom, Canada, Australia, and New Zealand be divided? What about Jerusalem? What does Bible prophecy teach? Are there non-biblical prophecies that support this idea? Who will divide those lands? Who will end up with the lands and the people? Here is a link to a video titled Will the USA and other Anglo-nations be Divided and Their People Made Slaves? Here is a related item in the Spanish language ¿Serán divididas las naciones anglosajonas?
The Ten Commandments: The Decalogue, Christianity, and the Beast This is a free draft/unedited pdf book explaining the what the Ten Commandments are, where they came from, how early professors of Christ viewed them, and how various ones, including the Beast of Revelation, will oppose them. A related sermon is titled: The Ten Commandments and the Beast of Revelation.
The Ten Commandments Reflect Love, Breaking them is Evil Some feel that the ten commandments are a burden. Is that what Jesus, Paul, Peter, James, and John taught? For a more detailed discussion of the first four commandments, please see the video The Ten Commandments: Loving God. For a more detailed discussion of the last six commandments, please see: The Ten Commandments: Loving Your Neighbor. Here is a link to a related article in Mandarin Chinese 十条诫命显示爱,违反诫命的就是邪恶的
The Gospel of the Kingdom of God This free online pdf booklet has answers many questions people have about the Gospel of the Kingdom of God and explains why it is the solution to the issues the world is facing. Here are links to three related sermons: The World's False Gospel, The Gospel of the Kingdom: From the New and Old Testaments, and The Kingdom of God is the Solution.
Did The Early Church Teach Millenarianism? Was the millennium (sometimes called chiliasm) taught by early Christians? Who condemned it? Will Jesus literally reign for 1000 years on the earth? Is this time near? Two related sermons are available Millennial Utopia and The Millennium.
The Ten Commandments: The Decalogue, Christianity, and the Beast This is a free draft/unedited pdf book explaining the what the Ten Commandments are, where they came from, how early professors of Christ viewed them, and how various ones, including the Beast of Revelation, will oppose them. A related sermon is titled: The Ten Commandments and the Beast of Revelation.