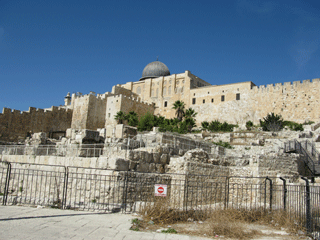 Jerusalem from South (Bob Thiel)

Palestine was in the news for a couple of reasons today:
October 30, 2014

JERUSALEM — The Swedish government on Thursday officially recognized the state of Palestine, as the new prime minister, Stefan Lofven, ignored Israeli protests and followed through on a pledge he made at his inauguration this month.

The Swedish Foreign Ministry posted a message on Twitter on Thursday announcing the move and saying the Swedish government "expressed hopes for peaceful coexistence between #Israel and #Palestine."

Foreign Minister Margot Wallstrom said that Sweden hoped its "excellent cooperation" with Israel would continue and that the decision would be met in Jerusalem "in a constructive way," The Associated Press reported.

The Palestinian leadership welcomed the move, which came amid growing criticism and frustration in Europe and the United States of Israeli settlement policies in the West Bank and East Jerusalem.

Israel fears that the move by Sweden could lead other influential European countries to follow suit, a trend Israeli officials say would pre-empt the results of future negotiations over a Palestinian state with agreed borders. http://www.nytimes.com/2014/10/31/world/europe/sweden-recognizes-palestinian-state.html?_r=0

October 30, 2014

Israeli police have shot dead a Palestinian man they suspect of attempting to kill an Israeli activist known for pushing for greater access for Jews at a flashpoint religious site in Jerusalem.

The two incidents have heightened an already tense situation surrounding the Old City complex that Jews call the Temple Mount and Muslims refer to as the Noble Sanctuary.  Both groups regard the site as one of their holiest.

Israeli security officials closed the area Thursday until further notice, a move that Palestinian President Mahmoud Abbas called a "declaration of war."  http://www.voanews.com/content/israeli-police-kills-palestinan-suspected-of-shooting-jewish-activist/2501763.html

October 30, 2014

A spokesman for Palestinian leader Mahmoud Abbas has described the closure of a disputed Jerusalem holy site as a "declaration of war".

The move came amid tension after the shooting of a Jewish activist. Israel's PM called for calm, saying Mr Abbas was responsible for escalating tensions.

Yehuda Glick, a campaigner for greater Jewish prayer rights at the Temple Mount/al-Haram al-Sharif, was wounded. …

Sweden became the first major Western European country to officially recognise Palestine as a state. Foreign Minister Margot Wallstrom said she hoped more countries would follow Sweden's lead – Israel's Foreign Minister Avigdor Lieberman was quoted as saying it was a "deplorable" decision …

Palestinians hold the Israeli government responsible for a "dangerous act", Mr Abbas was quoted as saying by Mr Rudeina, in remarks carried by AFP news agency.

"This dangerous Israeli escalation is a declaration of war on the Palestinian people and its sacred places and on the Arab and Islamic nation," Mr Rudeina added. http://www.bbc.com/news/world-middle-east-29828547
Israel is finding that it is becoming more and more isolated from the international community.  I suspect that Sweden probably feels that it does not need Israel and that by doing what it just did it will be at a lessor risk for terrorist attacks.
As far as the closure of so-called Temple Mount/al-Haram al-Sharif region, the closure is most likely temporary, so the statement about it being a declaration of war was probably more for internal consumption than the actual belief of the Palestinian authorities.  However, groups like Hamas may pick up on it and consider that they have more justification for various terrorist attacks.
More terrorist attacks are coming (e.g. Leviticus 26:14-17; Deuteronomy 32:25; Psalms 73:12,19; Ezekiel 21:12), and Sweden is not exempt (to learn more about Sweden, check out the article Anglo – America in Prophecy & the Lost Tribes of Israel).
That being said, the time is getting closer when Israel will decide it has no real choice but to embrace a type of temporary peace deal consistent with what is described in the Book of Daniel (see also The 'Peace Deal' of Daniel 9:27).  It is most likely that the Vatican will also be involved.
As Jesus said:
37 And what I say to you, I say to all: Watch! (Mark 13:37)
Some items of possibly related interest may include:
Gaza and the Palestinians in Bible Prophecy What does the Bible teach about Gaza and the fate of the Palestinians? Here is a link to a related video: Gaza and Palestine in Prophecy.
The 'Peace Deal' of Daniel 9:27 This prophecy could give up to 3 1/2 years advance notice of the coming Great Tribulation. Will most ignore or misunderstand its fulfillment? Here is a link to a related sermon video Daniel 9:27 and the Start of the Great Tribulation.
How Will Middle East Peace be Brought About? Can humans bring peace to the Middle East? Here is a link to a related video: Middle East Peace? When?
Is the Future King of the South Rising Up? Some no longer believe there needs to be a future King of the South. Others have many misunderstandings about him. Might Egypt, Islam, Iran, Arabs, or Ethiopia be involved? Might this King be called the Mahdi or Caliph? What does the Bible say? A YouTube video of related interest may be: The Future King of the South is Rising.
Jerusalem: Past, Present, and Future What does the Bible say about Jerusalem and its future? Is Jerusalem going to be divided and eliminated? Is Jesus returning to the area of Jerusalem? There is also a related YouTube video you can watch titled Jerusalem To be divided and eliminated.
Anglo – America in Prophecy & the Lost Tribes of Israel Are the Americans, Canadians, English, Scottish, Welsh, Australians, Anglo-Saxon (non-Dutch) Southern Africans, and New Zealanders descendants of Joseph? Where are the lost ten-tribes of Israel? What about Sweden? Who are the lost tribes of Israel? What will happen to Jerusalem and the Jews in Israel? Will God punish the U.S.A., Canada, United Kingdom, and other Anglo-Saxon nations? Why might God allow them to be punished first? Here is a link to the Spanish version of this article: Anglo-América & las Tribus Perdidas de Israel. Information is also in the YouTube sermons titled Where are the Ten Lost Tribes? Why does it matter? and British are the Covenant People. A short YouTube of prophetic interest may be Barack Obama and the State of the Apocalypse.
The Arab and Islamic World In the Bible, History, and Prophecy The Bible discusses the origins of the Arab world and discusses the Middle East in prophecy. What is ahead for the Middle East and those who follow Islam? What about the Imam Mahdi? What lies ahead for Turkey, Iran, and the other non-Arabic Muslims? An item of possibly related interest in the Spanish language would be: Líderes iraníes condenan la hipocresía de Occidente y declaran que ahora es tiempo para prepararse para el Armagedón, la guerra, y el Imán Mahdi.
Is There an Islamic Antichrist? Is Joel Richardson correct that the final Antichrist will be Islamic and not European? Find out.
Arabic Nazarenes May Have Kept Original Christian Practices Were their faithful Arabs who held to original Christianity?
Nazarene Christianity: Were the Original Christians Nazarenes? Who were the Nazarene Christians? What did they believe? Should 21st century Christians be modern Nazarenes? Is there a group that exists now that traces its history through the Nazarenes and holds the same beliefs today? Here is a link to a related video sermon Nazarene Christians: Were the early Christians "Nazarenes"?