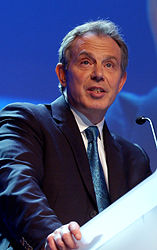 Tony Blair, former Prime Minister of the United Kingdom
Tony Blair is currently looking less likely to be the EU's first full-time president:
Brussels outcry puts Blair presidency in doubt
Financial Times – Oct 29, 2009

Tony Blair's chances of becoming the European Union's first full-time president were in serious trouble late on Thursday as a Brussels summit opened with a chorus of criticism from his own supposed centre-left allies.

British officials said the "jungle drums" also suggested support for the former prime minister was on the wane in some European capitals, including crucially Paris and Berlin.

But as Mr Blair's hopes faded, Brussels was awash with speculation that David Miliband, foreign secretary, could emerge as the EU's new foreign policy chief. Mr Miliband, 44, has denied wanting the job, but he is among the most credible centre-left candidates; France's Le Monde on Thursday declared him "young and brilliant".

The two-day EU summit was supposed to focus on climate change and the Lisbon treaty, but corridor talk was dominated by the looming carve-up of the union's top jobs.

Gordon Brown, prime minister, made an impassioned appeal at a private meeting with fellow socialists to back Mr Blair.

"You need to get real – this is a unique opportunity to get a strong progressive politician to be president of the council," he said. But there was little backing for a man whose support for the Iraq war was divisive.

Other candidates could include Jan Peter Balkenende, Dutch prime minister; Jean-Claude Juncker, Luxembourg's premier; and Paavo Liponnen, former Finnish prime minister.

http://www.ft.com/cms/s/0/5f2c6600-c4dc-11de-8d54-00144feab49a.html
Tony Blair converted to Roman Catholicism and, in my opinion, is not out of the running yet.  And even if he does not become EU President, he is likely to have some influence.
An article of related interest may include:
Is Tony Blair Apocalyptic? The former Prime Minister of the United Kingdom converted to Catholicism shortly after leaving his office and has been active in European affairs. What role might he play?