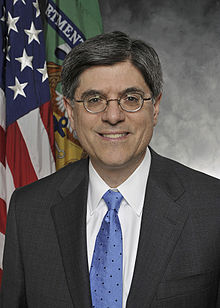 Jack Lew, US Secretary of Treasury
The US debt limit is expected to be hit next month and, as expected, the proposed solution is to increase the debt limit:
Treasury Secretary Jack Lew warned congressional leaders Wednesday that he will exhaust emergency borrowing measures "no later than Oct. 17," leaving him with less than $30 billion on hand to pay the nation's bills.

In a letter sent to all members of Congress, Lew urged immediate action to raise the federal debt limit, which stands at $16.7 trillion. Without additional borrowing authority, Lew warned, cash on hand "would be far short of net expenditures on certain days, which can be as high as $60 billion."

"If we have insufficient cash on hand," the letter said, "it would be impossible for the United States of America to meet all of its obligations for the first time in our history."  http://www.washingtonpost.com/business/economy/new-debt-limit-deadline-is-oct-17/2013/09/25/edf24be0-25e3-11e3-b3e9-d97fb087acd6_story.html
The politicians of the USA have long treated the debt limit as something other than a ceiling or real limit. This position is very dangerous.  The USA continues to broadcast to the world that it does not intend to truly fix its financial problems and hopes to continue to borrow instead.
I have warning about this for years. The Bible teaches the following:
12…Those who lead you cause you to err, And destroy the way of your paths." (Isaiah 3:12)

16 For the leaders of this people cause them to err, And those who are led by them are destroyed (Isaiah 9:16).
43 The alien who is among you shall rise higher and higher above you, and you shall come down lower and lower. 44 He shall lend to you, but you shall not lend to him; he shall be the head, and you shall be the tail. 45 Moreover all these curses shall come upon you and pursue and overtake you, until you are destroyed because you did not obey the voice of the LORD your God, to keep His commandments and His statutes which He commanded you…47 "Because you did not serve the LORD your God with joy and gladness of heart, for the abundance of everything, 48 therefore you shall serve your enemies, whom the LORD will send against you, in hunger, in thirst, in nakedness, and in need of everything; and He will put a yoke of iron on your neck until He has destroyed you. 49 The LORD will bring a nation against you from afar, from the end of the earth, as swift as the eagle flies, a nation whose language you will not understand, 50 a nation of fierce countenance, which does not respect the elderly nor show favor to the young. 51 And they shall eat the increase of your livestock and the produce of your land, until you are destroyed; they shall not leave you grain or new wine or oil, or the increase of your cattle or the offspring of your flocks, until they have destroyed you. 52 They shall besiege you at all your gates until your high and fortified walls, in which you trust, come down throughout all your land; and they shall besiege you at all your gates throughout all your land which the LORD your God has given you (Deuteronomy 28:42-45,47-52)
3 For the vision is yet for an appointed time; But at the end it will speak, and it will not lie. Though it tarries, wait for it; Because it will surely come, It will not tarry…5 Indeed, because he transgresses by wine, He is a proud man… 6 "Will not all these take up a proverb against him, And a taunting riddle against him, and say, 'Woe to him who increases What is not his–how long? And to him who loads himself with many pledges'? 7 Will not your creditors rise up suddenly? Will they not awaken who oppress you? And you will become their booty. 8 Because you have plundered many nations, All the remnant of the people shall plunder you (Habakkuk 2:3,5,6-8).
The above prophecy will be fulfilled at the time of the end (cf. "The message was true, but the appointed time was long…in the latter days, for the vision refers to many days yet to come," Daniel 10:1,14). Daniel 8:19, 11:27,29,35 use same the Hebrew term for "appointed time" as Habakkuk 2:3, while Daniel 10, using a different term, ties the latter days to the time in Daniel 8:19. Habakkuk 2 was not fulfilled in its entirety anciently. Also, it makes little sense that Habakkuk would be directed towards the modern nation of Israel as it does not have enemy creditors. It must be a nation or group of nations with some prominence at the appointed time of the end.
The nation with the greatest debt of all time is the United States of America, and on a per capita basis one of the highest is the United Kingdom of Great Britain and Northern Ireland.
It is the the United States and its Anglo-allies that have loaded pledges of debt in these end times that they really do not expect to pay back. In that respect they have recently plundered many nations. And while much is owed to nations such as China, Japan, and the Arab World, the Europeans have trillions of dollars invested in the USA–money they may be disappointed to have devalued. Enough so that they may divide the land among themselves and other creditors.
There are carnal solutions that the USA could do now (such as several related to energy production, regulatory relief, and tariff policies) that could help extend the situation, but too many of its leaders have rejected God and have the type of "reprobate mind" that allows them to approve immorality (like homosexuality and lesbianism) that prevents them from properly seeing even those "convenient" options (cf. Romans 1:18-32, KJV). In my view, most political leaders (including those involved with finance and economics) truly do not understand production, economics, job-creation, nor the Bible.
Since legalizing abortion, the USA has gone from creditor nation to the largest debtor nation of all time (watch also the video Abortion, the Bible, and US Debt).  Promoting abortion is also something that the Obama Administration has done.  But repentance is not something it seems to consider.
While your nation probably will not repent (Anglo or otherwise), you can. Do not wait until it is too late. The fact that the debt clock has exceeded $16.6 trillion (and worse if you include the debt created via "quantitative easing" by the Federal Reserve) should serve as a wake-up call that the end of the USA will be coming (Habakkuk 2:3,5,6-8; Deuteronomy 28:42-45,47-52).
The Bible warns that the Beast power will takeover those with the strongest military fortresses (Daniel 11:39) and destroy many in their so-called prosperity (Daniel 8:25). These prophecies are referring to the Anglo-descended nations, including the USA.
Treasury Secretary Lew apparently does not know about the prophecies (or truly believe them if he does). Yet, raising the debt of the USA is more dangerous than he seems to think.
(Note: The above article has also been translated into the Spanish language: Secretario del Tesoro Lew: Los E.U. tienen hasta octubre 17, 2013.)
Several items of possibly related interest may include:
Will the Anglo-Nations be Divided and Have People Taken as Slaves? Will the lands of the United States, United Kingdom, Canada, Australia, and New Zealand be divided? What about Jerusalem? What does Bible prophecy teach? Are there non-biblical prophecies that support this idea? Who will divide those lands? Who will end up with the lands and the people? Here is a link to a video titled Will the USA and other Anglo-nations be Divided and Their People Made Slaves?
Anglo – America in Prophecy & the Lost Tribes of Israel Are the Americans, Canadians, British, Scottish, Welsh, Australians, Anglo-Southern Africans, and New Zealanders descendants of Joseph? Where are the lost ten-tribes of Israel? Who are the lost tribes of Israel? What will happen to the Jews in Israel? Will God punish the U.S.A., Canada, United Kingdom, and other Anglo nations? Why might God allow them to be punished first?
Just What Do You Mean — Repentance? Do you know what repentance is? Have you truly repented? Repented of what? Herbert W. Armstrong wrote this as a booklet on this important subject.
Who is the King of the West? Why is there no End-Time King of the West in Bible Prophecy? Is the United States the King of the West?
Does God Have a 6,000/7,000 Year Plan? What Year Does the 6,000 Years End? Was a 6000 year time allowed for humans to rule followed by a literal thousand year reign of Christ on Earth taught by the early Christians? What year may the six thousand years of human rule end? When will Jesus return? 2018 or 2019?
Can the Great Tribulation Begin in 2013, 2014, or 2015? Can the Great Tribulation begin today? What happens before the Great Tribulation in the "beginning of sorrows"? What happens in the Great Tribulation and the Day of the Lord? Is this the time of the Gentiles? When is the earliest that the Great Tribulation can begin? What is the Day of the Lord?
Protestant and Church of God views of the United States in Bible Prophecy Is the USA mentioned in Bible prophecy? Some Protestants say yes, while others say no. What does the Bible really teach? Learn the truth about this. There is also a video available: Is The United States Mentioned In Bible Prophecy?
Barack Obama, Prophecy, and the Destruction of the United States-Second Edition for Second Obama Term This is a 160 page book for people truly interested in prophecies related to Barack Obama and the United States, including learning about many that have already been fulfilled (which the book documents in detail) and those that will be fulfilled in the future. It also has a chapter about a Republican choice. This book is available to order at www.barackobamaprophecy.com. The physical book can also be purchased at Amazon from the following link: Barack Obama, Prophecy, and the Destruction of the United States: Is Barack Obama Fulfilling Biblical, Islamic Catholic, Kenyan, and other America-Related Prophecies? What About Republican Leaders? Second Edition for Second Obama Term.
Barack Obama, Prophecy, and the Destruction of the United States-Second Term-Amazon Kindle edition. This electronic version is available for only US$2.99. And you do not need an actual Kindle device to read it. Why? Amazon will allow you to download it to almost any device: Please click HERE to download one of Amazon s Free Reader Apps. After you go to for your free Kindle reader and then go to Barack Obama, Prophecy, and the Destruction of the United States-Second Term-Amazon Kindle edition.