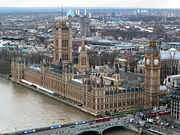 Palace of Westminster in London
Morgan Stanley indicates that the United Kingdom may have a major debt crisis in 2010:
Morgan Stanley fears UK sovereign debt crisis in 2010

Britain risks becoming the first country in the G10 bloc of major economies to risk capital flight and a full-blown debt crisis over coming months, according to a client note by Morgan Stanley.
The Bible warns about debt accumulation in the end times and the UK (and the USA) have seemingly ignored the warnings that God inspired Habakkuk to write:
3 For the vision is yet for an appointed time; But at the end it will speak, and it will not lie. Though it tarries, wait for it; Because it will surely come, It will not tarry…
6 "Will not all these take up a proverb against him, And a taunting riddle against him, and say, 'Woe to him who increases
What is not his–how long? And to him who loads himself with many pledges'? 7 Will not your creditors rise up suddenly? Will they not awaken who oppress you? And you will become their booty. 8 Because you have plundered many nations, All the remnant of the people shall plunder you (Habakkuk 2:3,6-8).
The UK (and USA, and their Anglo-allies) are inadvertently working to be the debtors to fulfill this end-time prophecy.  And if not by 2010, 2012 or so may be the time.
Both the UK and USA have fiscal policies that may provoke a debt crisis.  One will happen sometime next decade–and if Morgan Stanley is right it could be 2010 for the UK.  And if it is delayed, 2012 is a possibility.
Two articles of related interest may include:
Anglo – America in Prophecy & the Lost Tribes of Israel Are the Americans, Canadians, British, Scottish, Welsh, Australians, Anglo-Southern Africans, and New Zealanders descendants of Joseph? Where are the lost ten-tribes of Israel? Who are the lost tribes of Israel? Will God punish the U.S.A., Canada, United Kingdom, and other Anglo nations? Why might God allow them to be punished first?  What happens to the highly indebted nations?
2012 and the Rise of the Secret Sect This is a link related to a book by Bob Thiel (COGwriter). This also has YouTube videos related to 2012.  The book contains documented prophecies as well as an end time sequence of events that Christians should study and understand.  Including the role of the USA & UK and how they are (presuming no national repentance) destined for destruction according to end time biblical prophecy.