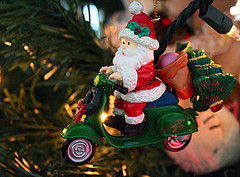 An article in a Florida paper discusses an issue that many wonder about this time of year:
Origin of Christmas Holiday Does Not Lie in Christianity…

The vast majority of Christians think we should put "Christ" back in "Christmas," but he was never in "Christmas." Any serious Bible student understands Christ was born in September when "shepherds were out in their fields, by night." Not the start of winter.

However… Jeremiah's warning in Chapter 10 about cutting down and decorating trees, giving glory to "mother nature" and not to God. Tree-huggers have been around for along time…

I simply want you to know what "Christmas" truly is, and "Christ" is nowhere to be found in "Christmas"! It is a tradition of the Roman Catholic Church in a "plea deal" with nonbelievers. Perhaps I'm wrong, or perhaps you're being deceived.

R.J. ANDERSON
Now, it needs to be understood that Catholic scholars realize that Christmas was not an original holiday among early Christians.  The Catholic Encyclopedia teaches:
Christmas was not among the earliest festivals of the Church…

Christmas…Irenaeus and Tertullian omit it from their lists of feasts; Origen, glancing perhaps at the discreditable imperial Natalitia, asserts (in Lev. Hom. viii in Migne, P.G., XII, 495) that in the Scriptures sinners alone, not saints, celebrate their birthday; Arnobius (VII, 32 in P.L., V, 1264) can still ridicule the "birthdays" of the gods…

Rome. At Rome the earliest evidence is in the Philocalian Calendar (P. L., XIII, 675; it can be seen as a whole in J. Strzygowski, Kalenderbilder des Chron. von Jahre 354, Berlin, 1888), compiled in 354, which contains three important entries. In the civil calendar 25 December is marked "Natalis Invicti"…

(Martindale C. Transcribed by Susanti A. Suastika. Christmas. The Catholic Encyclopedia, Volume III. Copyright © 1908 by Robert Appleton Company. Online Edition Copyright © 2003 by K. Knight. Nihil Obstat, November 1, 1908. Remy Lafort, S.T.D., Censor. Imprimatur. +John Cardinal Farley, Archbishop of New York).
The above is true.  The Catholic Encyclopedia also recognizes that the date of December 25th was the date of a pagan celebration for Mithras:
Mithraism A pagan religion consisting mainly of the cult of the ancient Indo-Iranian Sun-god Mithra. It entered Europe from Asia Minor after Alexander's conquest, spread rapidly over the whole Roman Empire at the beginning of our era, reached its zenith during the third century, and vanished under the repressive regulations of Theodosius at the end of the fourth century…Helios Mithras is one god…Sunday was kept holy in honour of Mithra, and the sixteenth of each month was sacred to him as mediator. The 25 December was observed as his birthday, the natalis invicti, the rebirth of the winter-sun, unconquered by the rigours of the season (Arendzen. J.P. Transcribed by John Looby. Mithraism. The Catholic Encyclopedia, Volume X. Published 1911. New York: Robert Appleton Company. Nihil Obstat, October 1, 1911. Remy Lafort, S.T.D., Censor. Imprimatur. +John Cardinal Farley, Archbishop of New York).
Christmas was a change that Rome finally endorsed.  This may have happened in the fourth century partially because the fourth century Emperor Constantine had been a follower of Mithras, combined with the fact that a winter celebration was popular with many who embraced a version of Catholicism during that same century.  However, there were still faithful Christians who did not adopt it then or now.
Several articles of possibly related interest may include:
What Does the Catholic Church Teach About Christmas and the Holy Days? Do you know what the Catholic Church says were the original Christian holy days? Was Christmas among them?
Did Early Christians Celebrate Birthdays? Did biblical era Jews celebrate birthdays? Who originally celebrated birthdays? When did many that profess Christ begin birthday celebrations?
Do You Practice Mithraism? Many practices and doctrines that mainstream so-called Christian groups have are the same or similar to those of the sun-god Mithras. Do you follow Mithraism combined with the Bible or original Christianity?
Tradition and Scripture: From the Bible and Church Writings Are traditions on equal par with scripture? Many believe that is what Peter, John, and Paul taught. But did they?
Is There "An Annual Worship Calendar" In the Bible? This paper provides a biblical and historical critique of several articles, including one by WCG which states that this should be a local decision. What do the Holy Days mean? Also you can click here for the calendar of Holy Days.
The History of Early Christianity Are you aware that what most people believe is not what truly happened to the true Christian church? Do you know where the early church was based? Do you know what were the doctrines of the early church? Is your faith really based upon the truth or compromise?