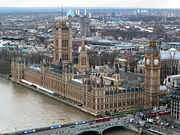 Palace of Westminster in London
The debt situation of many nations is becoming a problem:
Sovereign debt crisis at 'boiling point', warns Bank for International Settlements

The Bank for International Settlements does not mince words. Sovereign debt is already starting to cross the danger threshold in the United States, Japan, Britain, and most of Western Europe, threatening to set off a bond crisis at the heart of the global economy

http://www.telegraph.co.uk/finance/economics/7564748/Sovereign-debt-crisis-at-boiling-point-warns-Bank-for-International-Settlements.html
The above scenario is too optimistic.  If interest rates rise to levels seen in the early 1980s or higher, this will cause massive problems within the next ten years.  It will not take decades.
Since the USA has the highest total debt, it actually has the biggest problem.  The USA is not too big to fail, the United States will ultimately be too big to bail.  Also notice this report:
US faces 'difficult' tax choices: Bernanke

AFP – April 8, 2010

WASHINGTON (AFP) – Facing unsustainable budget deficits, the United States will have to make difficult choices between higher taxes and social spending, Federal Reserve Chairman Ben Bernanke said.

The US government registered a record budget deficit in February of 220.909 billion dollars despite rising revenues, setting a record 17th consecutive month in the red.

http://news.yahoo.com/s/afp/20100408/ts_alt_afp/useconomybankdeficit_20100408091746
Furthermore, recall what God inspired the Prophet Habakkuk to write 2600 years ago:
3 For the vision is yet for an appointed time; But at the end it will speak, and it will not lie. Though it tarries, wait for it; Because it will surely come, It will not tarry…
6 "Will not all these take up a proverb against him, And a taunting riddle against him, and say, 'Woe to him who increases
What is not his–how long? And to him who loads himself with many pledges'?
7 Will not your creditors rise up suddenly? Will they not awaken who oppress you? And you will become their booty. 8 .., All the remnant of the people shall plunder you (Habakkuk 2:3,6-8).
We are near the end, the USA and UK are the biggest debtors.  They will likely cease to exist as they now do within ten years or so.
Some articles of possibly related interest may include:
Anglo – America in Prophecy & the Lost Tribes of Israel Are the Americans, Canadians, British, Scottish, Welsh, Australians, Anglo-Southern Africans, and New Zealanders descendants of Joseph? Where are the lost ten-tribes of Israel? Who are the lost tribes of Israel? Will God punish the U.S.A., Canada, United Kingdom, and other Anglo nations? Why might God allow them to be punished first?
Prophecies of Barack Obama? Are there biblical and non-biblical prophecies about Barack Obama. Did Nostradamus predict Barack Obama dealing with the Antichrist?  This is a lengthy article with many prophecies that Barack Obama may end up fulfilling.
Barack Obama, Prophecy, and the Destruction of the United States Some claim that Barack Obama is the prophesied "son of Kenya". Might Bible prophecy be fulfilled by him?
2012 and the Rise of the Secret Sect This is a link related to a book by Bob Thiel (COGwriter). This also has YouTube videos related to 2012.  What will happen to the USA, UK, Canada, Australia, and New Zealand?  When is their end expected?
2012 y el surgimiento de la secta secreta Nuevo libro del Dr. Thiel en Español.
2012 und das Auftreten der geheimen Sekte (German Edition) 2012 Buch von Dr. Thiel in deutscher Sprache.