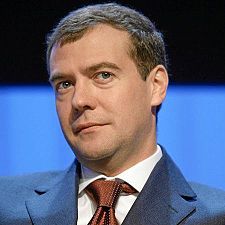 Dmitry Anatolyevich Medvedev

The two largest nuclear powers signed an agreement to reduce nuclear stockpiles:
Obama, Medvedev Sign Treaty Cutting Nuclear Stockpiles

08 April 2010

U.S. President Barack Obama and Russian President Dmitri Medvedev have signed a treaty to reduce their countries' nuclear stockpiles by 25 to 30 percent over seven years.

http://www1.voanews.com/english/news/usa/Obama-Medvedev-Sign-Arms-Reduction-Treaty-90201912.html
This will likely mean that the USA will spend less on weapons' systems (this is one of the reasons that my book 2012 and the Rise of the Secret Sect says that USA President Obama is apocalyptic).  This will also mean that other powers will be relatively stronger vs. the USA.
Make no mistake about it, even though we in the Living Church of God are pacifists, we understand that moves like this treaty mean that unless the USA sees national repentance soon and relies on God, it is setting itself up to be taken over by the power emerging right now in Europe.
Peace is good.  "Blessed are the peacemakers" (Matthew 5:9).  But attempting peace by relying on man and not God will result in disaster for the USA.  The USA President needs to look more into prophecy as some that seem to include him suggest the end of the USA (see Prophecies of Barack Obama).
Some articles of possibly related interest may include:
Prophecies of Barack Obama? Are there biblical and non-biblical prophecies about Barack Obama. Did Nostradamus predict Barack Obama dealing with the Antichrist?  This is a lengthy article with many prophecies that Barack Obama may end up fulfilling.
Barack Obama, Prophecy, and the Destruction of the United States Some claim that Barack Obama is the prophesied "son of Kenya". Might Bible prophecy be fulfilled by him?
Anglo – America in Prophecy & the Lost Tribes of Israel Are the Americans, Canadians, British, Scottish, Welsh, Australians, Anglo-Southern Africans, and New Zealanders descendants of Joseph? Where are the lost ten-tribes of Israel? Who are the lost tribes of Israel? Will God punish the U.S.A., Canada, United Kingdom, and other Anglo nations? Why might God allow them to be punished first?
Russia: Its Origins and Prophesied Future Where do the Russians come from? What is prophesied for Russia? What will it do to the Europeans that supported the Beast in the end?
Is Russia the King of the North? Some claim it is. But what does the Bible teach?