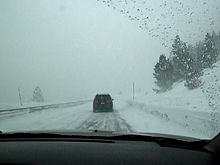 Millions have been affected by extreme winter weather in the USA and Europe:
February 13, 2014

The northeast United States was blanketed with another thick layer of snow on Thursday, as southern states struggled to recover from the blast a day earlier.

Washington was covered in nearly a foot of snow as the storm pressed northwards, threatening more power outages and travel misery for millions.
In Washington and New York, some streets were nearly deserted Thursday during the normally busy morning commute…Hundreds of thousands are still without power. In North Carolina, drivers got caught in monumental traffic jams and abandoned their cars Wednesday in a replay of what happened in Atlanta just two weeks ago…
At least 12 deaths across the south have been blamed on the weather…President Obama declared a disaster area in South Carolina and for parts of Georgia, opening the way for federal aid. In Myrtle Beach, South Carolina, palm trees were covered with a thick crust of ice.

Ice combined with wind gusts up to 30 mph (48 kph) snapped tree limbs and power lines Wednesday. More than 200,000 homes and businesses lost electricity in Georgia, 130,000 in South Carolina and nearly 30,000 in Louisiana. Some people could be in the dark for days.

The constant spate of storms is taking a financial toll. The state of Massachusetts has already burned through its $43m snow- and ice-fighting budget — having spent about $75m before Thursday's storm even hit.More than 4,500 flights were canceled across the country, according to the website FlightAware. Amtrak canceled some of its trains and modified schedules for others.  http://www.theguardian.com/world/2014/feb/13/us-north-east-snow-winter-storm

Southern and western Britain are bracing themselves for more storms and rain as the wettest January on record looks set to continue well into February.

The biggest Atlantic storm of the year is due on Friday, with the already half-submerged county of Somerset fearing more misery. The west is now cut off by rail from the rest of the country at Bridgwater. Battered coastal towns from Cornwall up to Wales are bracing themselves for more damage…Britain is not the only place facing wild weather. 11-metre waves are crashing onto the Portuguese coast causing extensive damage, and there are alerts out in Ireland, Spain, and France, too.  http://www.euronews.com/2014/02/10/thames-floods-and-westcountry-crisis-deepens-as-severe-weather-batters-britain-/
There have been so many weather extremes recently, I have to debate how often to mention them.  But they keep occurring.  Yesterday, as part of my normal Bible study, I again read the following:
7 "I also withheld rain from you,
When there were still three months to the harvest.
I made it rain on one city,
I withheld rain from another city.
One part was rained upon,
And where it did not rain the part withered.
8 So two or three cities wandered to another city to drink water,
But they were not satisfied;
Yet you have not returned to Me,"
Says the Lord.

9 "I blasted you with blight and mildew.
When your gardens increased,
Your vineyards,
Your fig trees,
And your olive trees,
The locust devoured them;
Yet you have not returned to Me,"
Says the Lord. (Amos 4:7-9)
Will the extreme weather cause people in those nations to turn to God?  Or will they be determined to continue to turn further away from biblical morality?  Leaders, such as USA President Barack Obama who have basically chosen the latter when it comes to the homosexual agenda, need to realize its dangers (cf. Romans 1:18-32).
People who advocate acceptance of homosexuality as harmless may also wish to notice something else that God had the Prophet Amos write would happen some time after the drought and weather problems:
11 "I overthrew some of you,
As God overthrew Sodom and Gomorrah,
And you were like a firebrand plucked from the burning;
Yet you have not returned to Me,"
Says the Lord.

12 "Therefore thus will I do to you, O Israel;
Because I will do this to you,
Prepare to meet your God, O Israel!"   (Amos 4:11-12)
God overthrew Sodom and Gomorrah for their pride and acceptance of homosexuality.  People who profess to believe the Bible need to take a stand against those who advocate homosexuality and other behaviors that the Bible condemns.
Over here in California, the amount of precipitation has been unseasonably and dangerously low.  Snowfall and rainfall have been less in California, Nevada, and parts of the West (see also Drought disaster declared in 11 Western states; any relationship to homosexual agenda?).
Because Jesus warned that troubles and sorrows would be part of the biblically prophesied time before the Great Tribulation, back in 2009, in my book 2012 and the Rise of the Secret Sect, I wrote that the following was about to happen:
| | |
| --- | --- |
| Odd weather patterns result in food shortages and natural disasters. | Matthew 24:7 |
| | |
| --- | --- |
| The world is actually in a berserk transition, as the real age of peace is not yet here. It may be a period of chaos. It is the beginning of sorrows. | Matthew 24:8 |
Weather extremes should serve as a wake-up call.  We certainly have been seeing a lot of 'odd weather patterns.'
Jesus foretold on a time of natural disasters and "troubles" as "the beginning of sorrows" (Matthew 24:7-8)–and the sorrows seem to have begun. Yet the Book of Revelation (16:8-11) tells of a time of even greater disturbances during "the Day of the Lord."
Now, ultimately of course, there is good news as ultimately, God's kingdom will come and those issues will be gone (Revelation 7:16).
Some items of possibly related interest may include:
Weather Blessings and Sorrows Are weather problems a warning? What should be done? What does the Bible teach about weather? What about floods, droughts, heat, earthquakes, tornadoes, and solar storms? Here is a related YouTube video Does God Use Weather? A related item in the Spanish language would be Bendiciones y maldiciones del clima.
The Gospel of the Kingdom of God was the Emphasis of Jesus and the Early Church Did you know that? Do you even know what the gospel of the kingdom is all about? True religion should be based upon the true gospel.
The Bible Condemns Homosexuality "Same-sex marriage" for "gays" and lesbians is becoming more acceptable to many. What does the Bible teach about homosexuality? Can homosexuals change?
Anglo – America in Prophecy & the Lost Tribes of Israel Are the Americans, Canadians, English, Scottish, Welsh, Australians, Anglo-Saxon (non-Dutch) Southern Africans, and New Zealanders descendants of Joseph? Where are the lost ten-tribes of Israel? Who are the lost tribes of Israel? What will happen to Jerusalem and the Jews in Israel? Will God punish the U.S.A., Canada, United Kingdom, and other Anglo-Saxon nations? Why might God allow them to be punished first? Here is a link to the Spanish version of this article: Anglo-América & las Tribus Perdidas de Israel. A video of possible interest may be Will Will USA Spying Help the Beast Power?
Protestant and Church of God views of the United States in Bible Prophecy Is the USA mentioned in Bible prophecy? Some Protestants say yes, while others say no. What does the Bible really teach? Learn the truth about this. There is also a video available: Is The United States Mentioned In Bible Prophecy?
Who is the King of the West? Why is there no Final End-Time King of the West in Bible Prophecy? Is the United States the King of the West? Here is a version in the Spanish language: ¿Quién es el Rey del Occidente? ¿Por qué no hay un Rey del Occidente en la profecía del tiempo del fin?
Europa, the Beast, and Revelation Where did Europe get its name? What might Europe have to do with the Book of Revelation? What about "the Beast"? Is an emerging European power "the daughter of Babylon"? What is ahead for Europe? Here is a link to a video titled: Can You Prove that the Beast to Come is European?
Does God Have a 6,000 Year Plan? What Year Does the 6,000 Years End? Was a 6000 year time allowed for humans to rule followed by a literal thousand year reign of Christ on Earth taught by the early Christians? When does the six thousand years of human rule end?
Can the Great Tribulation Begin in 2014, 2015, or 2016? Can the Great Tribulation begin today? What happens before in the "beginning of sorrows"? What happens in the Great Tribulation and the Day of the Lord? When is the earliest that the Great Tribulation can begin? What is the Day of the Lord? You may also wish to watch a YouTube video titled Can the Great Tribulation begin in 2014?
Barack Obama, Prophecy, and the Destruction of the United States-Second Edition for Second Obama Term This is a 160 page book for people truly interested in prophecies related to Barack Obama and the United States, including learning about many that have already been fulfilled (which the book documents in detail) and those that will be fulfilled in the future. It also has a chapter about a Republican choice. This book is available to order at www.barackobamaprophecy.com. The physical book can also be purchased at Amazon from the following link: Barack Obama, Prophecy, and the Destruction of the United States: Is Barack Obama Fulfilling Biblical, Islamic Catholic, Kenyan, and other America-Related Prophecies? What About Republican Leaders? Second Edition for Second Obama Term.
Barack Obama, Prophecy, and the Destruction of the United States-Second Term-Amazon Kindle edition. This electronic version is available for only US$2.99. And you do not need an actual Kindle device to read it. Why? Amazon will allow you to download it to almost any device: Please click HERE to download one of Amazon s Free Reader Apps. After you go to for your free Kindle reader and then go to Barack Obama, Prophecy, and the Destruction of the United States-Second Term-Amazon Kindle edition.