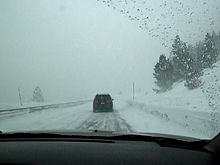 Millions have been affected by extreme winter weather in the USA and Canada:
January 22, 2014

Much of the Northeast awoke Wednesday to single-digit temperatures, below-zero wind chills and a deep blanket of snow a day after a blizzard dumped more than a foot in some areas along the I-95 corridor.

For the second day in a row traffic was squeezed, airlines were challenged and government offices, schools and businesses were struggling to function. And although the snow was over the near-record low temperatures promised to plague 50 million people from North Carolina to New England.

Nearly a foot and half of snow fell in parts of New Jersey, and Philadelphia saw a little over a foot of snow, the National Weather Service said. New York City had 10 inches, while parts of Maryland had 9. Manalapan, N.J., had 16 inches of snow.

Airlines had canceled more than 1,600 flights Wednesday morning, with more than 500 more delayed, flightstats.com reported. Nearly 3,500 flights Tuesday with thousands more delayed.  http://www.usatoday.com/story/weather/2014/01/22/storm-northeast-snow-weather/4767567/

January 22, 2014

(CNN) — New Yorkers awoke Wednesday morning to the sound of plows clearing the streets. In Washington, federal workers got in a few extra zzz's. And in Boston, parents scrambled to make other arrangements as kids enjoyed a snow day.

The heaviest snowfall of the season has blanketed the Northeast, with more than a foot falling in some places.

Schools and offices are closed, roads shut down and thousands of flights grounded.  http://www.cnn.com/2014/01/22/us/winter-weather/

WASHINGTON — A fast-moving Arctic cold front forecast to dump up to a foot (30 cm) of snow on the East Coast of the United States on Tuesday shut down state and federal governments, closed schools and snarled air travel in its path.

Winter storm warnings and advisories are in place from the central Appalachian Mountains north to southern New England, the National Weather Service said, including all of the Middle Atlantic states and the busy I-95 highway corridor that connects cities like Washington, Philadelphia, New York and Boston.

Temperatures in the eastern half of the United States are expected to be from 10 to 25 degrees below average. Gusty winds will accompany up to a foot of snow in southern New England as the cold front picks up moisture from the Atlantic Ocean, it said.  http://www.voanews.com/content/reu-winter-storm-grips-eastern-us/1834824.html
Many parts of North America have been hit by extreme weather.
Over here in California, the temperatures have been unseasonably warm–record highs and/or near record highs were reported in parts of the State this week.  Snowfall and rainfall have been less in California, Nevada, and parts of the West  (see also Drought disaster declared in 11 Western states; any relationship to homosexual agenda?).
Because Jesus warned that troubles and sorrows would be part of the biblically prophesied time before the Great Tribulation, back in 2009, in my book 2012 and the Rise of the Secret Sect, I wrote that the following was about to happen:
| | |
| --- | --- |
| Odd weather patterns result in food shortages and natural disasters. | Matthew 24:7 |
| | |
| --- | --- |
| The world is actually in a berserk transition, as the real age of peace is not yet here. It may be a period of chaos. It is the beginning of sorrows. | Matthew 24:8 |
Weather extremes should serve as a wake-up call.
Weather-related troubles and sorrows are consistent with the following:
7…And there will be famines, pestilences, and earthquakes in various places. 8 All these are the beginning of sorrows. (Matthew 24:7-8).

5 When He opened the third seal, I heard the third living creature say, "Come and see." So I looked, and behold, a black horse, and he who sat on it had a pair of scales in his hand. 6 And I heard a voice in the midst of the four living creatures saying, "A quart of wheat for a denarius, and three quarts of barley for a denarius; and do not harm the oil and the wine." (Revelation 6:5-6)

8 For nation will rise against nation, and kingdom against kingdom. And there will be earthquakes in various places, and there will be famines and troubles. These are the beginnings of sorrows. (Mark 13:8)
As the above shows, Jesus foretold on a time of natural disasters and "troubles" as "the beginning of sorrows" (Matthew 24:7-8)–and the sorrows seem to have begun. Yet the Book of Revelation (16:8-11) tells of a time of even greater disturbances during "the Day of the Lord."
Now, ultimately of course, there is good news as ultimately, God's kingdom will come and those issues will be gone (Revelation 7:16).
Some items of possibly related interest may include:
Weather Blessings and Sorrows Are weather problems a warning? What should be done? What does the Bible teach about weather? What about floods, droughts, heat, earthquakes, tornadoes, and solar storms? Here is a related YouTube video Does God Use Weather? A related item in the Spanish language would be Bendiciones y maldiciones del clima.
The Gospel of the Kingdom of God was the Emphasis of Jesus and the Early Church Did you know that? Do you even know what the gospel of the kingdom is all about? True religion should be based upon the true gospel.
The Bible Condemns Homosexuality "Same-sex marriage" for "gays" and lesbians is becoming more acceptable to many. What does the Bible teach about homosexuality? Can homosexuals change?
Canada in Prophecy: What Does Bible Prophecy, Catholic Prophecy, and other Predictions Suggest About the Future of Canada? There are prophecies that suggest involvement with Canada. And many are not positive about its future.
Protestant and Church of God views of the United States in Bible Prophecy Is the USA mentioned in Bible prophecy? Some Protestants say yes, while others say no. What does the Bible really teach? Learn the truth about this. There is also a video available: Is The United States Mentioned In Bible Prophecy?
Who is the King of the West? Why is there no Final End-Time King of the West in Bible Prophecy? Is the United States the King of the West? Here is a version in the Spanish language: ¿Quién es el Rey del Occidente? ¿Por qué no hay un Rey del Occidente en la profecía del tiempo del fin?
Does God Have a 6,000 Year Plan? What Year Does the 6,000 Years End? Was a 6000 year time allowed for humans to rule followed by a literal thousand year reign of Christ on Earth taught by the early Christians? When does the six thousand years of human rule end?
Can the Great Tribulation Begin in 2014, 2015, or 2016? Can the Great Tribulation begin today? What happens before in the "beginning of sorrows"? What happens in the Great Tribulation and the Day of the Lord? When is the earliest that the Great Tribulation can begin? What is the Day of the Lord?  You may also wish to watch a YouTube video titled Can the Great Tribulation begin in 2014?