While Hurricane Dean has mainly caused problems in the Caribbean (and still is in Mexico and other places), the USA itself is facing a variety of weather and other problems at this time.
Notice what two news stories reported yesterday:
The wrath of 2007: America's great drought
The Independent (UK) – June 11, 2007
America is facing its worst summer drought since the Dust Bowl years of the Great Depression. Or perhaps worse still.
From the mountains and desert of the West, now into an eighth consecutive dry year, to the wheat farms of Alabama, where crops are failing because of rainfall levels 12 inches lower than usual, to the vast soupy expanse of Lake Okeechobee in southern Florida, which has become so dry it actually caught fire a couple of weeks ago, a continent is crying out for water.
In the south-east, usually a lush, humid region, it is the driest few months since records began in 1895. California and Nevada, where burgeoning population centres co-exist with an often harsh, barren landscape, have seen less rain over the past year than at any time since 1924. The Sierra Nevada range, which straddles the two states, received only 27 per cent of its usual snowfall in winter, with immediate knock-on effects on water supplies for the populations of Las Vegas and Los Angeles…
A lot of people think climate change and the ecological repercussions are 50 years away," Thomas Swetnam, an environmental scientist at the University of Arizona in Tucson, told The New York Times a few months ago. "But it's happening now in the West. The data is telling us that we are in the middle of one of the first big indicators of climate change impacts in the continental United States." Across the West, farmers and city water consumers are locked in a perennial battle over water rights – one that the cities are slowly winning. Down the line, though, there are serious questions about how to keep showers and lawn sprinklers going in the retirement communities of Nevada and Arizona. Lake Powell, the reservoir on the upper Colorado River that helps provide water across a vast expanse of the West, has been less than half full for years, with little prospect of filling up in the foreseeable future. source: http://news.independent.co.uk/world/americas/article2643033.ece
U.S. Treasury bills rally, credit fears return
Reuters – August 20, 2007 6:22PM EDT
NEW YORK (Reuters) – U.S. Treasury bills rallied on Monday, with the three-month yield posting its biggest one-day drop since the stock market crash of 1987, as investors sought shelter in the safest of government securities.
Professional investors who manage portfolios ranging from plain-vanilla money market funds to high-risk portfolios with exotic strategies, dumped risky assets and socked money into ultra short-dated U.S. government securities, analysts said.
"It's very abrupt and disorienting," said Lou Crandall, chief economist at Wrightson ICAP in New York…source: http://www.reuters.com/article/bondsNews/idUSN2031350220070820
Eventually, the world will NOT run to US Treasury Bills when the financial markets get shaky because of the overwhelming US debt. This eventually will lead to the fulfillment of prophecies in Habakkuk such as:
"Write the vision
And make it plain on tablets,
That he may run who reads it.
3 For the vision is yet for an appointed time;
But at the end it will speak, and it will not lie.
Though it tarries, wait for it;
Because it will surely come,
It will not tarry…
6 "Will not all these take up a proverb against him,
And a taunting riddle against him, and say,
'Woe to him who increases
What is not his–how long?
And to him who loads himself with many pledges'?
7 Will not your creditors rise up suddenly?
Will they not awaken who oppress you?
And you will become their booty (Habakkuk 2:2-3,6-7).
No country on earth has ever loaded itself with more "pledges" (promises to pay debt) than the USA.

And it may well be that when the effects of weather difficulties severely affect the production of food/grain crops in the USA, that the creditors of the world will realize that the USA is NOT going to be able to pay back its massive debt.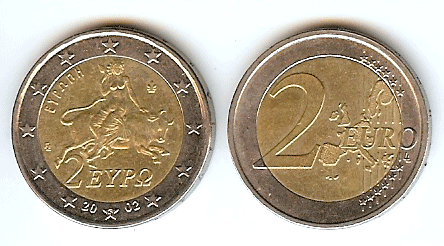 But what about the Euro?
Now while Europe is also having some financial and weather issues, Bible prophecy indicates that it will rise while the USA will fall.  Investors still are staying mainly in the US dollar, but that will eventually change.
And although the Euro will have some rough times ahead, eventually it or something similar appears destined to dominate the world financial scene. 
Two articles of possible interest may include:
Europa, the Beast, and Revelation Where did Europe get its name? What might Europe have to do with the Book of Revelation?
Modern Nations and God's Ancient Plan Many peoples are mentioned in the Bible. And other than the fact that the nation of Israel represents the ancient kingdom of Judah, do you know who any of these people are now?