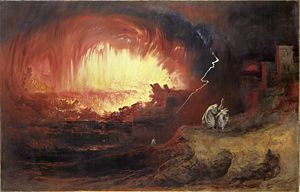 The Destruction of Sodom and Gomorrah
In a move that was not unexpected, the organization known as the Boy Scouts of America (BSA) made another immoral change:
January 31, 2017

DALLAS —The Boy Scouts of America announced Monday that it will allow transgender children who identify as boys to enroll in its boys only programs.

The organization said it had made the decision to begin basing enrollment in its boys-only programs on the gender a child or parent lists on the application to become a scout. The Boy Scouts had previously held a policy that relied on the gender listed on a child's birth certificate for those programs. …

"For more than 100 years, the Boy Scouts of America, along with schools, youth sports and other youth organizations, have ultimately deferred to the information on an individual's birth certificate to determine eligibility for our single-gender programs," the statement said. "However, that approach is no longer sufficient as communities and state laws are interpreting gender identity differently, and these laws vary widely from state to state." http://www.voanews.com/a/ap-boy-scouts-will-allow-transgender-children-into-programs/3699720.html
Before going further, let me state that in three of the stories I saw about this, NOT one called the 'transgender' females "girls.' The media also seems to like to know refer to girls that identify as boys someone's 'son.' This confusion is not right.
As many are aware, the Boy Scouts are supposed to be "morally straight" as that is part of the Boy Scout oath. But that is apparently considered to be outmoded.
The BSA previously made the change to allow those who practice homosexuality to be members. Remaining a homosexual is not being morally straight. Nor is being a 'transgendered' person.
Cross-dressing" is condemned as an abomination in the Bible:
5 A woman shall not wear anything that pertains to a man, nor shall a man put on a woman's garment, for all who do so are an abomination to the Lord your God. (Deuteronomy 22:5)
The BSA was not formed to endorse homosexuality, cross-dressing, or other forms of sexual immorality. It originally had some standards that way.
Those standards continue to depart from the BSA, as well as the USA.
Notice the following:
January 31, 2017

The White House said early Tuesday that President Trump will continue to enforce an Obama-era executive order protecting the rights of the LGBTQ community in the workplace.

"President Donald J. Trump is determined to protect the rights of all Americans, including the LGBTQ community," said a statement from his press secretary's office. "President Trump continues to be respectful and supportive of LGBTQ rights, just as he was throughout the election."

The administration said Trump is proud to have been the first GOP presidential nominee to mention the LGBTQ community in his acceptance speech, "pledging then to protect the community from violence and oppression." http://thehill.com/homenews/administration/317026-white-house-trump-will-continue-to-enforce-lgbtq-workplace
While the Bible recognizes that some have homosexual tendencies, it also teaches that those with them must change, and not stay in that condition:
9 Do you not know that the unrighteous will not inherit the kingdom of God? Do not be deceived. Neither fornicators, nor idolaters, nor adulterers, nor homosexuals, nor sodomites, 10 nor thieves, nor covetous, nor drunkards, nor revilers, nor extortioners will inherit the kingdom of God. 11 And such were some of you. But you were washed, but you were sanctified, but you were justified in the name of the Lord Jesus and by the Spirit of our God. (1 Corinthians 6:9-11)
The Boy Scouts of America apparently does not agree that homosexuals need to change or "be washed."
There were other societies that have had their own issues of openly advocating immorality that their residents seemed to view as acceptable. Notice what happened in a couple of such towns between three thousand and four thousand years ago:
24 Then the Lord rained brimstone and fire on Sodom and Gomorrah, from the Lord out of the heavens. 25 So He overthrew those cities, all the plain, all the inhabitants of the cities, and what grew on the ground. (Genesis 19:24-25)
And why did it happen?
7 as Sodom and Gomorrah, and the cities around them in a similar manner to these, having given themselves over to sexual immorality and gone after strange flesh, are set forth as an example, suffering the vengeance of eternal fire. (Jude 7)
Why mention this in the 21st century? Because God turned:
6…the cities of Sodom and Gomorrah into ashes, condemned them to destruction, making them an example to those who afterward would live ungodly (2 Peter 2:6,
NKJV)
National repentance is the only real long-term hope for the Anglo-Saxon peoples (and it seems to be too late for that).
It should also be noted that the Bible is also against not just those who have sexual immorality, but those who find those practices acceptable:
18 For the wrath of God is revealed from heaven against all ungodliness and unrighteousness of men, who suppress the truth in unrighteousness, 19 because what may be known of God is manifest in them, for God has shown it to them. 20 For since the creation of the world His invisible attributes are clearly seen, being understood by the things that are made, even His eternal power and Godhead, so that they are without excuse, 21 because, although they knew God, they did not glorify Him as God, nor were thankful, but became futile in their thoughts, and their foolish hearts were darkened. 22 Professing to be wise, they became fools, 23 and changed the glory of the incorruptible God into an image made like corruptible man — and birds and four-footed animals and creeping things.

24 Therefore God also gave them up to uncleanness, in the lusts of their hearts, to dishonor their bodies among themselves, 25 who exchanged the truth of God for the lie, and worshiped and served the creature rather than the Creator, who is blessed forever. Amen.

26 For this reason God gave them up to vile passions. For even their women exchanged the natural use for what is against nature. 27 Likewise also the men, leaving the natural use of the woman, burned in their lust for one another, men with men committing what is shameful, and receiving in themselves the penalty of their error which was due.

28 And even as they did not like to retain God in their knowledge, God gave them over to a debased mind, to do those things which are not fitting; 29 being filled with all unrighteousness, sexual immorality, wickedness, covetousness, maliciousness; full of envy, murder, strife, deceit, evil-mindedness; they are whisperers, 30 backbiters, haters of God, violent, proud, boasters, inventors of evil things, disobedient to parents, 31 undiscerning, untrustworthy, unloving, unforgiving, unmerciful; 32 who, knowing the righteous judgment of God, that those who practice such things are deserving of death, not only do the same but also approve of those who practice them. (Romans 1:18-32)
Keeping the Ten Commandments reflects love. Breaking them and/or condoning those that do is evil. This should be clear to those who believe the God of the Bible. Thus, the BSA should not consider allowing the homosexuals in.
But many in the USA and other Anglo-Saxon dominated lands seem inclined to truly listen to those who are strongly advocating wrong changes in the moral direction of the land.
Some items of possibly related interest may include:
The Bible Condemns Homosexuality "Same-sex marriage" for "gays" and lesbians is becoming more acceptable to many. What does the Bible teach about homosexuality? Can homosexuals change? A related video sermon is titled What Does the Bible Really Teach about Homosexuality?
Love, Marriage, and Sex It is important to get them in the right order.
Cross-dressing and other assaults against your children.  What should you do? Is there an agenda to turn your children and/or grandchildren away from biblical morality and towards practices promoted by homosexuals? What does the Bible teach about cross-dressing? What should parents do? If there is an agenda, what has been going on?  There are also three YouTube videos related to this, titled Transgender 'Woe to those who call evil good' and Cross dressing and Other Assaults Against Your Children and USA pushing gender confusion.
What is the Meaning of Life? Who does God say is happy? What is your ultimate destiny? Do you really know? Does God actually have a plan for YOU personally?
What Did Jesus Teach About the Ten Commandments? This article quotes what Jesus actually said about them (His words are in red).
The Ten Commandments Reflect Love, Breaking them is Evil Some feel that the ten commandments are a burden. Is that what Jesus, Paul, Peter, James, and John taught? For a more detailed discussion of the first four commandments, please see the video The Ten Commandments: Loving God. For a more detailed discussion of the last six commandments, please see: The Ten Commandments: Loving Your Neighbor. Here is a link to a related article in Mandarin Chinese 十条诫命显示爱,违反诫命的就是邪恶的
The Ten Commandments and the Early Church Did Jesus and the Early Church keep the ten commandments? What order were they in? Here are quotes from the Bible and early writings. A related sermon is titled: Christians and the Ten Commandments.
Anglo – America in Prophecy & the Lost Tribes of Israel Are the Americans, Canadians, English, Scottish, Welsh, Australians, Anglo-Saxon (non-Dutch) Southern Africans, and New Zealanders descendants of Joseph? Where are the lost ten-tribes of Israel? Who are the lost tribes of Israel? What will happen to Jerusalem and the Jews in Israel? Will God punish the U.S.A., Canada, United Kingdom, and other Anglo-Saxon nations? Why might God allow them to be punished first? Here is a link to the Spanish version of this article: Anglo-América & las Tribus Perdidas de Israel. Information is also in the YouTube sermons titled Where are the Ten Lost Tribes? Why does it matter? and British are the Covenant People. A short YouTube of prophetic interest may be Barack Obama and the State of the Apocalypse.
Will the Anglo-Saxon Nations be Divided and Have People Taken as Slaves? Will the lands of the United States, United Kingdom, Canada, Australia, and New Zealand be divided? What about Jerusalem? What does Bible prophecy teach? Are there non-biblical prophecies that support this idea? Who will divide those lands? Who will end up with the lands and the people? Here is a link to a video titled Will the USA and other Anglo-nations be Divided and Their People Made Slaves? Here is a related item in the Spanish language ¿Serán divididas las naciones anglosajonas?
Christian Repentance Do you know what repentance is? Is it really necessary for salvation? A related sermon is also available titled: Real Christian Repentance.
Donald Trump in Prophecy Prophecy, Donald Trump? Are there prophecies that Donald Trump may fulfill?  Are there any prophecies that he has already helped fulfill?  Could a Donald Trump presidency be apocalyptic?  A related video is titled: Donald: 'Trump of God' or Apocalyptic?
Donald Trump and America's Apocalypse This 188 page book is for people truly interested in prophecies related to Donald Trump and the United States, including learning about several that have already been fulfilled and those that will be fulfilled in the future. The physical book can be purchased at Amazon for $12.99 from the following link: Donald Trump and America's Apocalypse.
Donald Trump and America's Apocalypse-Kindle Edition This electronic version of the 188 page print edition is available for only US$3.99. And you do not need an actual Kindle device to read it. Why? Amazon will allow you to download it to almost any device: Please click HERE to download one of Amazon s Free Reader Apps. After you go to for your free Kindle reader and then go to Donald Trump and America's Apocalypse-Kindle Edition.