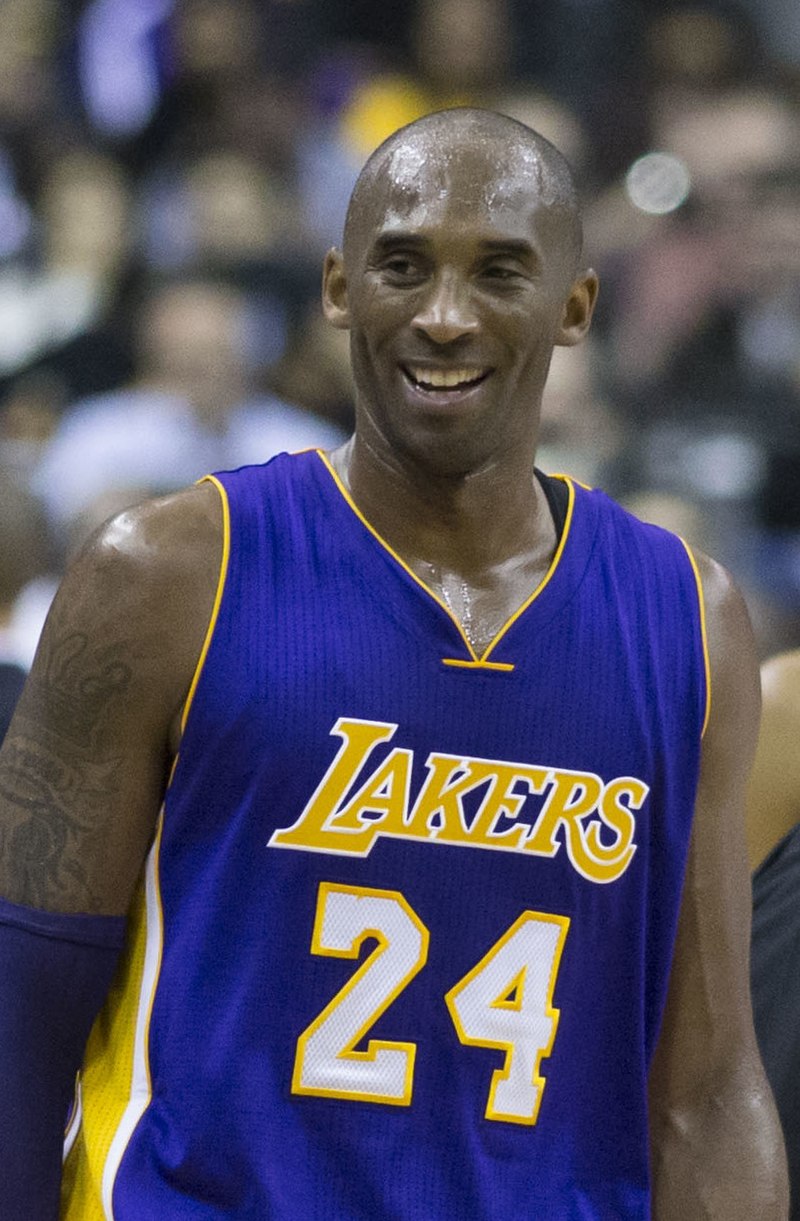 Kobe Bryant (photo by Keith Allison)
Basketball celebrity, Kobe Bryant died today:
January 26, 2020

Hours after news broke of Kobe Bryant's death, the Recording Academy paid tribute to the NBA legend on the Grammys stage.

Host Alicia Keys somberly took the stage on Sunday night, telling the audience, "Earlier today, Los Angeles, America, and the whole wide world lost a hero. And we're literally standing here heartbroken in the house that Kobe Bryant built." …

Bryant died on Sunday afternoon after his private helicopter crashed in the Los Angeles suburb of Calabasas. Eight others were killed in the crash as well, including his 13-year-old daughter Gianna ("Gigi"). The helicopter was reportedly on its way to Gigi's basketball game in Thousand Oaks. https://www.msn.com/en-us/music/grammy/alicia-keys-boyz-ii-men-pay-tribute-to-kobe-bryant-at-grammys-with-its-so-hard-to-say-goodbye/ar-BBZlTCY
Kobe Bryant was not known as a true Christian.
Does God have a plan for him?
Yes.
Could he still have an opportunity for salvation?
Yes.
Although Roman Catholic and Protestant theology improperly teach otherwise, God has a plan to offer salvation to all who ever lived.
To those called in this age, and to others (almost certainly including Kobe Bryant) in the age to come.
So, no, Kobe Bryant is not doomed.
Some items of possibly related interest may include:
Universal OFFER of Salvation, Apokatastasis: Can God save the lost in an age to come? Hundreds of scriptures reveal God's plan of salvation Will all get a fair chance at salvation? This free book is packed with scriptures showing that God does intend to offer salvation to all who ever lived–the elect in this age, and the rest in the age to come. Here is a link to a related sermon series: Universal Offer of Salvation 1: Apocatastasis, Universal Offer of Salvation 2: Jesus Desires All to be Saved, Mysteries of the Great White Throne Judgment (Universal Offer of Salvation part 3), Is God Fair, Will God Pardon the Ignorant?, Can God Save Your Relatives?, Babies, Limbo, Purgatory and God's Plan, and 'By the Mouth of All His Holy Prophets'.
od's Grace is For All Is being Jewish a hindrance to salvation? What about not being a descendant of Israel? What does the Bible really teach? Here is a link to a related sermon titled Race and Grace; Do you view race as God does?
Predestination: Did God really call You? Why? Predestination? Is your ultimate fate decided for you in advance? Here is a link to a related video sermon: Predestination: What it is and what it is not. Another related video is Predestination and Pentecost.
God Calling You? This booklet discusses topics including calling, election, and selection. If God is calling you, how will you respond? Here is a link to a related sermon: Could God be Calling You? A short animation is also available: Is God Calling You?
Christian Repentance Do you know what repentance is? Is it really necessary for salvation? A related sermon is also available titled: Real Christian Repentance.
Hope of Salvation: How the Continuing Church of God differs from most Protestants How the real Church of God differs from mainstream/traditional Protestants, is perhaps the question I am asked most by those without a Church of God background. As far as some changes affecting Protestantism, watch the video Charismatic Kenneth Copeland and Anglican Tony Palmer: Protestants Beware! [Português: Esperança do salvação: Como a igreja do deus difere da maioria de protestantes]. A sermon is also available: How Does the Church of God Differ from Protestantism?
What Happens After Death? Is death like sleep, or is that a cultic idea? Can you speak to the dead? Here is a link to a related sermon: What really happens after death?
The Second Death The New Testament speaks of something called the "second death." Who will be subject to it? How does it end? Here is a link to a related sermon: First death, Second death.
Study the Bible Course Lesson 15: What is "Hell"? What are the different words translated as "hell" in English? Does Gehenna mean something different than Hades. What happens? What about worms dying not?
The MYSTERY of GOD's PLAN: Why Did God Create Anything? Why did God make you? This free online book helps answers some of the biggest questions that human have, including the biblical meaning of life. Here is a link to three related sermons: Mysteries of God's Plan, Mysteries of Truth, Sin, Rest, Suffering, and God's Plan, and The Mystery of YOU.