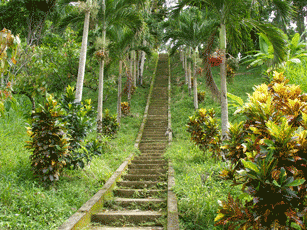 A slightly difficult uphill and narrow way in Tobago
Although most Protestants believe that if you do not accept Christ in this age you cannot be saved, many Presbyterians have a more open view:
Some Presbyterians see salvation by other…

Associated Press – Feb 10, 2010
And while the Bible itself is clear that salvation is only available through Christ, many people do not realize that Jesus spoke of a time of salvation in a future "age to come".  And while that may not be specifically what many Presbyterians believe, those who believe that the God of love loves all are correct to conclude that God has a plan to take into account what has happened to all of humankind.
The idea that God has always had a plan to offer salvation to all is taught in both the Old and New Testaments and was taught by various professors of Christ throughout history.
Some articles of possibly related interest may include:
Hope of Salvation: How the Living Church of God differ from most Protestants How the Living Church of God differs from mainstream/traditional Protestants, is perhaps the question I am asked most by those without a Church of God background.
Universal Offer of Salvation: There Are Hundreds of Verses in the Bible Supporting the Doctrine of True Apocatastasis Do you believe what the Bible actually teaches on this? Will all good things be restored? Will God call everyone? Will everyone have an opportunity for salvation? Does God's plan of salvation take rebellion and spiritual blindness into account?