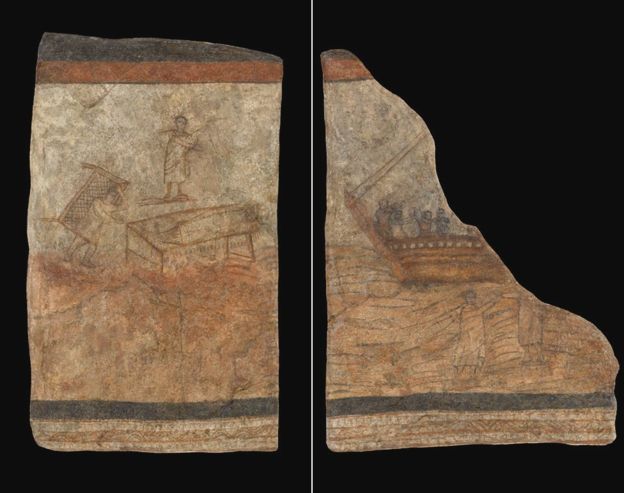 The earliest surviving paintings claimed to be of Jesus, from a church at the ruined city of Dura-Europos on the Euphrates (dating from first half of the 3rd Century AD)
World Net Daily posted the following:
'Deeply distressing': Teachers union promotes play with a trans Jesus

Published June 8, 2021 at 9:40pm

A Scottish teachers union has sparked outrage among Christians after it decided to promote a play depicting the Lord Jesus Christ as transgender.

The play, titled The Gospel According to Jesus Queen of Heaven, is written by Jo Clifford, a biological man who identifies as a woman while also professing to be Christian.

On June 17, the Education Institute of Scotland (EIS) plans to host an LGBT event, "School's Almost Out! Celebrate Pride," where excerpts of the production will be shown. https://www.wnd.com/2021/06/deeply-distressing-teachers-union-promotes-play-trans-jesus/
June has been designated by the LGBTQ community and their allies as "Pride month."
The Bible not only condemns LGBTQ activities, it also condemns pride.
So, the blasphemy related to Jesus should not come as a surprise. The word of God that Jesus stood for states:
5 A woman shall not wear anything that pertains to a man, nor shall a man put on a woman's garment, for all who do so are an abomination to the Lord your God. (Deuteronomy 22:5)
Therefore, only a deceived person would consider that Jesus would cross-dress as trans.
Furthermore, the same Bible also condemns those who would honor the 'queen of heaven':
17 Do you not see what they do in the cities of Judah and in the streets of Jerusalem? 18 The children gather wood, the fathers kindle the fire, and the women knead dough, to make cakes for the queen of heaven; and they pour out drink offerings to other gods, that they may provoke Me to anger. 19 Do they provoke Me to anger?" says the Lord. "Do they not provoke themselves, to the shame of their own faces?" (Jeremiah 7:17-19)

25 Thus says the Lord of hosts, the God of Israel, saying: 'You and your wives have spoken with your mouths and fulfilled with your hands, saying, "We will surely keep our vows that we have made, to burn incense to the queen of heaven and pour out drink offerings to her." You will surely keep your vows and perform your vows!' 26 Therefore hear the word of the Lord, all Judah who dwell in the land of Egypt: 'Behold, I have sworn by My great name,' says the Lord, 'that My name shall no more be named in the mouth of any man of Judah in all the land of Egypt, saying, "The Lord God lives." 27 Behold, I will watch over them for adversity and not for good. And all the men of Judah who are in the land of Egypt shall be consumed by the sword and by famine, until there is an end to them. 28 Yet a small number who escape the sword shall return from the land of Egypt to the land of Judah; and all the remnant of Judah, who have gone to the land of Egypt to dwell there, shall know whose words will stand, Mine or theirs. 29 And this shall be a sign to you,' says the Lord, 'that I will punish you in this place, that you may know that My words will surely stand against you for adversity.' (Jeremiah 44:25-29)
It is blasphemous also to call Jesus the Queen of Heaven.
The Apostle Paul warned:
6 I marvel that you are turning away so soon from Him who called you in the grace of Christ, to a different gospel, 7 which is not another; but there are some who trouble you and want to pervert the gospel of Christ. 8 But even if we, or an angel from heaven, preach any other gospel to you than what we have preached to you, let him be accursed. 9 As we have said before, so now I say again, if anyone preaches any other gospel to you than what you have received, let him be accursed. (Galatians 1:6-9)
Calling this play The Gospel According to Jesus Queen of Heaven is also blasphemous and false.
Of course, if an LGBTQ person is offended by the Bible or biblically-correct statements, that is considered an outrage and/or something that needs to be censored in various parts of the Western world.
That being said, there are a lot of myths about Jesus, His appearance, and His teachings.
What about His appearance?
A while back, the BBC addressed the fact that the commonly seen pictures claiming to be of Jesus are false, but instead are of a Byzantine version of Zeus:
Everyone knows what Jesus looks like. He is the most painted figure in all of Western art, recognised everywhere as having long hair and a beard, a long robe with long sleeves (often white) and a mantle (often blue).

Jesus is so familiar that he can be recognised on pancakes or pieces of toast.

But did he really look like this?

Probably not.

In fact this familiar image of Jesus actually comes from the Byzantine era, from the 4th Century onwards, and Byzantine representations of Jesus were symbolic – they were all about meaning, not historical accuracy.

They were based on the image of an enthroned emperor, as we see in the altar mosaic of the Santa Pudenziana church in Rome. …

Jesus is dressed in a gold toga. He is the heavenly ruler of all the world, familiar from the famous statue of long-haired and bearded Olympian Zeus on a throne . . . Byzantine artists, looking to show Christ's heavenly rule as cosmic King, invented him as a younger version of Zeus. What has happened over time is that this visualisation of heavenly Christ – today sometimes remade along hippie lines – has become our standard model of the early Jesus. December 24, 2015 http://www.bbc.com/news/magazine-35120965
From the above, we can also conclude that when we have reports of people who claim to have seen Jesus in various ways, those who claimed He had long hair, etc., clearly were not seeing Jesus.
The same can be said of the Shroud of Turin–that could not possibly be Jesus (the male in that is too tall).
It is a version of the pagan deity Zeus that many people are bowing down before or otherwise venerating (perhaps it should also be added here that many of the portrayals of Jesus' mother Mary, came from worship of goddesses, like Diana, who the Greeks called Artemis).
While the BBC article used the expression "probably not" related to whether Jesus had long hair, the biblical answer is DEFINITELY NOT.
Notice what the Bible says:
14 Does not even nature itself teach you that if a man has long hair, it is a dishonor to him? (1 Corinthians 11:14)
Jesus did not have long hair. If He did, the Apostle Paul would not have written the above. For additional proof, consider the following:
1 Imitate me, just as I also imitate Christ. (1 Corinthians 11:1)
Paul would not be imitating Christ by denouncing His hair length. Consider also that God inspired the Apostle John to write:
6 He who says he abides in Him ought himself also to walk just as He walked. (1 John 2:6)
If Jesus had long hair, God would have not inspired John to say to walk as Jesus walked, while also inspiring Paul to write that it is a shame for a man to have long hair.
Now let's see some more from the BBC article:
When early Christians were not showing Christ as heavenly ruler, they showed Jesus as an actual man like any other: beardless and short-haired. … in the 1st Century Graeco-Roman world, being clean-shaven and short-haired was considered absolutely essential. http://www.bbc.com/news/magazine-35120965
No early Christian ever showed Jesus as a long haired person. Having short hair was normal. The earliest found depictions of Jesus (from the 3rd century as shown at the beginning of this post) do NOT show Jesus to have had long hair. While no one knew, even then, what Jesus actually looked like, it took another century (and likely the influence of the idolatrous Emperor Constantine) before the longed-hair portrayals began to appear en mass.
Furthermore, if Jesus had distinctively long hair, He would have been highly recognizable. But the Bible shows that He was not. Once, while He was speaking to the Jews during the day, they wanted to stone Him, but He escaped right after talking to them (John 10:31-39), which indicates He was not excessively tall (like the Shroud of Turin suggests) or had distinguishing features like long hair.
Furthermore, the Jewish leaders felt the need to pay Judas (Mark 14:10) to point out Jesus with a kiss so they could arrest Him (Mark 14:43-46), which they would not have needed to do if He was distinguished with features like long hair.
Getting back to the BBC article, notice why else Jesus would not have had long hair:
If he had had even slightly long hair, we would expect some reaction. Jewish men who had unkempt beards and were slightly long-haired were immediately identifiable as men who had taken a Nazirite vow. This meant they would dedicate themselves to God for a period of time, not drink wine or cut their hair – and at the end of this period they would shave their heads in a special ceremony in the temple in Jerusalem (as described in Acts chapter 21, verse 24).

But Jesus did not keep a Nazirite vow, because he is often found drinking wine – his critics accuse him of drinking far, far too much of it (Matthew chapter 11, verse 19). If he had had long hair, and looked like a Nazirite, we would expect some comment on the discrepancy between how he appeared and what he was doing – the problem would be that he was drinking wine at all. http://www.bbc.com/news/magazine-35120965
And that is correct. Notice that the Bible shows Jesus did drink wine, but that the Nazirites could not:
19 The Son of Man came eating and drinking, and they say, 'Look, a glutton and a winebibber, a friend of tax collectors and sinners!' But wisdom is justified by her children. (Matthew 11:19)

1 Then the Lord spoke to Moses, saying, 2 "Speak to the children of Israel, and say to them: 'When either a man or woman consecrates an offering to take the vow of a Nazirite, to separate himself to the Lord, 3 he shall separate himself from wine and similar drink; he shall drink neither vinegar made from wine nor vinegar made from similar drink; neither shall he drink any grape juice, nor eat fresh grapes or raisins. 4 All the days of his separation he shall eat nothing that is produced by the grapevine, from seed to skin. (Numbers 6:1-4)
While some claim that Jesus never made nor drank wine, but only grape juice, consuming anything from grapes was prohibited for Nazirites. Since Jesus did not sin, He certainly was not under a Nazirite vow walking around with long hair while at the same time drinking anything produced from grapes.
Sadly, many prefer to accept the Byzantine portrayal of Jesus as Zeus.
Zeus was the head of the pagan deities that Romans and Greeks (though the Greeks called 'Jupiter' Zeus) worshiped. Christians certainly were not to continue in pagan worship practices by renaming Zeus as Jesus. Nor were they to rename other pagan deities as something else nor incorporate pagan holidays into their form of worship:
20 Rather, that the things which the Gentiles sacrifice they sacrifice to demons and not to God, and I do not want you to have fellowship with demons. 21 You cannot drink the cup of the Lord and the cup of demons; you cannot partake of the Lord's table and of the table of demons. (1 Corinthians 10:20-21)
You are not honoring Jesus by venerating long haired portrayals of Him that came from paganism.
Some have tried to claim that the Jews were black, hence Jesus was black. Because of that claim, I also located some photos of 1st century A.D. coins–the century Jesus was executed in. After General Titus conquered Jerusalem in 70 A.D., Emperor Vespasian issued coins–the back side of which shows conquered Jews: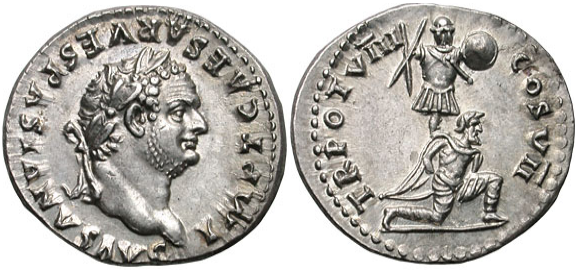 Titus on left, Jewish man on bottom right (CNG coins)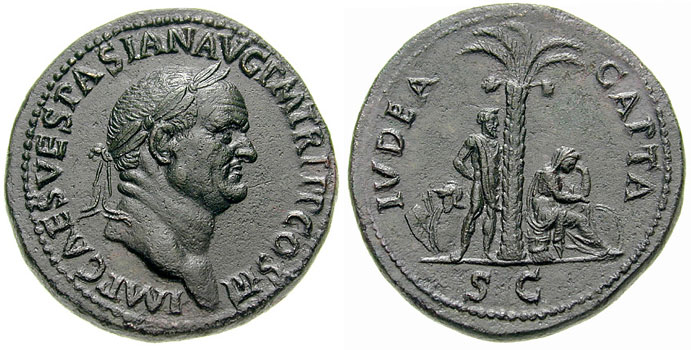 Vespasian on left, captured Jewish soldiers on right, 71 A.D. (CNG coins)
Notice the the Jews were not African (which is clear from the hair of the man on the first coin as well as the hair of the man to the left of the second coin). The second coin inscription in Latin Ivdea means Judea. These coins are clear evidence that the Jews of the first century–like Jesus–were not black Africans.
If most Jews of Jesus' time were black, the coins would have been expected to portray that–but they do not. These are absolute proof, no matter what color people may think the ancient Egyptians were or what their DNA was. The issue is whether the ancient Jews of Jesus' were predominantly black–the Roman coins prove that they were not.
Jesus said:
24 God is Spirit, and those who worship Him must worship in spirit and truth. (John 4:24)
The truth is that Jesus was not black.
Nor did He have long hair. Nor was He trans.
The 'trans' play brought the following to mind:
13 But evil men and impostors will grow worse and worse, deceiving and being deceived. (2 Timothy 3:13)
The Bible also warns that more deceit is coming (2 Thessalonians 2:9-11) and notice "that they all may be condemned who did not believe the truth but had pleasure in unrighteousness" (2 Thessalonians 2:12).
Many are pushing forms of deceit, including about Jesus.
Some items of possibly related interest may include:
Cross-dressing and other assaults against your children.  What should you do? Is there an agenda to turn your children and/or grandchildren away from biblical morality and towards practices promoted by homosexuals? What does the Bible teach about cross-dressing? What should parents do? If there is an agenda, what has been going on?  There are also three YouTube videos related to this, titled Transgender 'Woe to those who call evil good' and Cross dressing and Other Assaults Against Your Children and USA pushing gender confusion.
The Bible Condemns Homosexuality "Same-sex marriage" for "gays" and lesbians is becoming more acceptable to many. What does the Bible teach about homosexuality and the LGBTQ agenda?  Can homosexuals change? A related video sermon is titled: What Does the Bible Really Teach about Homosexuality? A short video is available titled: Gay Gene? Born That Way?
Were the Ancient Tribes of Israel Black? Was Jesus Black? Some claim this is so. But what do the Bible and ancient artifacts show? Here is a link to a related sermon video: Were Ancient Hebrews Black? What About Jesus?
Proof Jesus is the Messiah This free book has over 200 Hebrew prophecies were fulfilled by Jesus. Plus, His arrival was consistent with specific prophecies and even Jewish interpretations of prophecy. Here are links to seven related sermons: Proof Jesus is the Messiah, Prophecies of Jesus' birth, timing, and death, Jesus' prophesied divinity, 200+ OT prophecies Jesus filled; Plus prophecies He made, Why Don't Jews Accept Jesus?, Daniel 9, Jews, and Jesus, and Facts and Atheists' Delusions About Jesus. Plus the links to two sermonettes: Luke's census: Any historical evidence? and Muslims believe Jesus is the Messiah, but … These videos cover nearly all of the book, plus have some information not in the book.
Jesus: The Son of God and Saviour Who was Jesus? Why did He come to earth? What message did He bring? Is there evidence outside the Bible that He existed? Here is a YouTube sermon titled Jesus: Son of God and Saviour.
Jesus: Married with Children? Was Jesus the Christ married? Did He have two children as some claim the so-called "Lost Gospel" teaches? Was He married to Mary Magdalene as the "Da Vinci Code" and others have stated? How many gospels are there? Are the supposed 'historical records' that Jesus was married, simply false? When were the gnostic gospel accounts written? Did Polycarp of Smyrna list any of the extra or so-called "lost gospels" in his letter? Does the Bible clearly contract the assertions of the book "The Lost Gospel"? This is a video.
Clear Proof that the Shroud of Turin is Fake: Debunking the 'reasons' that the Shroud of Turin is real There is NO proof that the Shroud of Turin has Jesus' image and those who are willing to believe the Bible can prove it is fake. Here is a link to a related video: Could the Shroud of Turin Be Real? 12 Reasons to Consider.